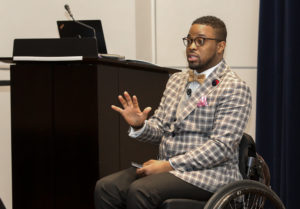 "If you see lack of health as a disability, then every patient you see has some sort of disability — whether temporary or permanent. Therefore, if we don't understand disability, how are we going to do a good job taking care of our patients?" asked Oluwaferanmi Okanlami, MD, MS, during the Spring Diversity and Inclusion Lyceum Lecture.
The lecture, held April 16 and sponsored by Feinberg's Office of Diversity and Inclusion, centered on "disabusing disability," a phrase coined by Okanlami to emphasize that disability doesn't mean inability and to promote a health system that is more inclusive and accessible for all.
Clyde Yancy, MD, MSc, vice dean for Diversity and Inclusion, and Linda Suleiman, MD, '17 GME, director of Diversity and Inclusion for graduate medical education, introduced Dr. Okanlami to a large audience that included Feinberg students, faculty and staff.
In 2013, Okanlami was a resident in orthopaedic surgery at Yale University when he suffered a spinal cord injury, paralyzing him from the chest down. After two surgeries and intense rehabilitation — including at the Shirley Ryan AbilityLab — Dr. Okanlami experienced some return of motor function. He is now an assistant professor of Family Medicine and of Physical Medicine and Rehabilitation at the University of Michigan, as well as the director for medical student success at their Office for Health Equity and Inclusion.
"I'm a physician who just happens to have a disability," Okanlami said. "It does not define who I am, but it contributes to who I am. It contributes to the worldview that I have. It is just one other aspect of the intersectional diversity that I am."
Okanlami kicked off the lecture by showing an optical illusion, in which the faces of both a young woman and an older woman can be seen in the same image.
"This image is a wonderful example of the fact that you can look at the same thing, you can be in the same room, you can be trying to have the same conversation, and still not see things through someone else's eyes. It underscores the importance of being able to include people with many different perspectives," Okanlami said.
Prompted by this image and others, Okanlami invited members of the audience to contribute to a larger discussion of equality and equity. He also spoke personally of his own experience in medicine and the need to shift attitudes on disability.
"I now have an opportunity to see things from two different perspectives. Even as an orthopedic surgery resident before I had the spinal cord injury, I realized that I did not truly know what life was like with disability," Okanlami said. "I think that, especially in healthcare, we view disability as inability. Therefore, the opportunity for that individual to do as much may be limited not by their own ability or inability to do something, but by the fact that other people may not afford them the same opportunities."
Calling back to the optical illusion, Okanlami emphasized the value in embracing other viewpoints and perspectives.
"That is diversity," he said. "You have to acknowledge that other people may see things differently than you do in a way that would be beneficial to the conversation and to the decisions you have to make. Therefore, you should strive to involve as many opinions and perspectives as you can."
This is particularly important in medicine, Okanlami said. "We have an increasingly diverse patient population that we are serving, and if we don't fully understand the world through their eyes, we're not going to be able to adequately care for them."
In this video from the Association of American Medical Colleges (AAMC), Okanlami talks about how paralysis changed his perspective on disability, medical education, physicians and patients: