View a gallery of photos from Match Day 2019.
On Friday, March 15, Kyle Fahey, a fourth-year medical student, stood with his classmates on the third floor of Gino's East in Chicago, clutching a life-changing white envelope.
At the count of five, the students tore open their envelopes in unison. The room filled with cheers as the Class of 2019 learned where they will spend the next phase of their medical careers.
"I've never experienced anything like this. The energy is indescribable," said Fahey, who matched at Stanford University Medical Center in internal medicine. "This day is a culmination of four years of hard work, and everyone I've talked to is just so thrilled and happy."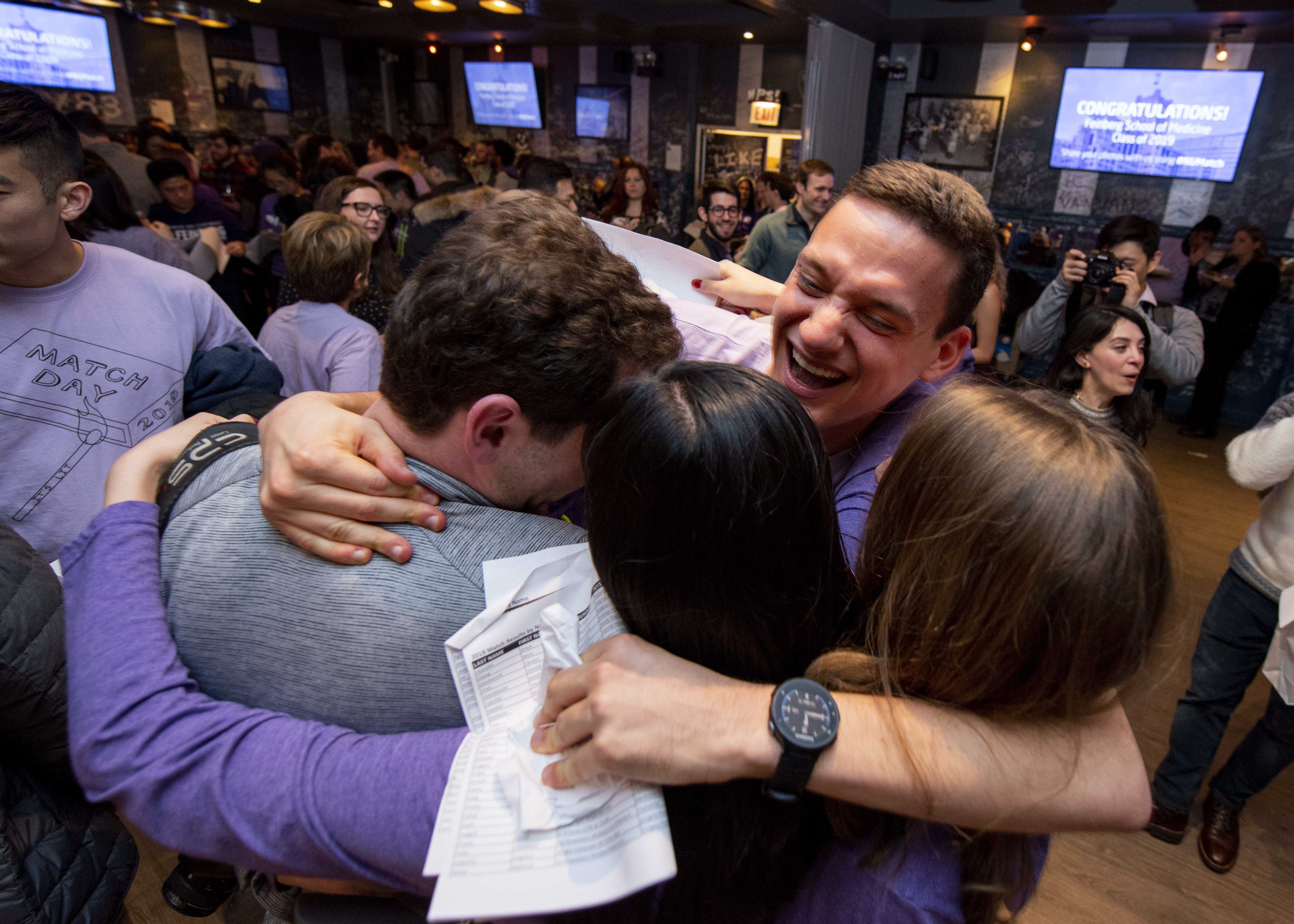 On Match Day, an annual tradition held on the third Friday of March, all fourth-year students across the country learn — at exactly the same time — where they will train as residents for the next three to seven years.
At Northwestern's Match Day, the class of 2019 high-fived and hugged each other, posed for pictures with their match letters, and raced to call family members and friends with the good news.
"I truly couldn't have ever expected to be this happy," said Roshni Bhatnagar, who learned she matched at UCLA Medical Center in internal medicine. "I couldn't imagine receiving this incredible news with anyone besides the people who got me here — my classmates, best friends and all the deans who have supported us."
Residency matches are made by the National Resident Matching Program (NRMP), which uses a computerized algorithm to pair graduating medical students with available training positions at U.S. teaching hospitals. The model takes into account the top choices of both the students and the residency programs.
This year's match, the largest on record, included more than 44,600 registered applicants and more than 35,000 residency positions offered.
For Paula Lewis-de los Angeles, a student in the Medical Scientist Training Program (MSTP), Match Day was the result of seven years of MD/PhD studies. She is now headed to Brown University for a triple board program in pediatrics, psychiatry, and child and adolescent psychiatry.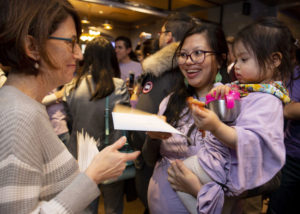 "Northwestern is a great place to grow both as a physician-scientist and as a person," said Lewis-de los Angeles, who earned a PhD in neuroscience from Northwestern in 2017 and attended Match Day with her husband and young daughter. "I've had really supportive mentors who helped me through my PhD and my clinical rotations, as well as with being a parent in medical school."
Liz Nguyen and Alex Rodriguez entered the match as a couple. The two students, who met during their first year of medical school, are now headed to Stanford University Medical Center together.
The NRMP allows students who choose to match as a couple to link their rank lists together, in order for the two to obtain residencies in the same geographic location.
"We both ended up matching at our number one choice, so we're very excited," said Rodriguez, who is entering a combined program in internal medicine and anesthesiology. "We've worked for this moment for most of our lives and now all the hard work is paying off. I'm finally going to be doing what I'm meant to be doing, and taking care of patients in a meaningful way."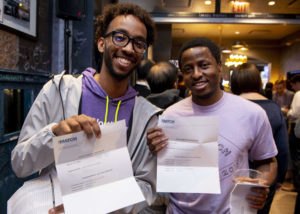 Nguyen, who matched in pediatrics, noted the support of their fellow classmates and Feinberg faculty. "There's nobody else who I would have rather gone through this whole process and the last four years with," Nguyen said. "The deans and the whole AWOME office — they are our best advocates and we really couldn't have done this without them."
For many, Match Day was a moment to not only celebrate their success as medical students, but to look forward to their first few years as physicians.
"It's exciting and surreal, but also motivating at the same time," said Martin Mutonga, who matched at Yale New Haven Hospital for interventional radiology. "This is a dream that started about 10 years ago for me, so I'm excited to see what the future holds."
View a full list of 2019 match results.