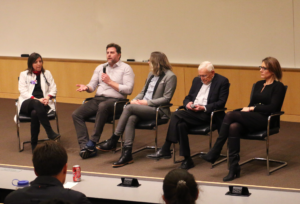 Northwestern faculty who investigate and treat HIV and AIDS gathered to share their experiences during a panel held December 3, to commemorate World AIDS Day.
The event was sponsored by the Student Advisory Committee for Global Health, an organization that helps shape global health education at Feinberg.
"Students are interested in the initiatives for prevention and eradication that are being implemented in the city of Chicago, but also want to compare and contrast these practices with HIV initiatives across the globe," said Lia Benes, a second-year student and chair of the committee.
Treatment for HIV has greatly improved over the past two decades, including pre-exposure prophylaxis (PrEP), but many of the same barriers that dog other chronic diseases, such as access and cost, still affect HIV treatment today, according to Claudia Hawkins, MD, '06 GME, associate professor of Medicine in the Division of Infectious Diseases and a member of the panel.
"Lots of people still don't know about HIV treatments or PrEP and those that are the least informed often live in areas whether these treatments are also less accessible," Hawkins said. "It's not just the medications but also the clinical and laboratory monitoring – we sometimes see patients in our clinic who are able to get the medications but can't afford the monitoring."
Further, the stigma of HIV can prevent individuals from seeking or receiving treatment, especially in countries outside the United States, said Gregory Phillips II, PhD, MS, assistant professor of Medical Social Sciences and a member of the panel.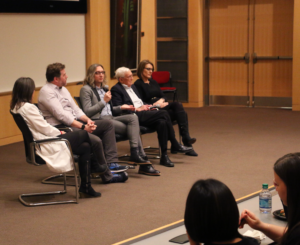 "We still have challenges with PrEP globally, especially in places like Africa, where they are slow to pick up on PrEP as a prevention method," said Phillips, who is also an assistant professor of Preventive Medicine. "In some of these countries, homosexuality is criminalized, so people who are targets for the medication have a hard time disclosing their risk behavior, making it difficult to even find candidates for these medications."
Novel therapies and strategies to reach the right patients will be key in eradicating the disease, said Chad Achenbach, '02 MD, '02 MPH, associate professor of Medicine in the Division of Infectious Diseases and a member of the panel, and recent advances in inhibitor therapies have successfully reduced the prevalence of drug-resistant HIV.
"These new drugs have a higher genetic barrier to resistance, so it hard for the virus to learn how to defeat the drug," said Achenbach, who is also an associate professor of Preventive Medicine. "There was a period of time when we were seeing quite a bit of resistance harbored in patients, but that's decreased over time."
While new and improved drugs are obviously important, according to the experts at the event, the public health initiatives used to disseminate them are equally as influential, and both arenas provide an opportunity for current students to one day make their mark.
"Events like these help medical students view diseases that they've learned about in the basic science curriculum from public health and global health perspectives, focusing on strategies to improve access to care and reduce the global disease burden," said Benes. "We were so fortunate to have these four experts speak to us, sharing decades of experience in HIV epidemiology, prevention and treatment."
Shannon Galvin, MD, associate professor of Medicine in the Division of Infectious Diseases, moderated the panel, and John Phair, MD, professor emeritus of Medicine in the Division of Infectious Diseases, was also a member of the panel.