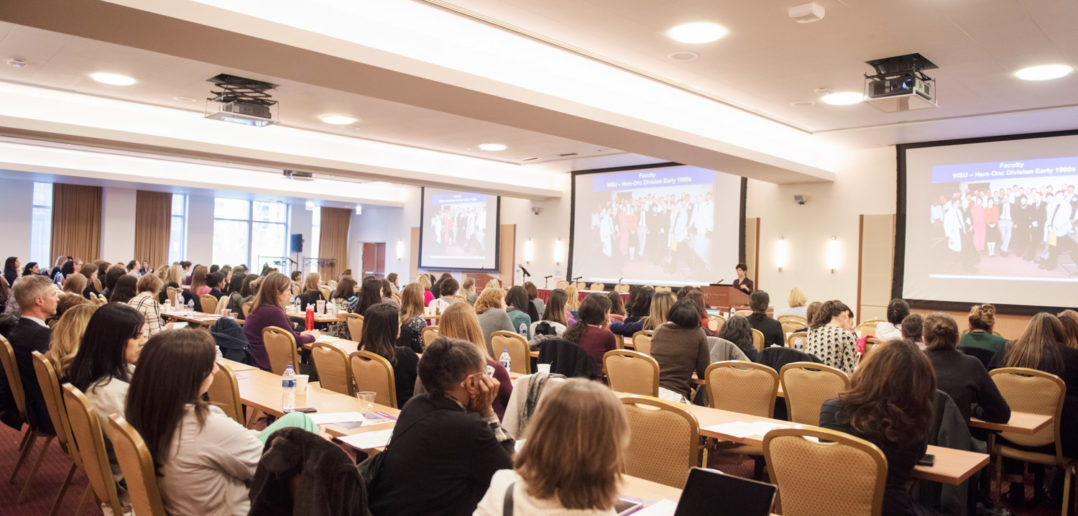 The inaugural Women in Medicine Symposium brought together faculty, scientists, trainees and students to highlight achievements of women faculty and to identify ongoing challenges in career development.
Held on October 25 at Prentice Women's Hospital, the symposium featured presentations from guest speakers and Feinberg presenters, several panel discussions, breakout sessions and a networking event.
Sex and gender bias is still prevalent today, said Caprice Greenberg, MD, MPH, professor of Surgery at the University of Wisconsin. A variety of research has shown that both explicit bias, including harassment, as well as implicit bias, like assigning lower value to womens' resumes and accomplishments, can make it more difficult to climb the ladder, reducing the number of women in leadership positions.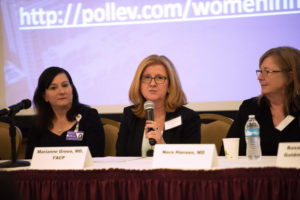 Greenberg noted that while about half of medical school graduates are women, a smaller proportion are full professors, and fewer still are medical school deans.
"These numbers have to change — not only is there a leaky pipeline, but the plumbing itself is broken," Greenberg said.
Recognizing and holding people accountable for explicit and implicit bias will require a redesign of mental models and paradigms, according to Greenberg, but could result in more equitable outcomes.
Another burden female physicians often shoulder is childcare; female physicians report more stress after having children when compared to male physicians, according to Joan Anzia, MD, '83 GME, professor of Psychiatry and Behavioral Sciences and of Medical Education. Childrearing responsibilities often fall upon women and can contribute to physician stress or burnout, especially when compounded by a lack of childcare or lactation facilities on the job, she said.
To help fight this, Anzia recommends overhauling the traditional "triple aim," adding a fourth category in addition to the institutional aims of patient care, population health and cost-effectiveness.
"It's been a focus of healthcare institutions for a while, but there's a growing number of people who think that physician wellness should be an equal factor," said Anzia, also vice chair of Education in the Department of Psychiatry and Behavioral Sciences. "It's something we need to measure, improve and follow."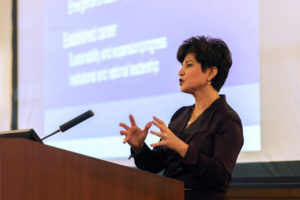 A concerted effort to plan for pregnancy, maternity leave and parental responsibilities could reduce physician burnout, especially among women, according to Anzia.
In spite of obstacles, many female physicians have achieved great success, and some shared their strategies for career advancement at a panel on women in leadership.
"The first step in becoming a leader in medicine is being good at your primary job — being an exemplary physician who earns the trust of her colleagues. You should also be open to new experiences," said Diane B. Wayne, '91 MD, vice dean for Education, the Dr. John Sherman Appleman Professor of Medical Education and a participant on the panel, discussing her initial steps into academic medicine.
Other panel participants included Marianne Green, MD, the Raymond H. Curry Professor and senior associate dean for Medical Education, Rosalind Ramsey-Goldman, MD, the Solovy/Arthritis Research Society Research Professor and professor of Medicine in the Division of Rheumatology, and Nora Hansen, MD, chief of Breast Surgery in the Department of Surgery.
A panel on diversity and inclusion in medicine touched on equity, especially in the context of female physicians who are also part of an underrepresented minority group.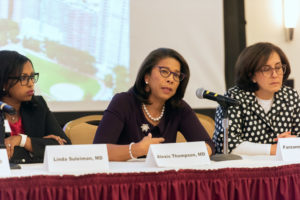 "The notion of changing something immediately is unlikely given the process that medicine is, but the notion of having people who represent a diversity of thought across the entire spectrum is critical," said Alexis Thompson, MD, MPH, professor of Pediatrics in the Division of Hematology, Oncology and Stem Cell Transplantation and a member of the panel.
This begins with students, said Khalilah Gates, MD, '10 GME, assistant professor of Medicine in the Division of Pulmonary and Critical Care, who pointed to growing representation among Feinberg's student body.
"In particular, we focus on ensuring students who are part of an underrepresented minority feel there's a place for them in the larger Northwestern community," Gates said.
The panel was rounded out by Linda Suleiman, MD, '17 GME, assistant professor of Orthopaedic Surgery, and Farzaneh Sorond, MD, PhD, chief of Stroke and Neurocritical Care and vice chair for Faculty Development and Education in The Ken & Ruth Davee Department of Neurology.
Organizers included Shikha Jain, MD, health system clinician of Medicine in the Division of Hematology and Oncology, Cybele Ghossein, MD, vice chair for Academic and Faculty Affairs in the Department of Medicine and a professor of Medicine in the Division of Nephrology and Hypertension, Mamta Swaroop, MD, '10 GME, associate professor of Surgery in the Division of Trauma and Critical Care, and Amy Halverson, MD, professor of Surgery in the Division of Gastrointestinal Surgery.