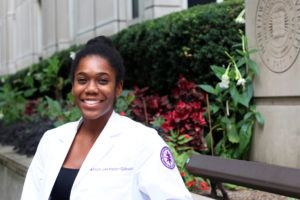 Maya Jackson-Gibson was quick to make a mark on the Feinberg community: As a first-year medical student, she served as both vice president of Medical Students for Choice and secretary of the Student National Medical Association (SNMA). Within SNMA, she also helped lead the Health Professions Recruitment & Exposure Program (HPREP), an outreach program to expose underrepresented minority (URM) students to health professions.
This fall, Jackson-Gibson, now a second-year medical student, was recognized for her leadership efforts with an M2 Student Senate Service Award.
Beyond the typical activities of a medical student, and her continued involvement in Medical Students for Choice and SNMA, Jackson-Gibson is part of the Schuler Scholar Program, where she mentors a first-generation college student. She also enjoys playing intramural soccer and basketball with classmates, checking out restaurants in different Chicago neighborhoods, and caring for her many plants.
In this Q&A, Jackson-Gibson discusses her leadership activities, her research on HIV prevention in Kenya, and what she loves about Feinberg.
Why did you choose Feinberg?
I could see myself fitting into a lot of different schools, but I think what really drew me to Feinberg was the Office of Diversity and Inclusion. Dr. Franklin made me feel very comfortable, and I knew that if I were to come to Feinberg, he could be a mentor figure for me and there would be a great support network. Then, when I came to visit for Second Look, Anita Munoz was wonderful, as were all the URM students I met.
I'm also very interested in global health, and the fact that Feinberg sponsors students to go on at least two global health rotations was another big factor as to why I decided to come here.
Finally, I wanted to be in a big city. I'm from Buffalo, New York, and went to school in Amherst, Massachusetts, and so for medical school I knew I wanted to be in more of a metropolitan area with a lot of different cultures — and Chicago hit the nail on the head.
Tell us about the Health Professions Recruitment & Exposure Program.
HPREP is a program run out of the Office of Diversity and Inclusion and led by first-year medical students that aims to give high school and college students exposure to the health professions.
Last year, we created curriculum and put on a program that ran for six weekends. We took the students through a day in the life of a medical student, brought them to the anatomy lab, discussed clinical cases, and exposed them to other health professions, such as our physician assistant program. We wanted to create a really open forum for them to ask questions about what's like to attend graduate school, gearing themselves up for college and how to be a successful student in general.
What other efforts are you involved in with SNMA?
We have a couple of plans in the pipeline, such as bringing in more speakers and pairing up with the undergraduate campus for more events.
In general, I think that we've done a really good job of connecting ourselves with the residents. But going forward, we also want to foster a closer environment with other URMs on campus, such as at the law school. Having a support network across all graduate schools is something that I think would be really helpful.
Overall, I think Feinberg has given me the opportunity to grow not only academically and personally, but also to learn how to speak on my ideas without being afraid of what people are going to think about them. I feel like I've always been able to voice my concerns, especially through the deans and through my different mentors, and also see some of those concerns being addressed.
For example, this past year I was part of a Sustained Dialogue group about race and privilege. We met over the course of eight months and discussed different issues on campus in terms of race, privilege and gender inequality. At the end of it, we created a set of ideas that we thought we could implement at Feinberg to help mitigate those types of issues. What's great is that we submitted the ideas to the deans and they started a task force to address those issues that we confronted. A lot of it is smaller things, such as showing more representation of minority patients in clinical cases and in the standardized patients that we see in the clinical education center.
But overall, our goal with Sustained Dialogue was also just about helping us as medical professionals become more aware of our privileges and understand how that can affect our interactions with colleagues and patients.
What projects for Medical Students for Choice are you most proud of?
We've organized various programs, such as shadowing opportunities at an abortion clinic and hosting a talk about transgender rights.
This year, I'm heading one of our main projects, which is a monologue show we're hosting in February called Off the Record. It's an opportunity for people to express themselves in an anonymous platform with stories about identity — whether it's about being a woman or minority in medicine, sexuality, religion or a coming-of-age story. We wanted to unite the Northwestern community in order to take away some of the stigma that some of us might feel. We're hoping this will be an annual event.
In December, I'll also be attending the national Medical Students for Choice Conference. I'm really excited to learn more about advocacy and defending our patients.
Tell us about your area of scholarly concentration (AOSC) research.
This summer, I traveled to Kenya for almost eight weeks to conduct research for my AOSC. I'm looking at the service delivery platform of the PrEP intervention — a daily pill that reduces the risk of HIV infection — in adolescent girls and young women in Kenya.
When choosing my topic, I knew I wanted to do a global health project and my mentor, Dr. Lisa Hirschhorn, connected me with a professor on the undergraduate campus, Dr. Sera Young, a medical anthropologist who had a project on HIV prevention. At the time, I didn't know much about HIV or how to conduct implementation research, but I thought it would be a great opportunity to learn.
For my research, I'm mainly focused on healthcare providers and local administration and staff, and their outlook on how to deliver PrEP. I'm currently analyzing that data, and looking forward to what we discover.
The experience was incredible, and it's really inspired my interest in doing more global health research in the future.