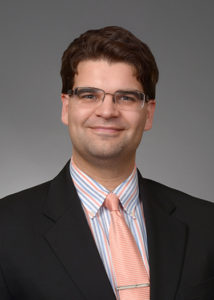 Growing up in a suburb of Chicago, Stephen Whitfield, a fourth-year student, had limited exposure to health inequalities. Residents of Whitfield's neighborhood in Palatine, Illinois, were relatively wealthy and secure in food, housing and healthcare.
It wasn't until he enrolled at Feinberg and moved to Chicago that Whitfield began to develop a greater perspective on social and economic justice, and started using his position as a medical student to make a difference.
As Whitfield begins his fourth year at Feinberg, he's been involved in several student organizations and activities related to health equity, and hopes to bring this sensibility to his future clinical practice as he applies for residency positions in family medicine.
Read a Q&A with Whitfield below.
What are your medical or research interests?
I am interested in a broad-spectrum type of medicine, being able to treat people with a wide variety of different conditions, in different social situations. I am looking at federally qualified health centers as a potential location. There are also lots of innovative payment models that people are working with, where they try to do home visits and see the same people in and out of the hospital.
I think the clinical practice is an essential part of how we move towards health equity as a system. I think it's inadequate in and of itself, but I think that if you're not practicing it day to day, that's a problem.
Why are you concerned with health equity?
When I was young, the principles were there; I think everybody grows up with ideas of fairness, but we have different levels of understanding about what that means — what it looks like and different perspectives on which groups of people are most impacted by inequity.
Growing up in the area I did, I had a relatively limited perspective on racial and economic justice because they were somewhat abstract. Frankly, almost everybody in my neighborhood was a relatively high-income white person.
It was more in college and since moving to Chicago and starting medical school that I've been gradually developing my own awareness and skills for being involved in the work.
How have you worked towards health equity at Feinberg?
There is an intersex activist in Chicago who I heard give some speeches, which led me to submit a resolution through the American Association of Family Practitioners (AAFP) Student Congress. The resolution, guided by this activist's language, declares that the AAFP is against the performance of medically unnecessary genital surgeries in intersex children. The resolution was recently adopted by the AAFP board of directors.
I also helped organize a demonstration in support of the Affordable Care Act last year, along with several others, including third-year medical students Jordan Rook, Arturo Salow, Andrea Henricks and Michelle Gorecki.
In addition, I am part of the Augusta Webster, MD, Office of Medical Education (AWOME) Inclusion and Bias Task Force. The task force's goal is to comb through every aspect of the curriculum and look for opportunities to teach students to recognize where bias exists in themselves and in the system, attempt to change it and move all of medical education and medical practice in a direction that is more inclusive of everyone's health needs and abilities.
How would an interested student get involved?
Any students who are interested in this type of work can feel free to talk to me, but I'm no expert. Everybody's continually learning, but I'm very new at a lot of this.
I want students to know that AWOME is genuinely very passionate about all of this work and has been very supportive of and very interested in student input. If anyone has ideas about how they want to see the Feinberg community changed, I encouraged them to get involved with the Inclusion and Bias Task Force, or to speak with the deans in any other capacity.
Students interested in working on issues bigger than Feinberg might consider following relevant community organizations on social media or attending local events to learn about their ongoing projects.