Arthur Prindle, PhD, assistant professor of Biochemistry and Molecular Genetics, has been named a 2018 Packard Fellow, one of 18 scientists across the globe recognized for their pursuit of scientific discovery.
The fellowship, established by The David and Lucile Packard Foundation, will allow Prindle to investigate topics of his choosing with a five-year, $875,000 grant.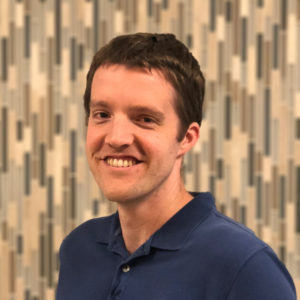 "I am honored and excited to be named a Packard Fellow and proud to represent Northwestern, the Feinberg School of Medicine and the Center for Synthetic Biology with this achievement," said Prindle, who is also a member of the Center for Synthetic Biology. "One of the amazing aspects of this award is the freedom provided by the foundation — my lab can explore new directions of research that might be considered too risky or preliminary by other funding agencies."
Prindle's laboratory aims to understand and engineer collective behaviors in communities of bacteria. While it's been known for some time that most bacteria reside in multicellular structures called biofilms, most bacterial research is still performed on domesticated lab strains that are not arranged this way, according to Prindle.
"We simply do not know enough about the biology and behavior of the most pervasive lifeform on the planet," Prindle said.
"This is one of the most prestigious awards for a young investigator, and we are honored to have Dr. Prindle here," said Ali Shilatifard, PhD, chair of Biochemistry and Molecular Genetics, the Robert Francis Furchgott Professor, director of the Simpson Querrey Center for Epigenetics and a professor of Pediatrics. "It's fantastic that he has brought Packard to Northwestern."
Research in the Prindle Lab is supported by an Intra-Programmatic Synergy award from the H Foundation. Prindle and Shilatifard are also members of the Robert H. Lurie Comprehensive Cancer Center of Northwestern University.
By combining synthetic biology, computational modeling and custom microfluidic devices, Prindle's laboratory seeks to uncover how bacteria communicate through cell-to-cell physical signaling. This signaling could be more rapid and precise when compared to mechanisms using DNA and proteins, according to Prindle, and could be used one day to identify disease in the body by characterizing the collective metabolic and electrochemical dynamics that are present with certain bacteria.
"The goal of my lab is to design new charge-based signaling mechanisms that will enable "smart" biofilms to detoxify the environment and detect disease in our bodies," Prindle said. "With the support of the Packard Foundation, I will exploit this evolutionarily ancient bioelectric language to build a fundamentally new set of tools for synthetic biology."
The David and Lucile Packard Foundation was founded by David and Lucile Packard, of whom David was a co-founder of Hewlett-Packard. The Packard Fellowships are among the nation's largest non-governmental fellowships, designed to allow flexibility in scientific pursuits.