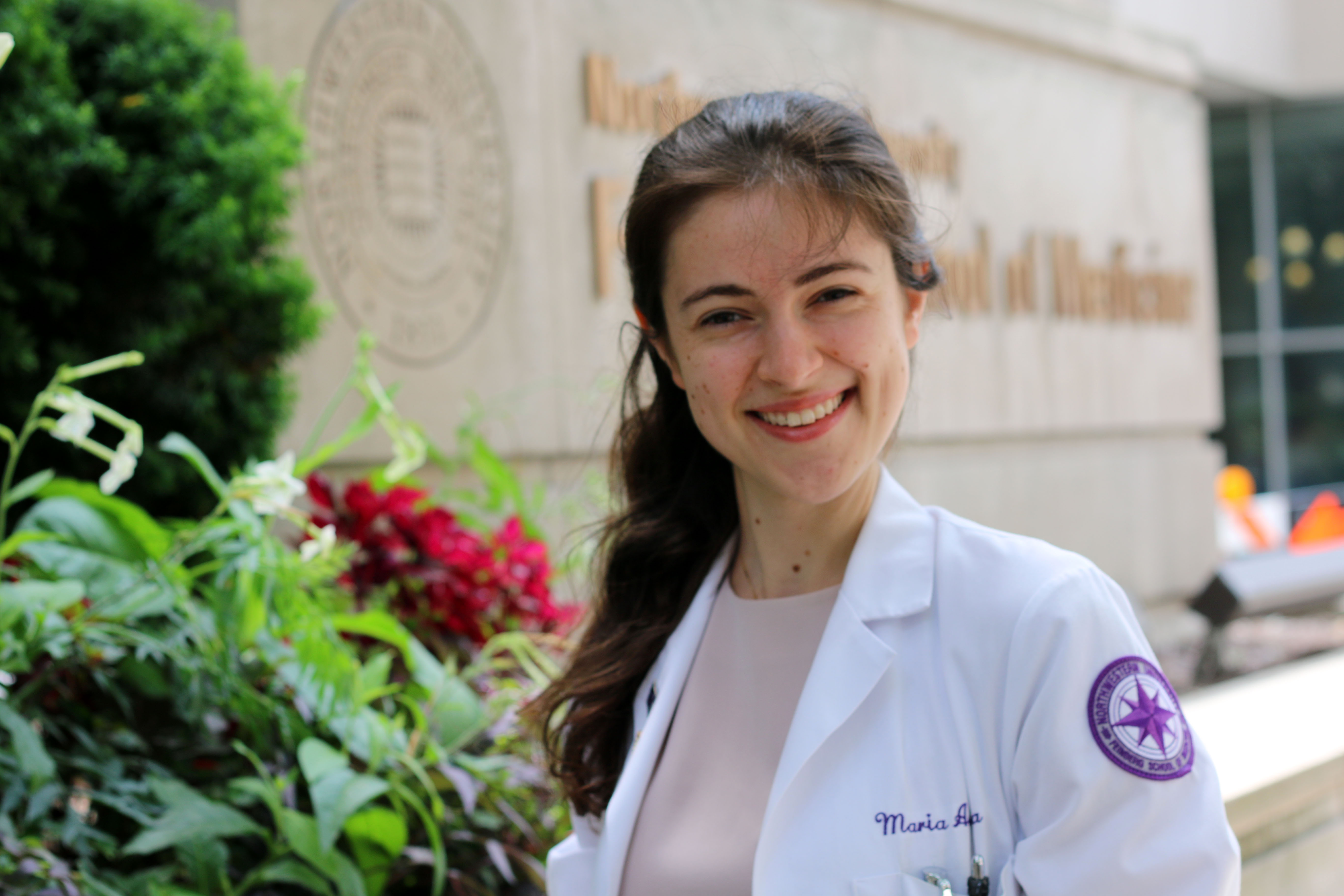 Maria Aristova, a student in the Medical Scientist Training Program (MSTP), is just about halfway through her MD/PhD curriculum, but she already has a wide range of research, extracurriculars and clinical experiences under her belt.
After completing the first two years of medical school, Aristova is now two years into the PhD phase of her program, where she researches 4D Flow MRI in the laboratory of doctoral advisor Michael Markl, PhD, the Lester B. and Frances T. Knight Professor of Cardiac Imaging in the Department of Radiology and in the McCormick School of Engineering.
Recently, Aristova also participated in a student-driven quality improvement (QI) research project on improving diabetes care within her Education-Centered Medical Home (ECMH) — a team-based, longitudinal primary care clerkship. She presented the team's findings at Feinberg's 14th Annual Lewis Landsberg Research Day in April.
When she's not in the lab, classroom or clinic, Aristova enjoys practicing yoga and dance, and was also previously president of the Radiology Society and a producer of In Vivo, Feinberg's annual sketch comedy show.
"I try to take the excellent advice of my College mentor, Dr. Gilbert, by specifically planning out time for exercise, creative hobbies and quality time with friends and family, along with classes, clinic and other commitments," she says.
In the future, Aristova, who earned her undergraduate degree in Chemical and Biological Engineering from Princeton University, intends to pursue a combination of research, clinical practice and teaching. 
Read a Q&A with Maria:
Why did you choose Feinberg?
I loved that the medical school emphasized early clinical exposure and offered the ECMH program, in addition to an evolving curriculum that uses a number of innovative teaching strategies. Because my research interests were in biomedical engineering, I was also drawn to Northwestern because of the strength of the engineering program — I knew that there were many possible PhD mentors, as well as lots of opportunities for collaboration.
During my MSTP interview, I was also really impressed by the sense of community within the program, as well as the support offered (by both the program administration and peers) for succeeding in each phase of the combined degree.
What is your research focus?
The laboratory of my advisor, Michael Markl, focuses on developing 4D Flow MRI. Essentially, this method makes it possible to collect a set of three-dimensional, three-directional velocity vector fields at different time points relative to the heartbeat. It's possible to not only visualize blood flowing through some part of the body — such as the heart or brain (by viewing these images as a movie​) — but also to directly quantify hemodynamic properties (like flow, velocity distributions, wall shear stress, kinetic energy and more) that can only be visually or qualitatively assessed with other methods.
I'm also mentored by Dr. Susanne Schnell, who leads the group's research on intracranial blood flow. My PhD work is focused on optimizing the 4D Flow method for studying arteriovenous malformations — abnormal connections between arteries and veins —of the brain. One of the most exciting things to me about this project is that it unites the engineering task of improving the performance of our method for imaging arteriovenous malformations and close collaboration with clinicians in neurosurgery, neuro interventional radiology and radiology to learn what kinds of quantitative metrics might be potentially clinically relevant.
What inspired your research on diabetes care in ECMH?
Our ECMH had previously completed a successful QI project to improve HIV screening. After discussions with student QI chiefs, our physician mentors and the rest of the clinic team, we felt ready to take on a more ambitious project tailored to our patient panel.
Our ECMH is located at CommunityHealth West Town, where many patients face barriers to care including access, transportation and language. Since our panel included a substantial cohort of patients with type 2 diabetes, we saw an opportunity to focus on providing solidly evidence-based care for this group, while making sure we were taking an individualized approach to each patient.
To reconcile these two seemingly contradictory goals, each student in the ECMH was assigned one or two patients to follow longitudinally and completed a monthly survey about progress on evidence-based guidelines, as well as an individualized plan of care that could be referenced when the patient came in.
What were the results of the study?
By doing the monthly chart review, we were able to improve our compliance with guidelines for process measures like flu shots and eye exams that require some advance planning to get completed on time. Since this was quality improvement research, the main takeaway was that a student clinic could improve evidence-based quality of care just by doing a regular chart review for a targeted group of patients and giving students individual longitudinal responsibility for a particular chart —so this could be a way to further improve the care that patients are already getting.
Though it wasn't part of the study, the subjective feedback from students was that this project also improved their understanding of diabetes management. Of note, the project lasted 17 months and was supported by an ECMH-wide team effort to do chart reviews and investigate the results.
What has been your most rewarding experience at Feinberg?
ECMH has been that for me. Having a "clinical home" since the first weeks of medical school imbued all the study time with a very specific sense of purpose and context — and four years later, it has connected me with many mentors, friends and patients.
Working with senior students (especially MSTP students in older class years) and our two mentors (Dr. Baumgartner and Dr. Tschoe) in the clinic has been inspiring, and the CommunityHealth Clinic in particular is a great place to see the potential of patient-centered, compassionate and rigorously evidence-based care for patients who don't have a great deal of other health resources.
What has been your favorite part of the curriculum?
Apart from the excellent overall quality of teaching at Feinberg, and some standout faculty lectures —  Dr. Silinsky's pharmacology lectures and Dr. Macken's lightning-fast neuro exam among them — I found the patient visits and guest lectures to be among the most inspiring and helpful parts of the curriculum. Hearing patients talk about their lived experience of a disease often made it more understandable and memorable, and their generosity in sharing something so personal for our education meant a lot.
Aristova's doctoral research is supported by the National Heart, Lung, And Blood Institute of the National Institutes of Health under Award Number F30HL140910. The content is solely the responsibility of the authors and does not necessarily represent the official views of the National Institutes of Health​.