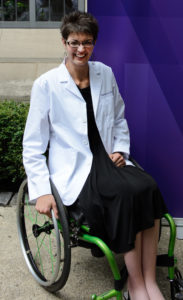 Samantha Schroth, a second-year MD/PhD student, didn't always plan on becoming a physician. After graduating from the University of Minnesota-Twin Cities in 2013 with a Bachelor of Science in Animal Science, Schroth was set to attend veterinary school at the University of Minnesota.
But when an accident that summer left Schroth with a serious spinal cord injury, she realized her true passion lay in human medicine — and she ultimately found her way to Feinberg's Medical Scientist Training Program (MSTP).
Since beginning at Northwestern in August 2017, Schroth has dedicated herself not only to the normal activities of a medical student, but also to advocating for people of all abilities. During her first year at Feinberg, Schroth founded AccessMed, a group which offers education about providing high-quality medical care to persons with disabilities. She's helped host talks about the Americans with Disabilities Act and on healthcare disparities for persons with disabilities, and is currently organizing events focused on visual impairments, Deaf culture and psychological disabilities.
Off-campus, Schroth is also involved with Dare2Tri, an organization that provides support and training for adaptive athletes to participate in triathlons, cycling and running races. Since starting the sport herself in 2015, Schroth has completed three marathons, a 25k and a half marathon using a racing chair.
In April, during her class's musculoskeletal module, Schroth developed a unique activity that allowed her fellow classmates to experience what it's like to live a day in a wheelchair.
In the personal essay below, Schroth shares how she hopes this experience helps medical students ultimately become better physicians:
Everyone has a story, life experiences that make you the person you are. My journey to Feinberg is a bit unique; many would even say "non-traditional." I'm a first-generation college student. I had no intention of ever going to medical school. I'm three years older than the average age of my fellow classmates. And I'm a wheelchair user.

"Wheeling" is a rather recent addition to my life. Five years ago, a week after graduating from college, I was standing in the front yard of a friend's cabin on a beautiful day when a dead tree fell on me — resulting in a spinal cord injury and paralysis below the mid-chest.

Fast forward through three months in the ICU, rehabilitation and many months (if not years) of adjustment and trial-by-error learning.

It's no surprise that becoming a paraplegic is a big change. But I was surprised by some of those changes: how differently I was treated, and the countless entities of day-to-day life — curb cutouts, stairs, bathroom stalls — that I now needed to pay attention to and navigate.

This experience isn't uncommon. According to a 2012 report by the U.S. Census Bureau, nearly one in five people self-report having a disability. Why does this matter? Because as future physicians, I and all of my peers will one day have patients who identify as disabled. Understanding the impact disability can have on day-to-day life is vital in treating these patients with both dignity and respect.

It's said that experience is life's best teacher and I couldn't agree more; thus "A Day in a Wheelchair" was born. I planned and organized an experience to allow my classmates the opportunity to experience life the way I and many of our future patients do — on wheels.

For the duration of our four-week musculoskeletal module, two wheelchairs were available to be "checked out" for an entire day. Students attended classes, traveled to an off-campus location of their choosing, and even attempted public transit — all with the intention of developing a greater sense of empathy and appreciation for just some of the many challenges wheelchair users face.

First-year medical students Cindy Wu and Francisco Cai participated in the "Day in a Wheelchair" activity organized by Schroth.

As someone who has "been there," it was exciting to see my peers come to many of the same realizations I did after my injury. Your day may require a little extra planning — or an earlier alarm; you may purposefully take a longer route if it has better sidewalks or automatic door openers. And if it's raining, you will get wet (it's pretty hard to push and hold an umbrella at the same time).

Yet, comments from the student participants made it clear that lessons learned over those few seated hours were much bigger than the physical challenges of utilizing a chair. In a full class debrief session, my peers remarked on their surprise at all of the "little things" they had never considered that impacted their day. Many felt as though they were "in the way" and "stuck out," or that the mere presence of a wheelchair changed the way people interacted with them.

I am honored to attend a medical school with faculty and deans who are supportive of the ideas of their students, and am exhilarated to be surrounded by peers who are open and willing to partake in somewhat unconventional learning experiences.

It's a unique position, having lived this very personal experience with medicine and disability and now finding myself "on the other side of the bed," training to become a physician. But it's a position that has allowed me to teach, challenge bias and stereotypes, and hopefully impact a future generation of physicians. It's also a position I couldn't be more proud to occupy.