As Cynthia Perez, '18 MD, prepared to accept her doctoral hood and diploma at Feinberg's 159th convocation ceremony, she took a moment to recognize all those who have supported her along the path to medicine.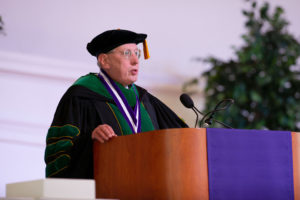 "Graduating from medical school is surreal. Though I'll be the one crossing the stage, I will be carrying all the efforts of my mother, teachers, friends and community with me," said Perez, who was the first in her family to graduate high school and will soon enter a residency in pediatrics at NewYork-Presbyterian Weill Cornell Medical Center. "In Mexico, my mother did not have the educational opportunities I had, but made sure I had everything I needed growing up. I'm so thankful for her love and support."
Feinberg's convocation, held May 21 in the Aon Grand Ballroom at Navy Pier, began with an introduction by Eric G. Neilson, MD, vice president for Medical Affairs and Lewis Landsberg Dean, who welcomed graduating medical students, faculty, family and friends to the ceremony.
During his remarks, Neilson emphasized that competence is fundamental to the ethics of the medical profession.
"While many may think a great bedside manner is the first principle of medical ethics, it is not. The first principle of medical ethics is competency, and you cannot be competent unless you are fluent in the language of science and willing to bring new discoveries to the bedside. Humanism is merely the proper vehicle through which we convey such competence," he said. "The integration of knowledge with humanity is the true hallmark of a great physician."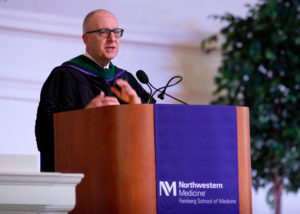 Neilson introduced David Skorton, '74 MD, secretary of the Smithsonian Institution, who delivered the convocation address.
Skorton, the first physician to lead the Smithsonian, discussed his cherished time at Feinberg, lessons from a life in medicine and his conviction in the deep connection between science, the arts and humanities.
"During your time at Feinberg, you have received a world-class education. But a lifetime of life experience has taught me that success in the biomedical disciplines — whether it's direct patient care, research, education or assistance with healthcare delivery — requires more than the scientific education we receive in school," said Skorton, a cardiologist whose research has focused on congenital heart disease and cardiac imaging. "It also requires a deep and full understanding of people and of the greater society in which we all live."
He also spoke of the importance of lifelong learning. "Because of the educational foundation you have received here, you will excel. But I also hope that you will every day broaden your horizons, learn new things — and learn them in new ways — and explore the full spectrum of what it means to be human," Skorton said. "If you do, it will not only make you better at what you do, it will enrich your lives in ways you cannot possibly imagine today."
Morton Schapiro, PhD, president of Northwestern, also shared his well wishes with the graduating class. "As you leave Northwestern University, I know you will have careers like David's that will be credits to your mentors and friends and family, as well as to your alma mater. I thank you from the bottom of my heart and congratulate you for a job brilliantly done."
Marianne Green, MD, senior associate dean for Medical Education, presented the members of the class of 2018. As the new graduates crossed the stage, they received their doctoral hood and diploma from their college mentor or from a family member who is a physician.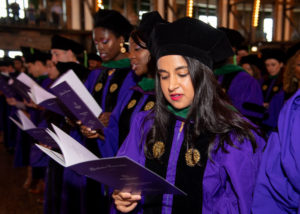 After degrees were conferred, Varshini Cherukupalli, '18 MD, delivered a message to her fellow graduating students about the importance of personal relationships.
"As student physicians, we have each been able to make a difference in small, yet incredibly significant ways. But the power of a personal relationship is not limited to our patients," said Cherukupalli, who was nominated by her peers to be the class speaker. "Our mentors and faculty have been there since that first day of orientation, whether it was poring over portfolios or helping us figure out which specialty we would pursue. Our family and friends have been there to support us through the ups and downs of wards, each rotation and through the residency application process. But most importantly, we have been there for each other."
As the convocation ceremony concluded, Neilson led the graduates in reciting the Declaration of Geneva, the modern declaration of the physician's oath — the same one they took as first-year medical students at Founders' Day.
Twenty-eight members of this year's class were inducted into the medical honor society, Alpha Omega Alpha. Twelve received Magna Cum Laude in Scientia Experimentali and 16 received Cum Laude in Scientia Experimentali. Thirteen graduates received summa cum laude, four received magna cum laude and nine received cum laude.
Of the graduates who earned joint degrees, 18 completed a PhD in the Medical Scientist Training Program, six received a Master's Degree in Business Administration, five received a Master's Degree in Public Health and five received a Master's Degree in Medical Humanities and Bioethics.
A reception for graduates of the class of 2018, family and friends followed the convocation ceremony.
"I'm experiencing a lot of emotions," said John Campo, '18 MD, who graduated cum laude and was also the recipient of the Frederick and Harriett Stenn Award for Humanism in Medicine at the annual Honors Day event. "For one, I feel a sense of excitement, on a level that I have not experienced before. I also feel a sense of awe. The individuals I am graduating with represent some of the brightest, most compassionate people I have ever met. They inspire me to continually strive to push my limits and be my best self."
Campo, who will begin a residency in emergency medicine at Harbor–UCLA Medical Center this summer, also used the moment to reflect on the next phase of his medical career. "As I look forward to residency, I am humbled with the knowledge that there is still so much to learn," he said. "Despite this, I feel confident in the training and skills Northwestern has provided me with. It's a solid foundation on which I will build upon."