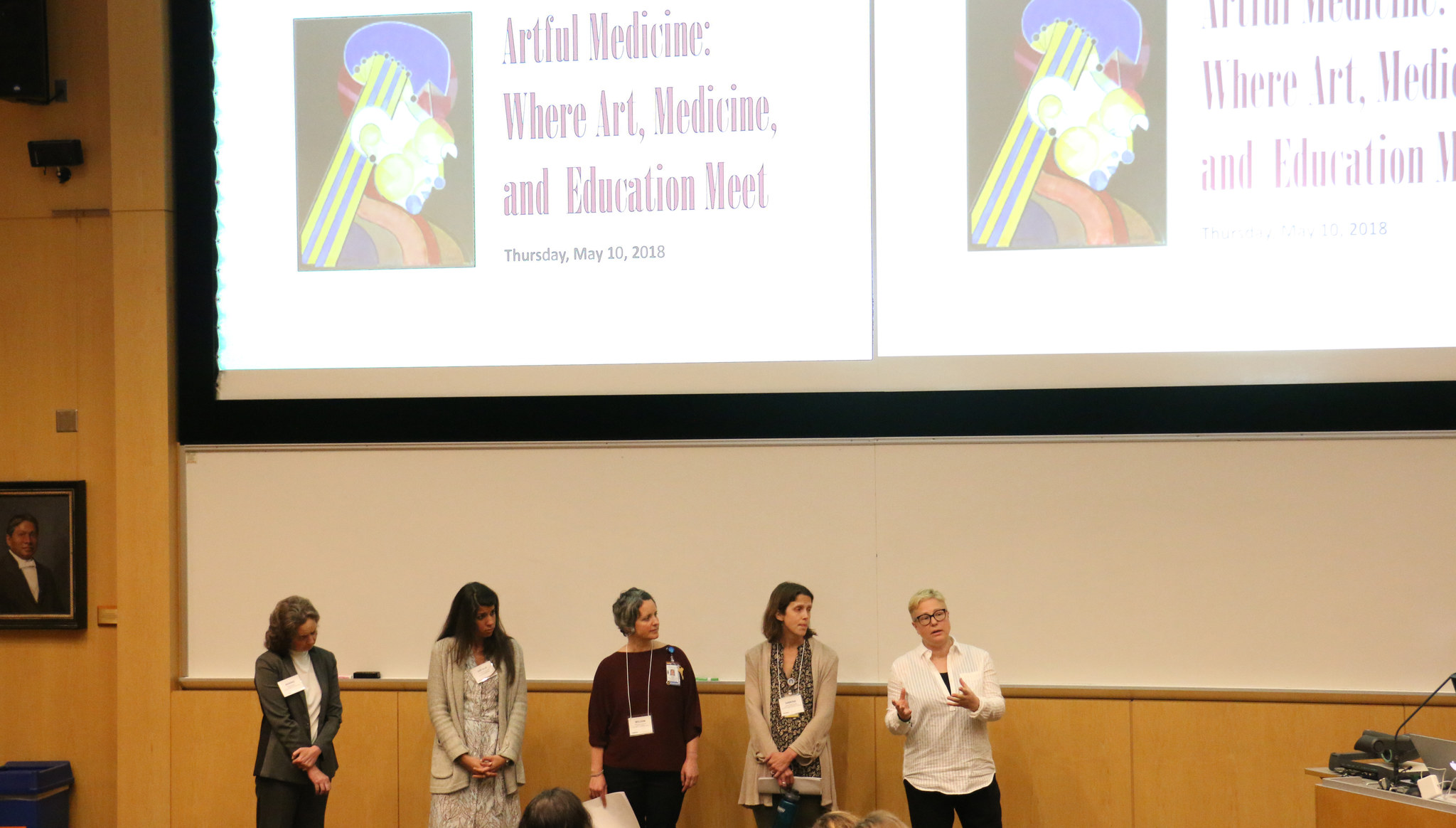 A diverse group of students, faculty, alumni and healthcare professionals gathered to examine how the arts inform medical education and practice during this year's Center for Bioethics and Medical Humanities Conference, held on May 10.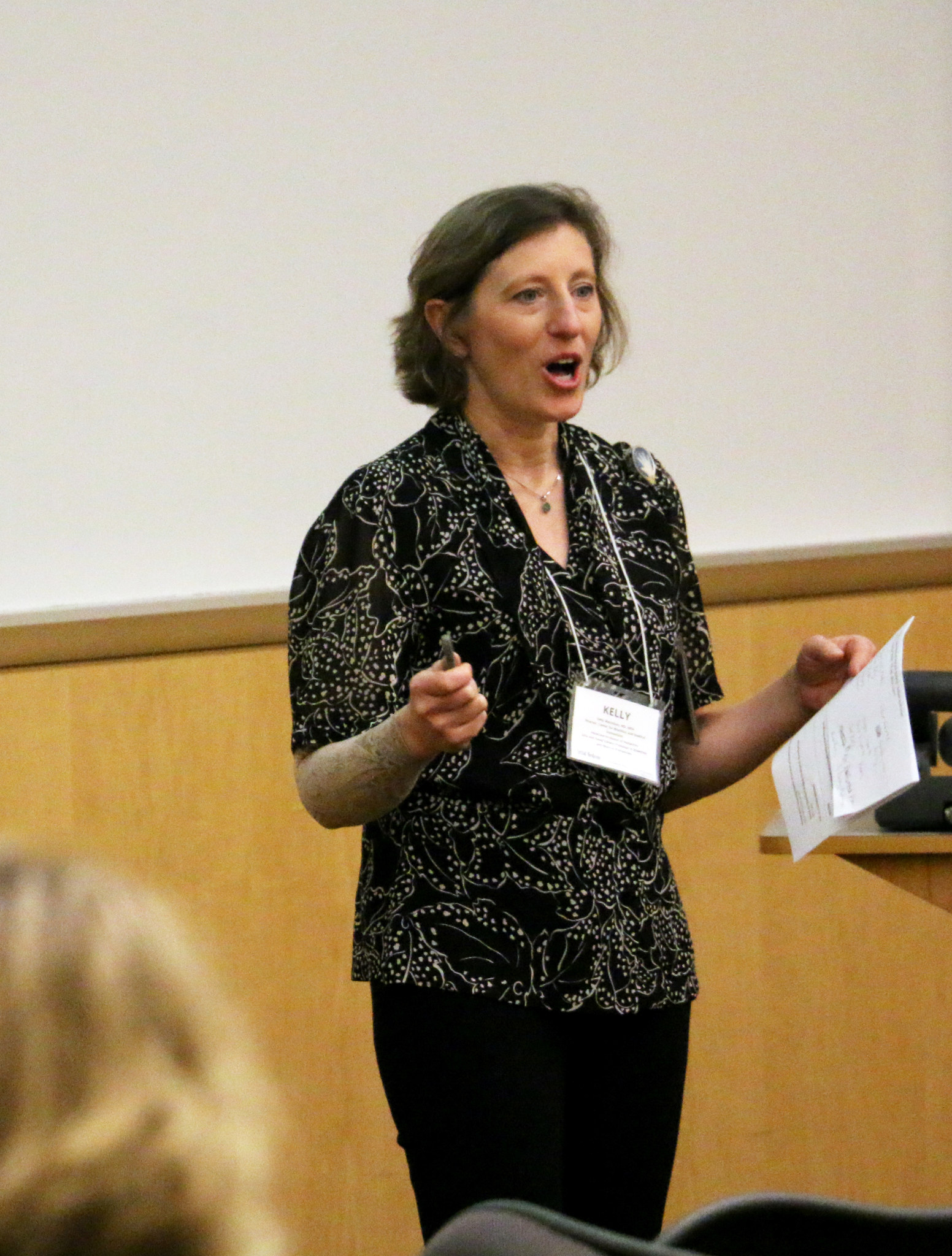 The second annual conference, centered around the theme "Artful Medicine: Where Art, Medicine and Education Meet," featured a full day of research and scholarship through four panel sessions, a poster presentation and a keynote address on using the visual arts to improve medical education.
"The reality is that we're all artists in some shape or form. Art is part of humanity — and especially in a profession like medicine, where you're dealing with human beings all the time, the human content is at the forefront," explained Kelly Michelson, MD, MPH, '04 GME, director of the Center for Bioethics and Medical Humanities within the Institute for Public Health and Medicine (IPHAM). "This conference is a way of formally acknowledging that link and thinking about how medicine and art can come together to enhance humanity, as well as be used as an educational component to help clinicians relate better to patients and even make better clinical diagnoses."
Michelson, also an associate professor of Pediatrics and the Julia and David Uihlein Professor of Bioethics and Medical Humanities, joined Megan Crowley-Matoka, PhD, in welcoming attendees to the event.
"We are really fortunate to have an incredibly diverse and dynamic set of panels exploring different angles of this idea of 'artful medicine' from a wide range of perspectives," said Crowley-Matoka, director of the Master of Arts in Medical Humanities and Bioethics program, and associate professor of Medical Education and of Anthropology in the Weinberg College of Arts and Sciences. "It's such a great opportunity to really enrich the conversation that we have across Northwestern around bioethics and medical humanities, and to grow our shared intellectual community."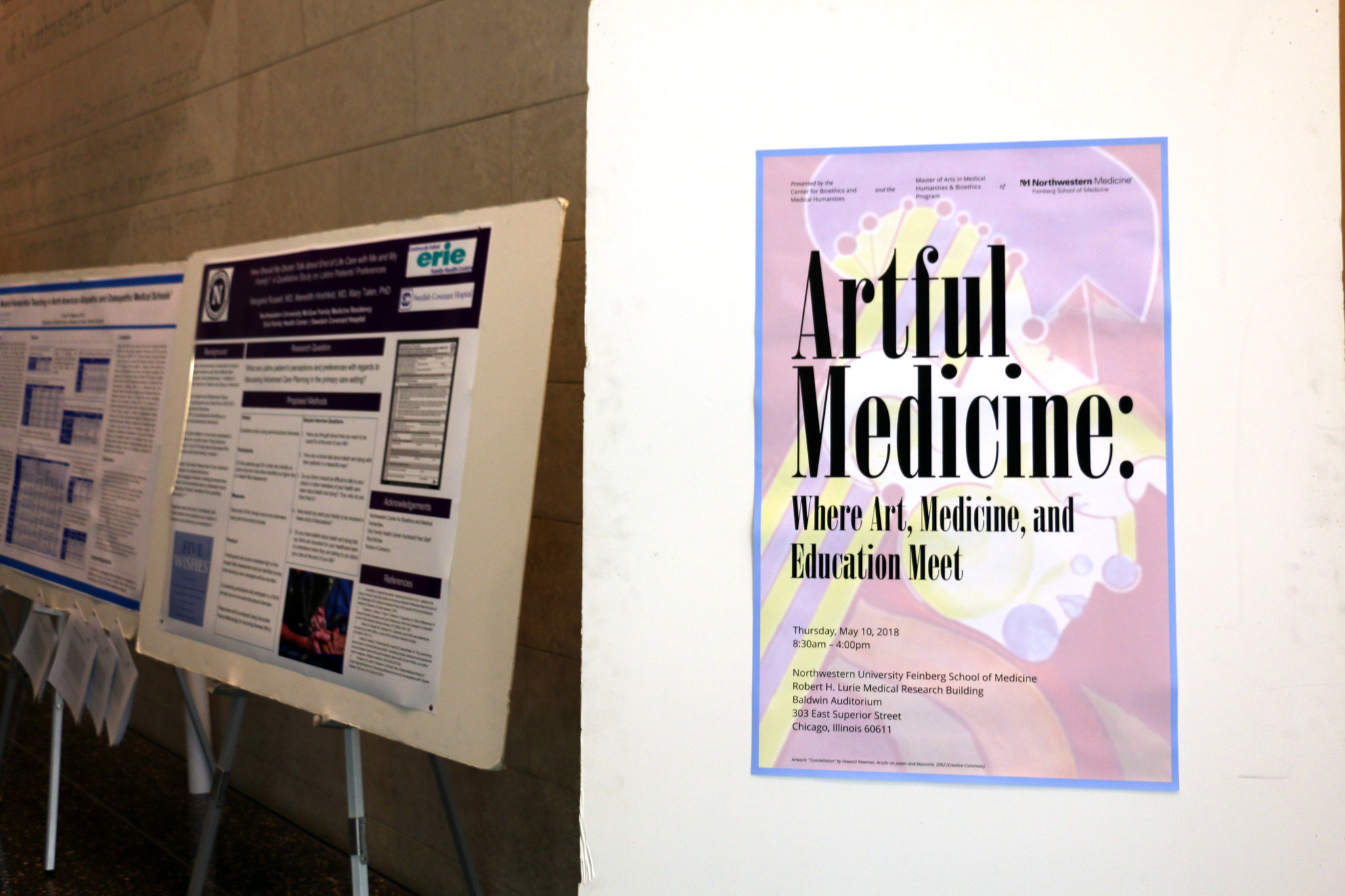 The variety of topics presented during the panels included the role of comics in advanced care planning, art therapy in pediatric palliative care, poetry for the transition from medical students to residents and leveraging spoken word and other artistic mediums to reduce health disparities.
Eric Keller, MA, a fourth-year medical student who earned his master's in medical humanities and bioethics at Feinberg, presented his research on humanism in interventional radiology (IR) — a growing medical specialty that combines aspects of both surgery and radiology to diagnose and treat disease.
"I wanted to characterize what the shifting professional identity was within the field of IR, and how the humanities might ease some of these growing pains and help shape the future of the specialty," said Keller, who will begin a residency in interventional radiology at Stanford University this summer. "I realized just how much the humanities could offer this field."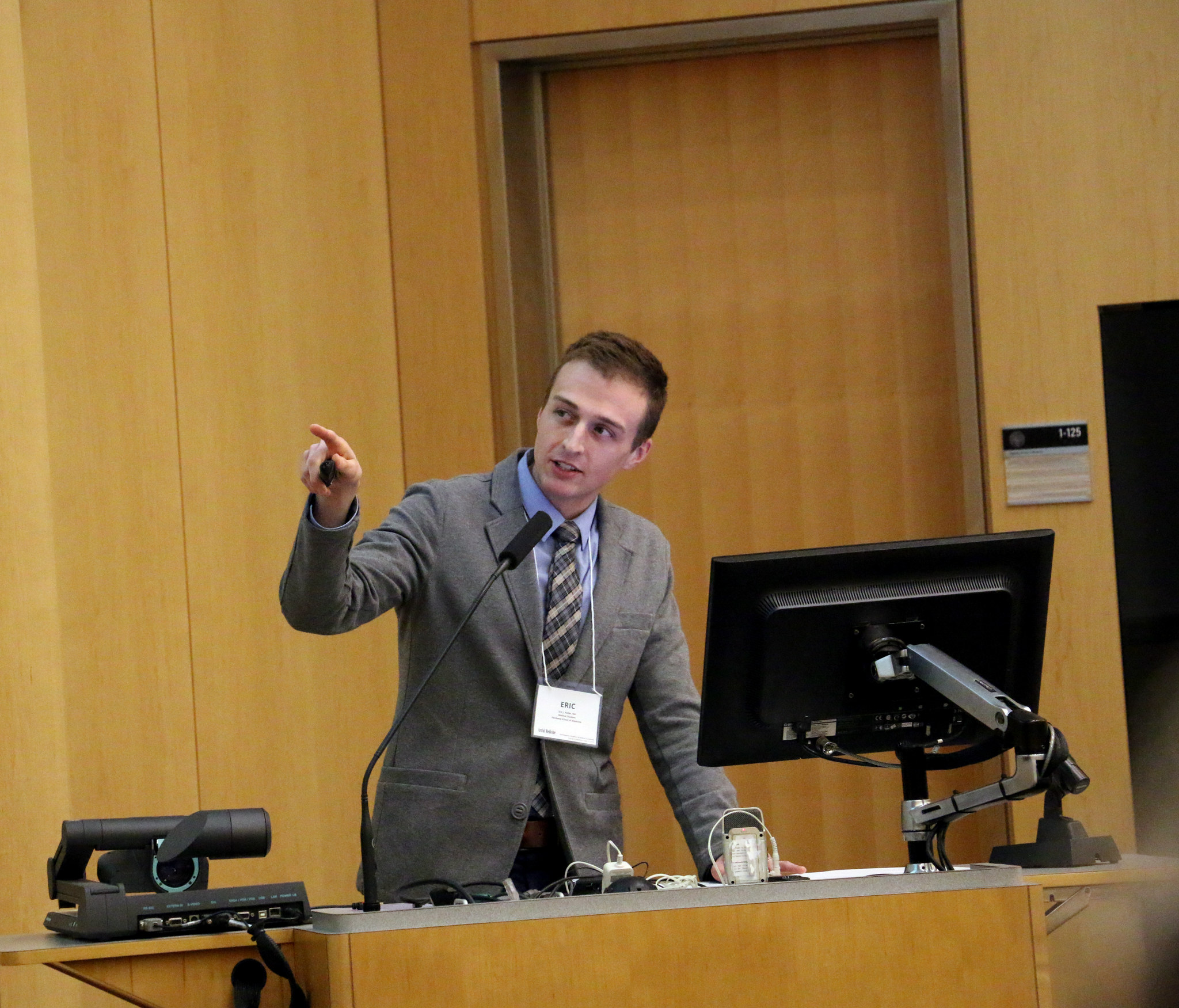 Beyond students and alumni of the master's program, speakers throughout the day also included emergency medicine physicians, residents in obstetrics-gynecology, clinical investigators, nurses, art therapists and hospital chaplains, among other professionals.
The conference's keynote speech was delivered by Joel Katz, MD, an associate professor at Harvard Medical School and director of the Internal Medicine Residency Program at Brigham and Women's Hospital.
Katz discussed the role of art in medical education and how art can help to narrow the gap between bioscience and the human experience. He also described how both his affiliated medical school and residency program have incorporated visual arts training into the curriculum to improve education and health outcomes. In particular, he focused on three examples of areas where arts training has been applied with positive outcomes: improving physical diagnosis skills, strengthening clinical teams and promoting physician wellness by fostering the humanistic side of medicine.
"We're not trying to turn physicians into artists. This isn't teaching art history. It's about using art to help solve a pedagogical problem — whether it's conflict resolution, empathy, clinical decision making or any other problem where art, literature, music or theatre can help," Katz explained. "We're applying arts to solve curricular and healthcare problems not just in a creative way, but actually in a more effective and enduring way."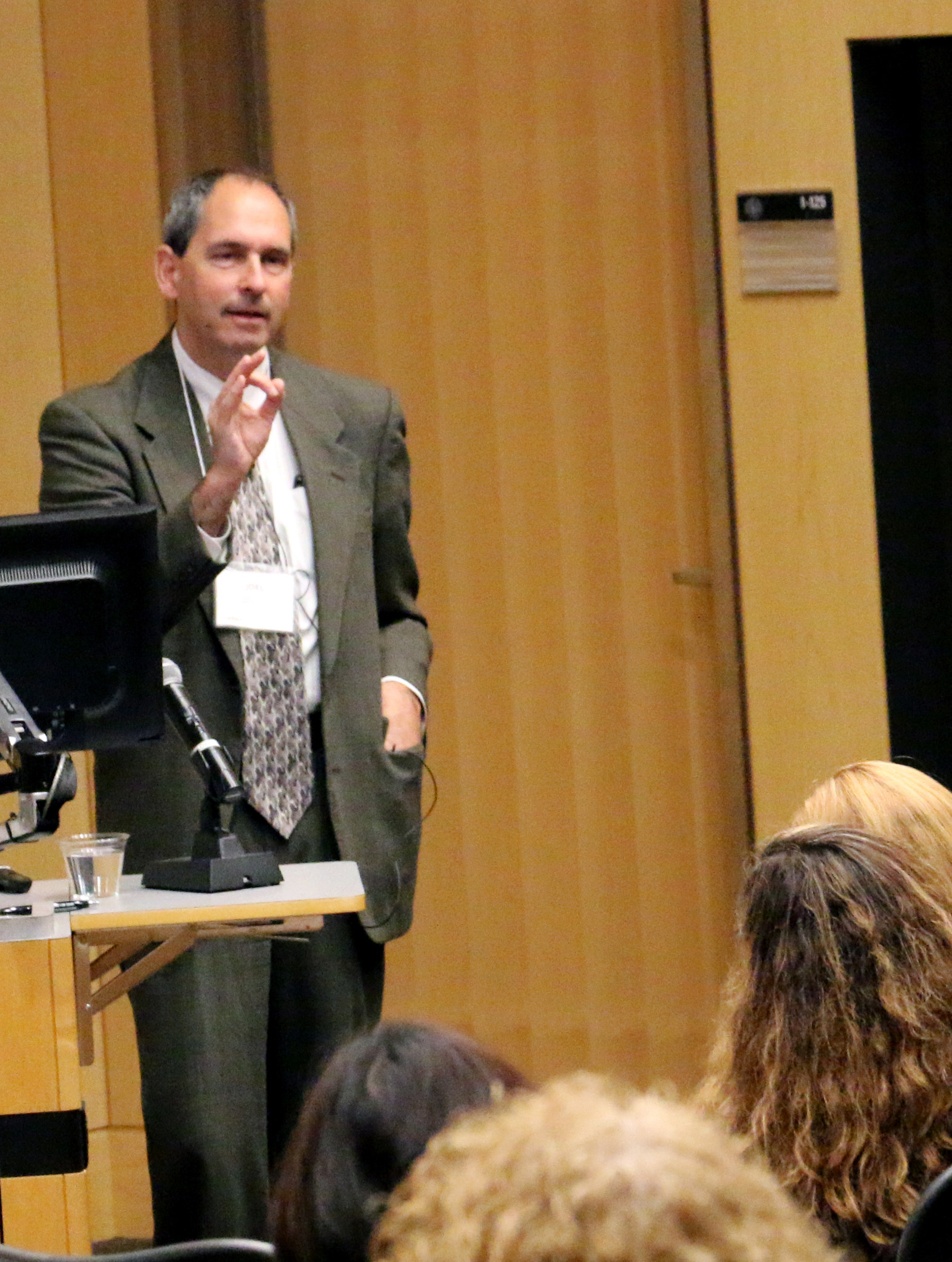 The conference was also paired with the 9th Annual Hippocrates Poetry & Medicine Symposium, co-sponsored by the Center for Bioethics and Medical Humanities and held the following day. The symposium included a full schedule of activities, including four academic panels, a poster session and presentations by poet Mark Doty and physician-poet Rafael Campo, MD, associate professor at Harvard Medical School, among other events. In the evening, Katz also led a seminar on "Poetry in Action: Intraprofressional Teambuilding" at the Museum of Contemporary Art.
The symposium was co-sponsored with the Hippocrates Initiative for Poetry & Medicine, The Poetry Foundation, and Harvard Medical School.