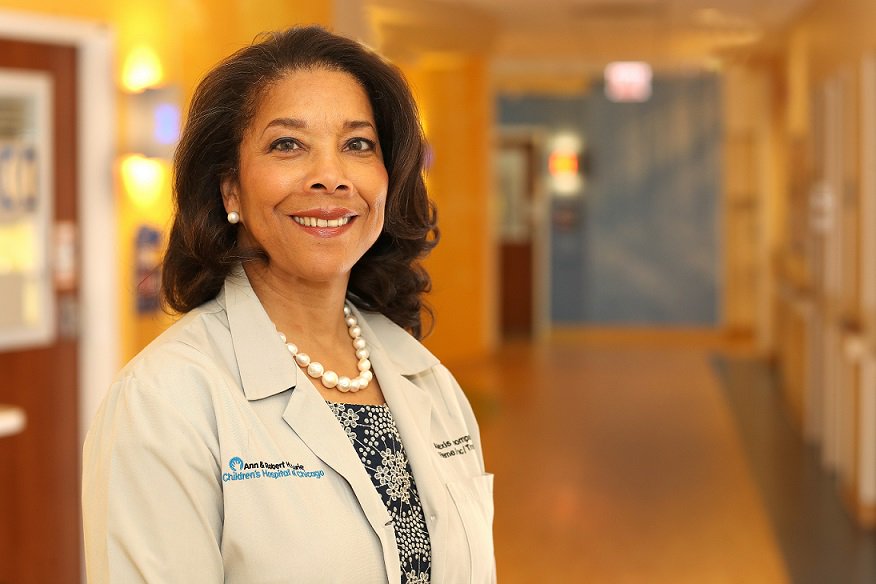 Gene therapy for a serious blood disorder called beta-thalassemia showed significantly improved outcomes among patients, without serious side effects, according to the results of two clinical trials published in the New England Journal of Medicine.
The international, multi-center trials were led by Alexis A. Thompson, MD, MPH, professor of Pediatrics in the Division of Hematology, Oncology and Stem Cell Transplantation.
"The results exceeded our expectations and represent a major step forward for beta-thalassemia and related diseases," said Thompson, also director of the Comprehensive Thalassemia Program at Ann & Robert H. Lurie Children's Hospital of Chicago and a member of the Stanley Manne Children's Research Institute.
Beta-thalassemia is an inherited blood disorder caused by mutations in the beta globin gene that impair production of a fundamental component of hemoglobin, the substance in red blood cells that carries oxygen. Patients with the most severe form of beta-thalassemia are profoundly anemic and generally require regular, lifelong blood transfusions for survival. Chronic transfusion therapy is not curative and carries the added risk of serious complications, including iron overload, blood-borne infections and organ damage. Bone marrow or stem cell transplantation can be a potentially curative therapy, but it typically requires a matched sibling donor, which is often not available and still carries many risks.
As such, there is significant need for novel treatment options in beta-thalassemia. Gene therapy — in which a patient's own stem cells are collected, treated in the laboratory to introduce heathy copies of the beta globin gene, and then returned to the patient — is one such potential strategy.
"These clinical gene therapy trials represent the results of decades of research that have now refined the process by which the function of a single, disease-causing gene can be restored. One key aspect is that a patient is their own donor, which overcomes some of the fundamental limitations of conventional transplantation for many patients," said Thompson, also the associate director of Equity and Minority Health at the Robert H. Lurie Comprehensive Cancer Center of Northwestern University.
In the studies, the investigators evaluated the safety and efficacy of gene therapy using a lentiviral vector to deliver a normal copy of the beta-globin gene into the patient's stem cells. Twenty-two participants with beta-thalassemia were enrolled in two phase I/phase II clinical trials across the U.S., Australia, Thailand and France. All received chemotherapy prior to reinfusion of their modified stem cells.
The investigators found that at a median follow-up of 26 months, the majority of patients receiving the treatment had reduced or completely eliminated their need for blood transfusions.
Further, the therapy appeared to be safe; the majority of side effects experienced were those typical of transplantation, and no serious side effects related to the gene transfer were reported.
While the findings are promising, the investigators note the need for continued long-term follow-up and a phase III trial.
"These studies have been a successful international collaboration and could pave the way for a viable treatment option for thalassemia patients in the near future," Thompson said. "We will continue to collect safety data and follow the patients for a total of 15 years, but we are encouraged by how well patients have tolerated the process."
Based on the results of the research, the scientists are also exploring further refining the therapy, including modifying vector copy number, as well as evaluating how outcomes might vary based on the genetic subtype of beta-thalassemia.
The findings also have important implications for other genetic diseases beyond thalassemia. For example, investigators at Lurie Children's and other institutions are currently evaluating a similar treatment strategy for patients with sickle cell disease, another inherited blood disorder.
"Gene therapy may be a modality that could be applied to a number of other inherited diseases," Thompson said. "Our report represents a major advancement from a research perspective and supports the feasibility of gene therapy as an actual treatment for thalassemia, which is clearly what really matters to patients."
Thompson is also currently the president of the American Society of Hematology, the largest hematology organization in the world.
Both clinical trials reported in the study, HGB-204 and HGB-205, were supported by bluebird bio, which manufactures the gene therapy. HGB-204 was also supported by the National Center for Advancing Translational Sciences, National Institutes of Health, through Grant UL1TR000003 and/or Grant UL1TR001878. For HGB-205, funding for the Biotherapy Clinical Investigation Center was provided by Assistance Publique Hopitaux de Paris and INSERM. Funding was also provided by France's Commissariat à l'Energie Atomique et aux Energies Alternatives (CEA) and by a "Chaire Industrielle" granted by France's Agence National de la Recherche (ANR).