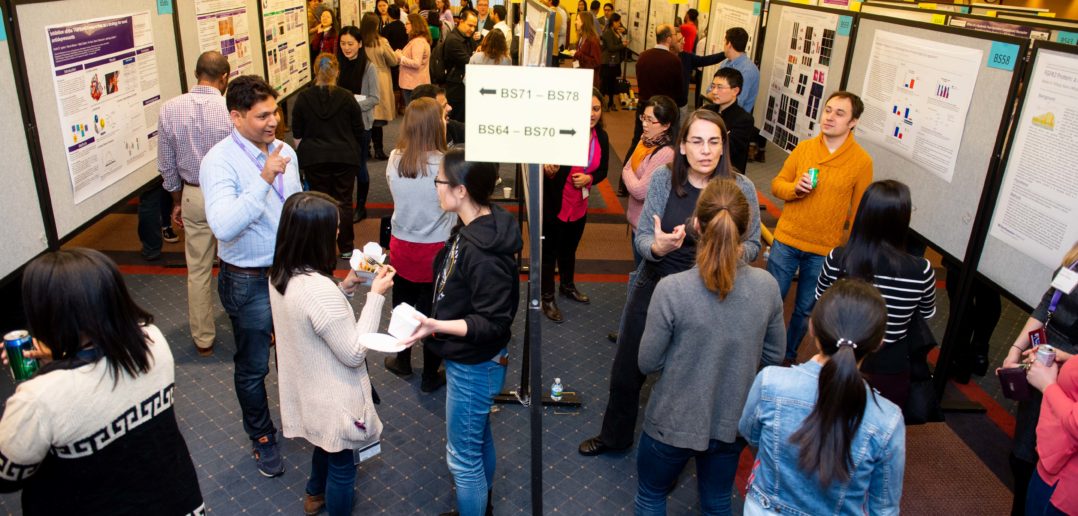 On Thursday, over 430 scientists, trainees, students and faculty presented abstracts at Feinberg's 14th Annual Lewis Landsberg Research Day, a celebration of the medical school's innovative research and the dedicated investigators who make it happen.
"This was a great experience, and I'm very happy I got the opportunity to present my research," said Trevor Barnum, RN, a surgical nurse educator who won first prize in the medical education category during the event's poster competition.
Barnum investigated the outcomes of medical students inserting Foley catheters in an operating room setting, finding they posed no excess risk to patients. In fact, Barnum found medical students had the lowest insertion infection rate among the provider populations they examined.
"The study wasn't designed to look at why the rate is lower, but we think that medical students are potentially guided towards less sick patients or had senior clinicians watching them more closely," Barnum said.
To begin the day, Rex Chisholm, PhD, vice dean of Scientific Affairs and Graduate Education, welcomed attendees to the event and presented the Medical Faculty Council Mentors of the Year and Tripartite Legacy Faculty Prize awards.
"This year — as every year we've done this — is bigger and better than last year," Chisholm said. "This is the day when we get to see the fantastic work everybody spends the rest of the year working on."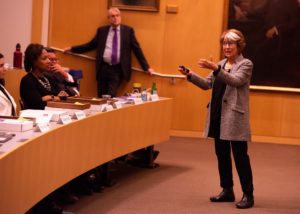 After an introduction from Chisholm, Mina Bissell, PhD, FRSC, distinguished scientist in the Biological Systems and Engineering Division at the Lawrence Berkeley National Laboratory, gave a keynote presentation on the often underappreciated impact of structure and form on a cell's function.
"Architecture is the essence of organ specificity," Bissell said. "We have over seventy trillion cells and all of those cells have the same genetic information — so how does a cell know it's in the nose, the prostate or the breast?"
After the keynote, investigators fanned out across the Robert H. Lurie Medical Research Center and event space at Northwestern Memorial Hospital to showcase the results of their studies, answer questions about their posters and exchange ideas with colleagues.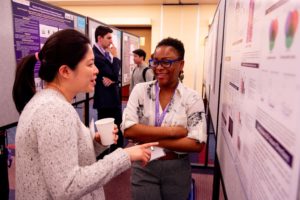 Hadijat Makinde, PhD, postdoctoral research fellow, won third place in the poster competition's basic science category for her project investigating transcription signatures in microglia after traumatic brain injury (TBI). Previous studies have shown cells similar to microglia can impair recovery after TBI, so Makinde took a closer look.
"Transcriptional sequencing is a lot of data, but we found genes were upregulated after the injury: Some involved regeneration and repair, but there are others upregulated later that are associated with neurodegenerative diseases," Makinde said. "We've set up a bunch of experiments to investigate the microglia further, and some of the follow-ups are almost done already."
Learning a new skill was a common theme among Research Day presenters; Makinde had to learn a great deal of programming to properly sequence the RNA of microglia. Meanwhile, Mike Bancks, PhD, MPH, a postdoctoral research fellow, had to learn new methodologies for his work estimating lifetime risk for cardiovascular disease using fasting glucose levels.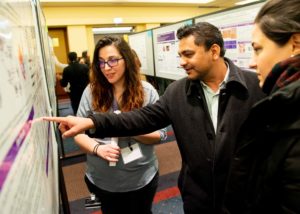 "I had to grapple with some theoretical challenges," said Bancks, who won first place in the public health and social sciences research category for his poster.
Fasting glucose is one measure used to determine diabetes status and to predict lifetime risk for diabetes, but it is not yet used for cardiovascular disease. Bancks used a sample of nearly 20,000 individuals to build a model that predicted lifetime risk and discovered that, among individuals who had the lowest fasting glucose levels, only individuals with diabetes had a high lifetime risk of cardiovascular disease.
"We were expecting to find a gradient of increasing risk according to your level of fasting glucose, but we didn't find that," Bancks said. "We saw that individuals whom you would call pre-diabetic did not have substantially higher risk than individuals who weren't."
This underscores the importance of proper and consistent treatment for diabetes, as it may have considerable cumulative effects, Bancks said.
Kathryn Fay, MD, a third-year resident in Obstetrics and Gynecology, presented another poster with clinical implications. She won the third-place prize in the clinical research category for her survey on the perinatal effects of reproductive coercion, an umbrella term that includes any behavior that undermines a woman's autonomous decision-making around reproduction.
"In our outpatient clinic, there were several patients who disclosed this behavior from their partners," Fay said. "When I looked into the literature to see what was available it was pretty bare."
The study found reproductive coercion is associated with unintended pregnancies and poorer engagement in perinatal care, emphasizing the need for future investigation — research Fay hopes she can one day carry out.
"Hopefully this is the start of a long career in research," she said.
This Year's Winners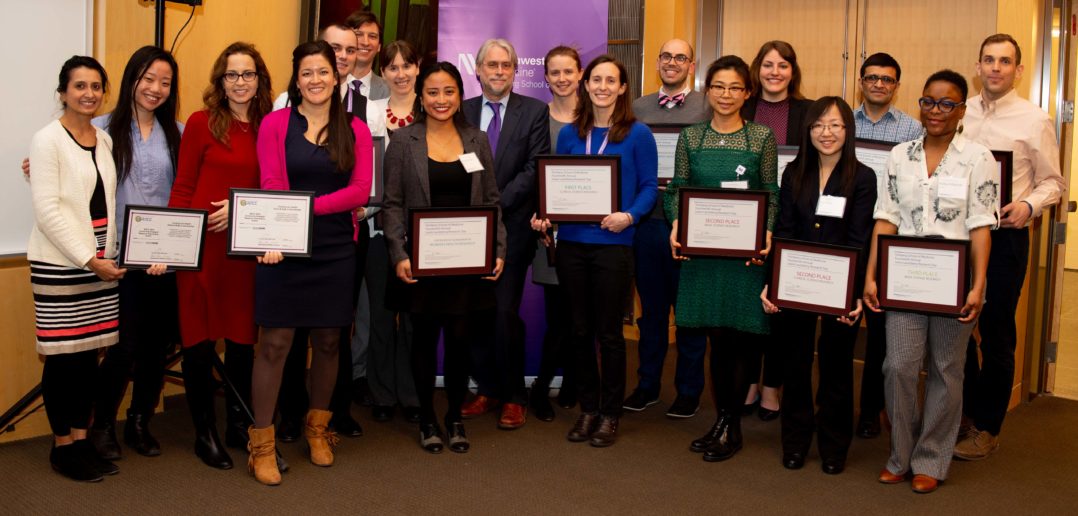 Senior faculty served as judges and awarded participants whose projects demonstrated outstanding and innovative research with potential to advance science and medicine.
This year's winners include:
Basic Science

First place: Anil Dangi, PhD, research associate, "Transplantation Tolerance Preserves Kidney-allograft Function in D+/R- CMV Transplant Setting"
Second place: Yinu Wang, PhD, postdoctoral research fellow, "Epigenetic Characteristics of Ovarian Cancer Stem Cells"
Third place: Hadijat Makinde, PhD, postdoctoral research fellow, "RNA Sequencing Reveals Differential Gene Expression in Microloglia Following TBI"

Clinical Research

First place: Heather Stefek, a third-year medical student, "Relating 2D PC-MRI Rex Shunt Flow, Shunt Diameter and Thrombocytopenia"
Second place: Yujin Park, a fourth-year medical student, "Outpatient Opioid Prescribing Patterns in a Pediatric Tertiary Care Hospital"
Third place: Kathryn Fay, MD, third-year resident in Obstetrics and Gynecology, "Reproductive Coercion in the Perinatal Context"

Public Health & Social Sciences Research

First place: Mike Bancks, PhD, MPH, postdoctoral research fellow, "Lifetime risk for cardiovascular disease stratified by fasting glucose level"
Second place: Stephanie Mayne, PhD, MHS, postdoctoral research fellow, "Neighborhood Crime and Adverse Pregnancy Outcomes"
Third place: Victoria Kolbuck, MSW, behavioral research coordinator, "Pediatric Transgender Health Providers' Fertility-related Practice Behaviors"

Education Research

First place: Trevor Barnum, RN, surgical nurse educator, "Outcomes associated with insertion of indwelling catheters by medical students"
Second place: Allison Dahlke, MPH, program manager, "Gender differences in the General Surgery Residency Experience"
Third place: Bruce Henschen, MD, MPH, assistant professor of Medicine in the Division of General Internal Medicine and Geriatrics, "Clinical quality among patients in a longitudinal outpatient clerkship"

Medical Women Faculty Organization Founders Award

Brannan Griffin, MD, a third-year resident in Pathology, "Histologic and Molecular Analysis of Hydropic Leiomyoma"
Christia Angela Sison, a third-year student in the Driskill Graduate Program in Life Sciences, "GATA6, genome-wide H3K27ac histone modification, and active transcription in endometriosis"

ARCC Community-Engaged Research Partnership Award: "Cooking Up Health: Docs & Kids in the Kitchen." This is an elective course at Feinberg which teaches medical students about nutrition through the lens of community health and hands-on cooking. This project is a partnership between Chicago Public Schools, Stephanie Folkens of Common Threads, a community organization fighting childhood obesity through cooking and nutritional education, and lead academic partner Melinda Ring, MD, clinical associate professor of Medicine in the Division of General Internal Medicine and Geriatrics.
Tripartite Legacy Faculty Prize: Michael Abecassis, MD, MBA, chief of Organ Transplantation in the Department of Surgery, James Roscoe Miller Distinguished Professor of Medicine and director of the Comprehensive Transplant Center and a professor of Microbiology-Immunology.