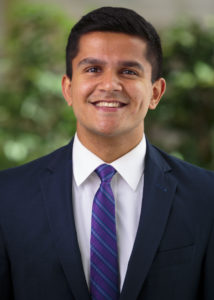 Growing up in the Chicago area, Anuj Chokshi, a first-year medical student, observed the inequalities that can lead to unequal access to healthcare, including lack of insurance, language barriers and transportation difficulties.
So, it's only natural that one of the first things he did upon arriving at Feinberg in the fall of 2017 was look for a way to help: Chokshi ended up joining the Community Health Clinic, a service organization that provides medical care at a free outpatient clinic on the west side of Chicago, while also providing Feinberg students an informal environment to learn from attending physicians and each other.
At the clinic, Chokshi interviews patients, conducts physical exams — and as one of three cardiology coordinators at the CHC, he helps organize the monthly specialty clinic that focuses on heart health.
Read a Q&A with Chokshi below.
What drew you to the MD program at Northwestern?
Feinberg offers a unique balance of rigorous academics coupled with lots of early opportunities for early clinical experiences that I was attracted to. The school also has a strong focus on learning outside the typical science curriculum, and I really appreciate other avenues to learn.
Programs I'm interested in include the MD/MBA program offered in collaboration with the Kellogg School of Management, or the large roster of global health experiences offered by the Center for Global Health. Having a tight-knit community of brilliant, yet humble peers in the best city in the world doesn't hurt, either.
What are your medical or research interests?
I'm still an open book in terms of what type of medicine I want to practice. So far, my interests are based on exposure both before and during medical school, including cardiology and pediatrics, but only time will tell. I've also always enjoyed teaching and education, so I hope I can have a role in that realm in the future.
Currently, I'm working on a research project with Jonathan Rich, MD, associate professor of Medicine in the Division of Cardiology. We are investigating pulmonary indices that can help guide whether or not a patient would be a good candidate for a ventricular assist device.
How did you get involved in the Community Health Clinic?
I initially volunteered for the Community Health Clinic (CHC) in the fall, and quickly learned that even this early in our medical training, we could make a tangible impact in patients' lives. At the clinic we work with a different patient population than the population primarily seen in clinics on campus, and through that, there are ample learning opportunities.
Based on my initial experiences and my desire to play a larger part in the clinic, this past semester I assumed the role as one of the CHC Cardiology coordinators alongside two M1 peers, Dan Im and Rachel Suen.
What is the day-to-day experience of a medical student at the CHC?
At CHC Cardiology, medical students work with fellows and attending physicians from Northwestern Memorial Hospital to care for cardiology patients. Medical students will usually work in pairs to first go interview patients and conduct the physical exam. After reviewing this information, we report to the physician and then all go together to see the patient, often working with a translator to optimize care for the patient.
When you think about your experience, what stands out?

One of the most valuable things I've learned is the importance of communication. Much of the population seen at CHC does not speak English, and we work alongside interpreters to communicate with the patient. Because of this, I've picked up many little skills including making sure the patient knows I'm still conversing with them, as well as ensuring the patient still feels comfortable with the medical team despite going through an interpreter for verbal communication.
Another major learning point has been working with a population that often has difficulty accessing medical care and medications. Different steps have to be taken in order to ensure the patient will be able to get their medications and come to their appointments. It has really instilled the importance of thorough communication and patience.
Would you consider working in a community care setting in the future?
I definitely want to have some type of role working in a community setting. I've grown up around the Chicago area and it has been rewarding to start to play a role in doing this, in addition to simply witnessing the impeccable role community-based centers play. I don't know what that exactly will look like, but it's critical to work with and advocate for underserved areas to optimize the health of our communities.