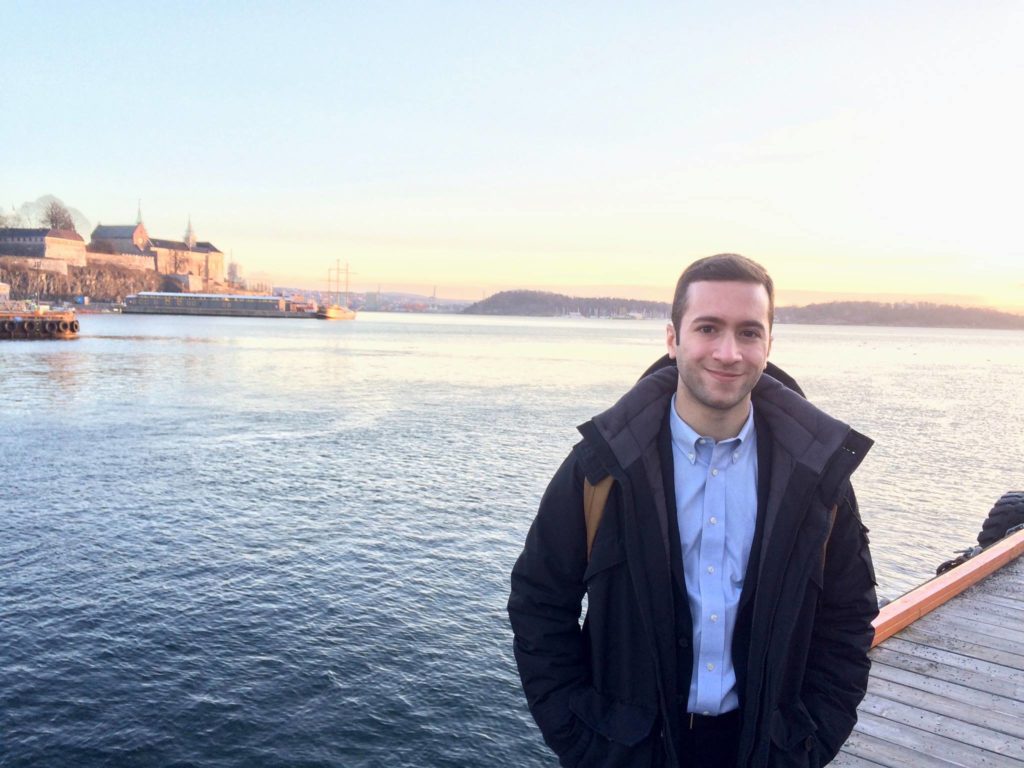 Michael Musharbash may be a busy medical student, but his advocacy work for environmental, social justice and LGBT causes also frequently takes him away from the Feinberg campus — whether it's to Chicago's Lakeview neighborhood, or as far away as Norway.
In December, Musharbash traveled to Oslo to attend the Nobel Peace Prize Ceremony as the national student representative of Physicians for Social Responsibility (PSR). The organization, which is dedicated to issues around climate change and nuclear proliferation, was awarded the 2017 prize as part of the International Campaign to Abolish Nuclear Weapons.
On top of his national role in Physicians for Social Responsibility, Musharbash is also a leader on the medical school campus, where he is the immediate past president of Feinberg's Queers & Allies student group. He also dedicates his time to LGBT issues at the city level: this year, he was awarded a prestigious Schweitzer Fellowship to implement health education services for LGBT and homeless youth at the Center on Halsted, an LGBT community health organization in Lakeview.
"I love that Feinberg is supportive of us having a life outside of medical school," Musharbash said. "It's sometimes tough to balance school and advocacy work, because they require different kinds of energy, but both are fulfilling. The long-term impact of social change is huge, but the day-to-day is not always rewarding. Whereas in medicine, you do feel like you make a difference in someone's life every day. I really enjoy the mix of both."
Read a Q&A with Michael Musharbash
Why did you become involved with Physicians for Social Responsibility?
Environmental issues are something I've always cared about. I originally planned on entering a PhD in chemistry and pursuing alternative energy research. But while studying abroad in Kenya during my sophomore year of college, I saw the human impact of malaria and learned about how environmental issues were a huge factor in its spread. I realized that I wanted to become a physician and focus on the way social issues actually affect people's health.
My first year here, I joined Feinberg's student chapter of PSR. PSR is focused on preventing what we can't treat. The organization was originally founded in the '60s as a peace organization, and has since expanded to environmentalism and social justice generally. As president of Feinberg's chapter, I've focused on bringing speakers in to talk to students about environmental health issues, like the Flint Water Crisis.
Earlier this year, I was also named one of two medical student representatives on PSR's national board. So far, one big priority for me has been to better organize students around the country to share what they are doing at their medical schools to promote environmental, peace or social justice issues.
It's been really great to see how advocacy organizations work on the inside, because that's something I'd like to continue throughout my career.
What was it like to attend the Nobel Peace Prize ceremony as part of PSR?
PSR is one of many organizations that make up the International Campaign to Abolish Nuclear Weapons (ICAN). ICAN was awarded the prize for helping to pass a treaty banning nuclear weapons at the United Nations, and for generally highlighting the humanitarian aspects of nuclear weapons and refocusing the international community on this issue.
PSR and all the other NGOs that make up ICAN each sent one or two representatives to the award ceremony, and I was asked to attend as the student representative.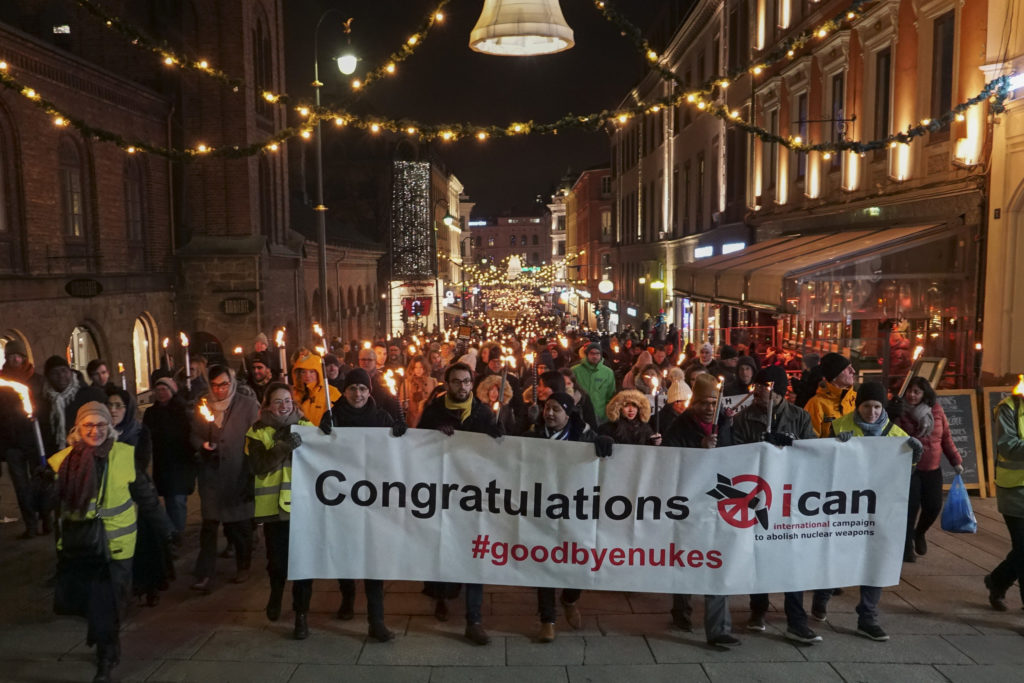 There were hundreds of people from our partner organizations in attendance, which was great because I was able to meet so many people from other countries who are also working on these issues.
Besides the ceremony, there was also an ICAN conference, with lectures about the history of the coalition and treaty, and workshops on how to promote these issues in our home countries. There was also a reception dinner and a torchlight ceremony where people marched from city hall after a rally, which was pretty powerful.
What were your main initiatives as past president of Queers & Allies?
Feinberg does a really awesome job of promoting LGBT issues in medicine. For example, we have a lecture during the reproduction-genitourinary unit about LGBT health, which not a lot of medical schools have. And during one of my first standardized patient encounters in the Clinical Education Center, I counseled a patient who was getting an adoption screening and happened to be gay — it had nothing to do with his health, but it was so nice to see representation.
So because Feinberg does a really great job in that way, for Queers & Allies, we've mostly focused on promoting networking. For example, we hosted a brunch in the beginning of the year to introduce first-year medical students to upperclassmen, and we organized a Chicago-wide LGBT mixer for medical students around the holidays.
The major educational project we have on campus is our CME-accredited safe space training, which I lead along with other officers every semester.
What are your goals as a Schweitzer Fellow at the Center on Halsted?
My initial goal was to hold weekly workshops that would help participants — who are all between the ages of 13 and 24 — enter health training programs, such as to become a phlebotomist or technician, as a way to help them achieve a stable income. But I realized that when you are thinking about where you are going to sleep tonight, even a year-long educational program is going to be too long. We have Health and Society at Feinberg, which is great because we learn about public health issues, but even still, I couldn't possibly have imagined how complex these young people's lives are.
Now the workshops have shifted to learning more about mental health, which is a major area of interest for many of the participants. I took an elective at Feinberg on integrative medicine, and so I've incorporated a lot of mindfulness and breathing exercises into the workshops.
I find it very rewarding, and I'm learning a lot. Every week I leave with a renewed sense of how lucky I am to have a safe home and a supportive family, and to be studying medicine.
How do you maintain balance and wellness as a medical student, especially with all your activities?
My classmates and the administration have been really supportive of everything I do. Wellness is not just one tangible activity at Feinberg; it's just part of the culture here. Everyone wants to be supportive, and everyone shares resources. I've felt almost no competition among my fellow students, and school doesn't feel stressful because it's all about doing the best you can.
As students, we're all encouraged to have interests outside of school, and so there's diversity not just in our backgrounds but in our goals. Some of us will walk out of here and become brilliant surgeons, some will become academic scientists, and some will become community practitioners and advocates. I love that we have that diversity here.