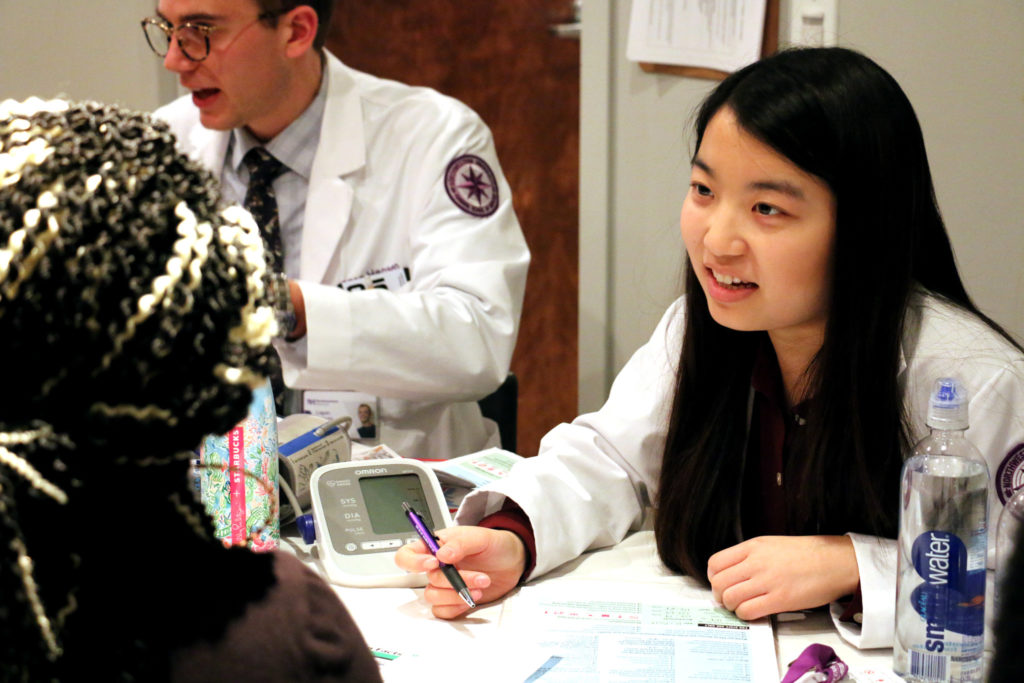 Cardiovascular disease is the leading cause of mortality in the United States, accounting for nearly one in every three deaths. It also strikes a disproportionate toll on many racial and ethnic groups.
At community centers, churches and public schools across Chicago, Northwestern medical students are dedicating their time to fighting these disparities and improving cardiovascular health for all Chicagoans.
Keep Your Heart Healthy (KYHH) is a student-run program that provides cardiovascular disease risk assessment and counseling to low-income, predominantly black and Hispanic residents of Chicago. At KYHH events, held in different neighborhoods across the city two to four times per month, Feinberg students work one-on-one with residents to identify risk factors, such as high blood pressure, and discuss healthy living strategies.
KYHH serves a dual purpose: Not only does it improve access to preventive care and bring health education to underserved populations, but the program also provides pre-clinical medical students with further opportunities to practice their motivational interview skills, improve cultural literacy and make a difference in Chicago communities.
"Keep Your Heart Healthy is unique in its commitment to physically go into communities and meet people where they are," said Jenna Stoehr, a second-year medical student and immediate past chair of KYHH's student advisory committee. "It's an opportunity for students to not only practice their skills, but also to listen to participants, learn about their lives, and start to understand the very real barriers that many people in low-income neighborhoods have to achieving good health. It's both empowering and humbling."
Fighting Heart Disease Disparities
On a chilly Friday morning in December, five Feinberg students gathered at a community health fair on Chicago's West Side, for the last Keep Your Heart Healthy event of 2017. Throughout the day, the student volunteers attended to a steady stream of visitors eager to learn more about their heart health.
As part of the KYHH risk assessment, the medical students took individual blood pressure measurements, as well as discussed a comprehensive list of questions with the participants — from whether they hold health care coverage to the number of servings of vegetables they consume per day. The KYHH program is based on the American Heart Association's "Life's Simple 7" guidelines, which spell out the seven modifiable risk factors for cardiovascular disease, such as smoking, physical inactivity and obesity.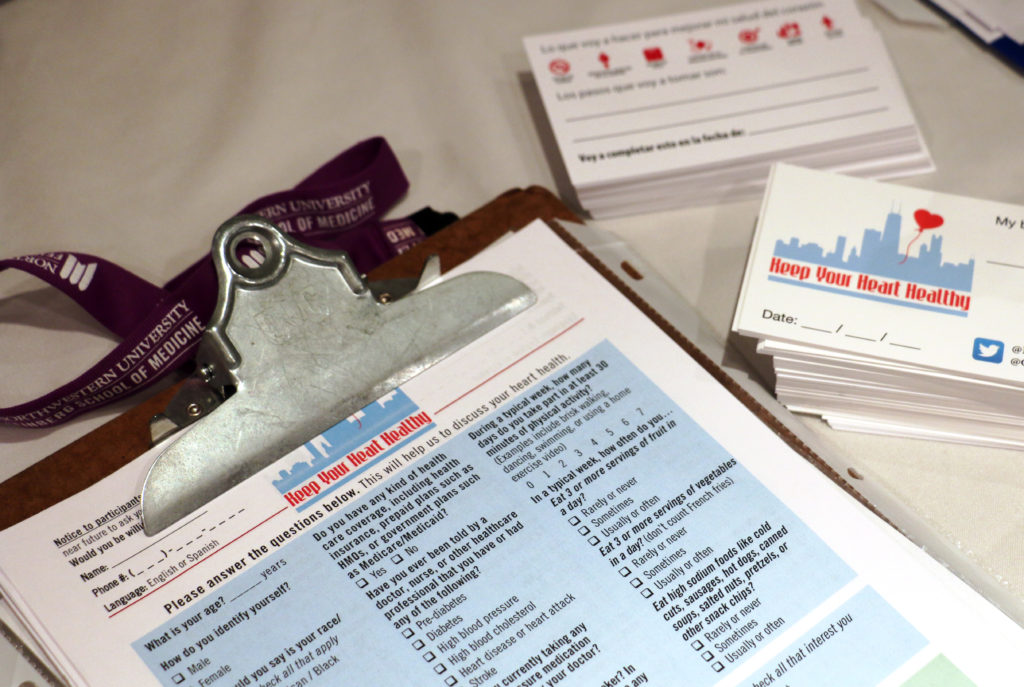 Together, the students and participants then discussed potential behavior and risk factor modifications.
"We try to come up with one or two key steps that are manageable," explained Harrison Lee, a second-year medical student and immediate past treasurer of KYHH. "It's not necessarily about changing someone's diet radically in one go, but rather working with participants to come up with an initial plan so they can make that overall lifestyle modification in the future."
Evelyn Rivera-Swint was one of the many participants who attended the health fair and discussed her cardiovascular health with the students. "It's been awesome," she said. "The fact that when they take your blood pressure they also ask questions about smoking, eating and exercise and such, I think it really puts that seed in your mind — that healthy living is the key, and that I really can make a difference in my own health."
A Mutual Benefit
All student volunteers in Keep Your Heart Healthy receive training on motivational interviewing and risk assessments prior to participating. At every event, they are overseen by a volunteer attending physician, who is on hand to provide any necessary input. More than 50 Feinberg faculty members across a range of different specialties, from cardiology to dermatology, have participated so far. On this particular Friday, Stephen Havas, MD, MPH, the founder of KYHH, was the attending physician.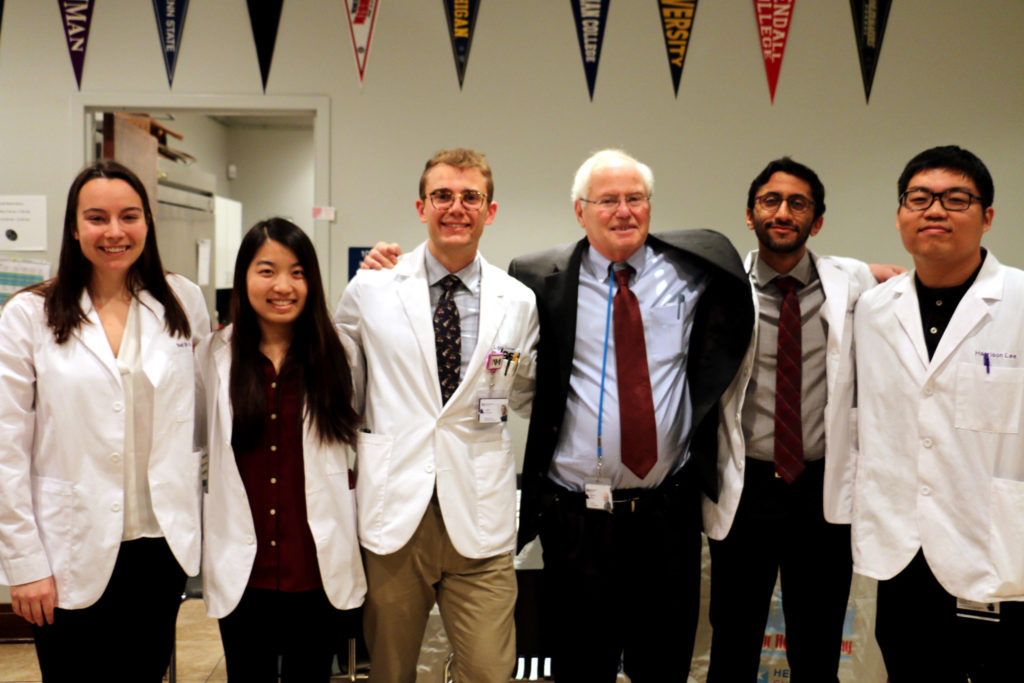 "This program has been a lifelong dream of mine — to get medical students and faculty out into low-income communities and to guide medical students in counseling people about reducing their risk of heart attack and stroke, which are at least 80 percent preventable," said Havas, an adjunct professor of Preventive Medicine. "I always tell the students: these are participants — your goal is to keep them from becoming patients."
Havas launched Keep Your Heart Healthy at Feinberg in 2013 with funding through 2016 from the GE Foundation, secured through the Chicago Department of Public Health and supplemental funding from the Department of Preventive Medicine.  "Nothing in a medical school, on this scale, had ever been done before," Havas said.  Since 2017, KYHH has operated on limited funding from various sources.
Since 2013, the program has screened more than 50,000 participants from 18 underserved communities in Chicago — 52 percent of whom were identified as being at high risk for cardiovascular disease, and a majority of whom were then referred to community services.
The program has continued to grow each year; this academic year, in fact, more than half of first-year medical students have already participated in the program.
Havas cites the passion of the students — along with the support of Feinberg faculty, in particular, Donald Lloyd-Jones, MD, ScM, senior associate dean for Clinical and Translational Research and chair of Preventive Medicine — as one of the reasons for the success of the program. "From the very beginning, Feinberg students have been enthusiastic about this," he said. "It's great for students, it's great for faculty, and most of all, it's great for the community."
This fall, Keep Your Heart Healthy received the Student Senate Engagement Award, which recognizes the Feinberg student organization that best represents leadership, student engagement and service.
In the coming year, KYHH aims to increase the number of events they hold, in order to continue to reach underserved populations, improve cardiovascular health for all — and remind medical students why they went into medicine in the first place.
"Almost every student who attends a KYHH event leaves feeling like they were able to initiate a change in someone's health behavior in a positive way. That is an amazing feeling," Stoehr said.
Visit the Keep Your Heart Healthy website to learn more about the program and how to participate.