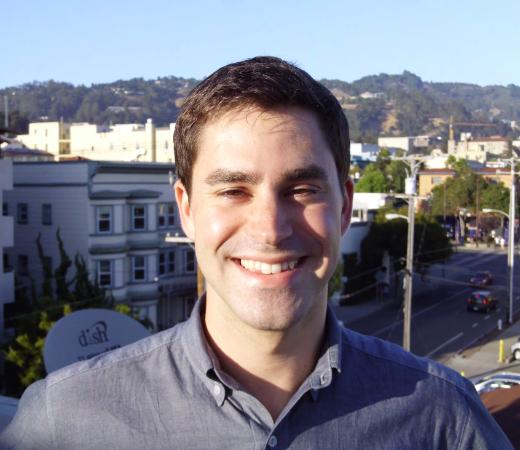 Research suggests that mindfulness meditation can be a helpful tool in managing anxiety and mental stress. Still, many who might benefit from the practice may feel they don't have the time, or assume they need to complete extensive mindfulness meditation training first.
Max Kazer wanted to investigate whether the benefits of mindfulness meditation could be made accessible to busy medical students like himself.
Kazer, now in his third year of medical school, is currently exploring the effect of a streamlined meditation training and three-minute meditation practice on stress reduction specifically in a medical education setting. The investigation, part of his Area of Scholarly Concentration (AOSC) research project, is conducted under the mentorship of David Victorson, PhD, associate professor of Medical Social Sciences.
Kazer hopes that the pilot study will not only help advance research into mindfulness meditation, but also provide his peers with a valuable stress-management tool throughout medical school and beyond.
Prior to joining Feinberg, Kazer received a bachelor's degree in neurobiology from the University of California, Berkeley and worked as a clinical research coordinator at the UCSF Multiple Sclerosis Center. During his first year of medical school, Kazer was also one of five students who performed CPR and helped save the life of a man in distress in Lake Shore Park.
Read a Q&A with Max Kazer
Why did you decide to pursue this research project?
I've always been interested in mental health, and coming into medical school I started to learn more about the power of mindfulness meditation. But often mindfulness-mediation training consists of something like an eight-week course, and naturally medical students don't really have the time to devote to that.
So I started to think about what would be a feasible practice we could teach to medical students that would actually be useful — especially since we don't often have 30 minutes to sit and mediate cross-legged in a studio every day.
With AOSC, I thought this would be a really cool opportunity to not only design my own experiment and be able to collect research data, but also give medical students a useful tool.
How did the experiment work?
My principal investigator, David Victorson, had already designed a very short mindfulness intervention that can be taught and practiced quickly, called PIT STOP. The idea is that at any point in your day — whether you're coming from a difficult conversation or just feeling overwhelmed — you can reset yourself, take note of how you're feeling and be able to proceed with what you're doing without letting your emotions overcome you.
My idea for this project was to teach first-year medical students this brief mindfulness practice before OSCEs (Objective Structured Clinical Examination). OSCEs can often be a stressful time, since being tested in a clinical environment is brand-new to most medical students.
We wanted to determine whether the meditation helped the students feel less stressed during the clinical experience, compared to a control. We looked at both the students' own subjective measures of stress, as well as the perspective of the standardized patients (to see whether the students might have been more empathetic, for example, after the mediation practice). The students also wore a FitBit-type watch that recorded various physiological measurements of stress.
We're now in the process of combing through all the data. So far, we've gotten really positive feedback from students, in terms of how easy it was to learn and whether it was something they'd be likely to use in the future.
This was a pilot study, so if we do see that the meditation had an effect on stress, we'd like to think about broadening it to other students in a more meaningful way.
How else are you involved in wellness at Feinberg?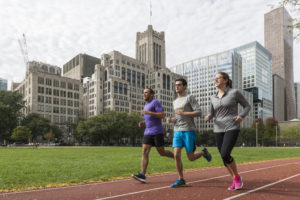 I think it's really encouraging that our Office of Medical Education takes such pride in their awareness of medical student wellness. There are a lot of different stressors in medical school, so the fact that we have so many different wellness events and initiatives really shows that Feinberg is a place that values wellness highly.
During my first two years, I was on the Wellness Committee. Students meet with AWOME (the Augusta Webster, MD, Office of Medical Education) faculty to discuss various strategies for promoting wellness at Feinberg, whether it's yoga in the library, therapy dogs or adding in a fall break.
I was also involved with WISH, the Wellness Initiative for Student Health, which is a student-led organization which plans events and distributes resources to support the mental health and well-being of our student body. For example, we held self-care workshops, lunch talks on music therapy and other topics, and even a wine and paint class with a medical theme following our anatomy exam. WISH was a great way for me to take this interest that I have in wellness and share it on a larger scale with the whole class, as well as learn from others, too.
Earlier on in medical school, I was also involved with Adolescent Medicine — a student organization dedicated to teaching underserved teenagers and young adults about sexual health, healthy lifestyles and wellness — and I was president of Docapella, Feinberg's acapella group. It was a great stress outlet, as well as a way to get to know some classmates I might not have otherwise met.