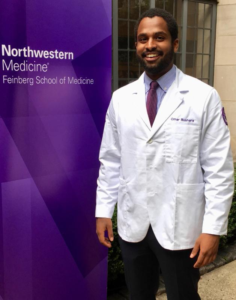 Omar Bushara, a first-year medical student who is also pursuing a master's degree in public health through Feinberg's dual MD/MPH program, is actively involved in the Feinberg community. He is a member of the Student National Medical Association (SNMA), which supports current and future underrepresented minority medical students, and he is a coordinator for HPREP, a medical outreach program for high school students. He is also co-social chair of his college within Feinberg.
"I am lucky to be able to plan and spend quality time with my college-mates and mentor, all of whom have been a great community for me," Bushara said.
Before entering medical school, Bushara served in the Teach for America (TFA) program, teaching biology at a high school on Chicago's South Side.
Why did you choose Feinberg?
I chose Feinberg because I wanted a medical school experience in which I could actively participate in research and community outreach, pursue a Master of Public Health degree and not sacrifice excellent clinical training. Through the medical school admissions process, it became clear that Feinberg would allow me that opportunity. Furthermore, Second Look weekend was a great experience, and the vibrant community of students who all seemed happy and motivated sealed it for me. Finally, the opportunity to stay in the great city of Chicago was certainly a plus.
What is your favorite class or aspect of the Feinberg curriculum so far?
My favorite part of the curriculum is problem-based learning (PBL). Although initially met with some skepticism, PBL truly has been an engaging and informative part of the curriculum that approaches material through a lens of curiosity and discovery. Although the cases are tied to class content, there are elements of the case that we are often unfamiliar with. As such, each student within a group is tasked with taking one of these areas, doing external research, and then teaching it to the rest of the group. The result is a collaborative atmosphere through which we are able to distill some of the pathophysiology, clinical diagnosis and treatments of issues relevant to our science in medicine thread. I've found that this has given both a context for and an extension to class material, which has been very valuable.
What has been your most rewarding experience outside of the classroom?
So far, my most rewarding experiences have come as a result of my experiences in Education-Centered Medical Home (ECMH). As my acumen of clinical skills and medical knowledge have grown over the course of the year, ECMH has become more and more rewarding. Being involved with real patients and being a part of their care is rewarding and humbling, and really centers my medical school experience. ECMH has shown me that all parts of our curriculum are imperative to being a good clinician, and it motivates me to continually work with patients in mind.
What activities are you involved in at Feinberg, and what are your outside interests?
First, I am involved with SNMA, and I value being a member of an organization predicated on inclusion in the medical school community and medicine in general. Through SNMA, I have become a coordinator for HPREP, which is a medical outreach program for high school students run here at Northwestern. Several of my former students have been accepted into the program, and I am very excited to have them participate. Finally, my time in TFA crystallized my interest in urban community health, and am thus pursuing a Master in Public Health degree along with my medical degree. The MD/MPH program has been very fulfilling and enriching, and has allowed me to take a step back and view medicine through a public health lens. I am also very excited about my upcoming public health field experience, in which I will be working on a project examining disparities within school allergy and asthma preparedness with Ruchi Gupta, MD, MPH, associate professor of Pediatrics in the Division of Academic General Pediatrics and Primary Care, and of Medicine in the Division of Allergy and Immunology.