View more photos from In Vivo 2017 and a Flickr album.
Students showcased the lighter side of medical school at the 39th annual performance of In Vivo, Feinberg's popular sketch comedy and variety show. The event, held December 1, raised money for RefugeeOne, a non-profit organization that helps refugees resettle throughout Chicago.
This year's production, "In Vivo Goes Paperless," kicked off with a parody of Feinberg's newly-adopted paperless curriculum and kept a packed auditorium of faculty and peers entertained through a series of satirical skits, short videos and musical performances.
The show was directed by Max Kelsten and produced by Nick Volpe and Eva Morgun, all second-year medical students. Stephan Kienzle and Anna Radakrishnan were assistant producers.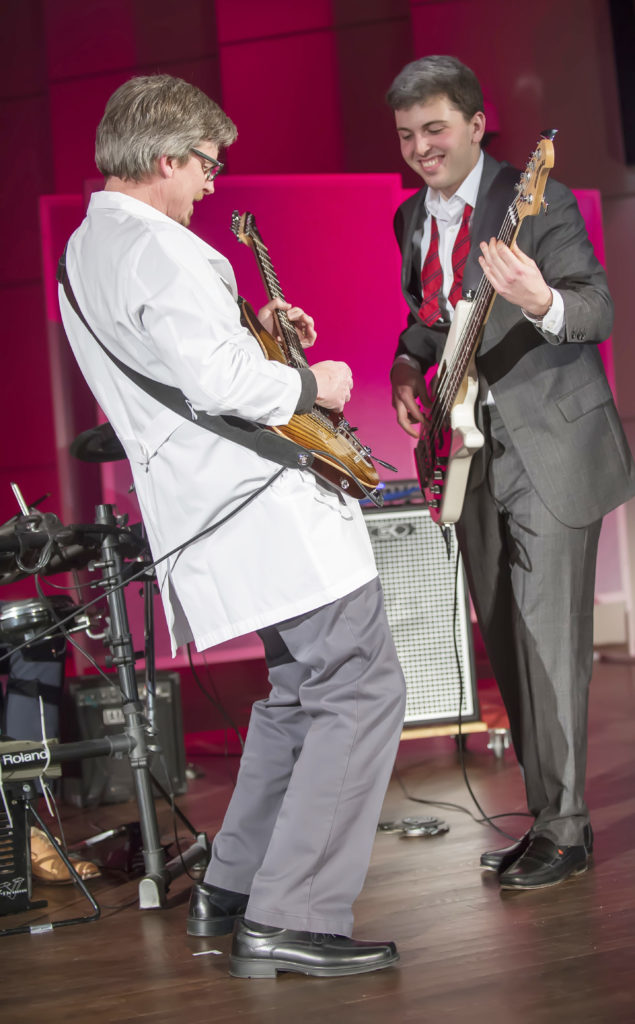 "Laughing together at some of the absurdities and realities of our everyday life is a cathartic experience that brings us together as a school," Morgun said. "I loved the opportunity to put it all together into an amazing show that everyone could enjoy."
Throughout the evening, the students parodied everything from problem-based learning to pre-exam rituals, performed good-humored impersonations of Feinberg faculty, and presented skits like "Feinberg Family Feud," "M1 Fantasy Draft" and "Livin' Like Larry," starring Feinberg's own Larry Cochard, PhD, associate professor of Medical Education and of Cell and Molecular Biology.
For the finale, the cast gathered for an over-the-top showtune about managing medical school stress, complete with can-can dancing and confetti.
"We all work very hard throughout the year and taking time to decompress together is important. Personally, I love that Feinberg creates an environment where this type of thing is both available and encouraged," said Kelsten, who studied theatre as an undergrad at Northwestern. "The administration puts a lot of emphasis on our well-being, and the fact that I can both continue an activity I've always loved, while also collaborating to provide entertainment for my peers, is something I value immensely."
The show also featured appearances by Docapella, Feinberg's acapella group, and Dance Interest Group, whose members performed Hip-Hop, Bhangra and Salsa numbers.
At the start of the second act, "The Hypochondriacs" band brought the audience to their feet with their rock performance, including a guitar solo by John Flaherty, MD, professor of Medicine in the Division of Infectious Diseases.
"I love that In Vivo allows us to take a step out of the medical curriculum and showcase students' talents that might not otherwise be given a chance to shine," Volpe said. "Over the years, we've added more types of performances to the show and built In Vivo into a celebration of the performing arts at Feinberg."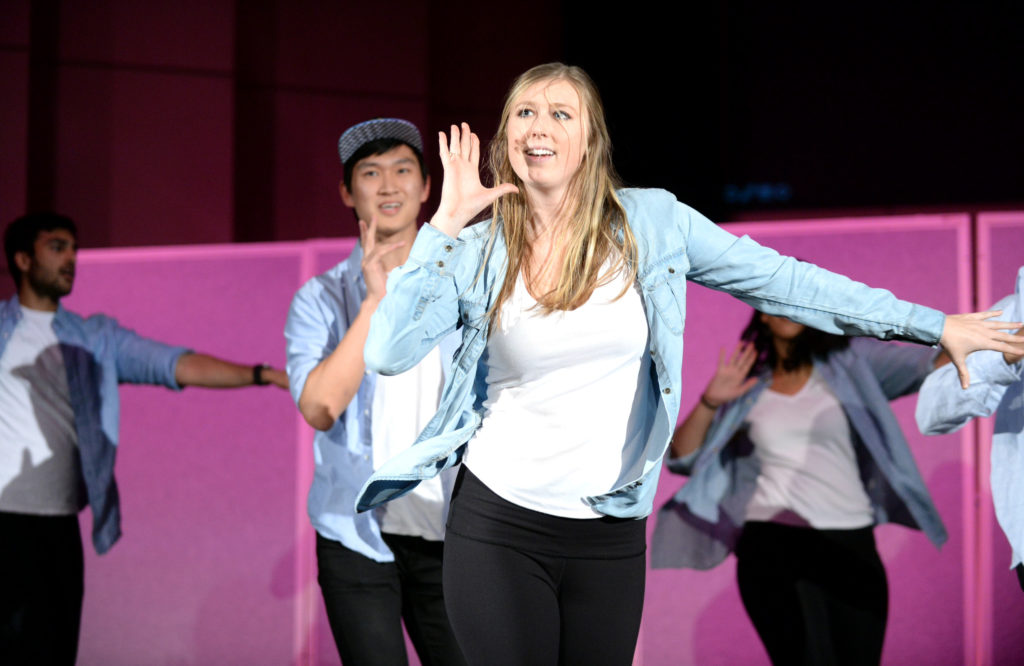 The evening raised more than $3,200 for RefugeeOne, which has resettled more than 17,500 refugees since 1982.
"RefugeeOne is a phenomenal organization that does incredibly important work welcoming refugees into the Chicago community," Kelsten said. "Chicago's diversity is one of its greatest strengths, and we wanted to play a small role in fostering a community where everyone is welcome and neighbors help neighbors."
The In Vivo student cast also included Hogan Randall, Javier Suarez, Conor Driscoll, Ian Hollyer, Ade Ilesanmi, Maja Ivanovic, Bardia Nadim, Melissa Querrey, Kevin Shi, Nivaas Thanoo, Hooman Azad, Charles Schufreider, Shaan Somani and Emily Walsh. The show was written by Nell Birch, Kimberly Chow, Fernando Huyke and Tejas Joshi, in addition to several cast and crew members.
"I loved every aspect of my experience with In Vivo, from writing sketches to rehearsing to performing for our classmates. It was a great outlet and I looked forward to every practice," said Emily Walsh, a first-year medical student. "In Vivo allowed me to bond with my fellow med students and laugh a lot — and I hope that's also what our performance did for our audience."
Photo credit: Randy Belice.