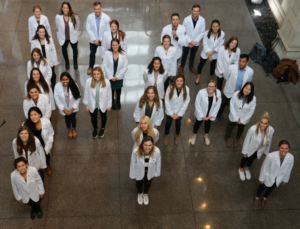 Feinberg's Physician Assistant (PA) program took part in National PA Week October 6 through 12, an annual celebration recognizing PAs' contributions to patient care and raising awareness of the profession.
"As a relatively young profession in the world of medicine, it's important to get our message out about the role we play in healthcare delivery," said Michael MacLean, MS, PA-C, director of the PA program, who noted that this year was the 50th anniversary of the graduation of the first class of PAs from Duke University.
The demand for PAs is expected to grow 30 percent over the next several years, according to the Bureau of Labor Statistics; anticipated growth in the field underlines the importance of advocating for the profession, MacLean said.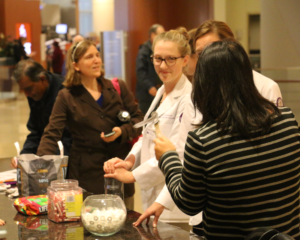 Throughout the week, students gathered at Prentice Women's Hospital to raise awareness about the profession, handing out candy and prizes and speaking with passersby.
One of the highlights of the week was the alumni panel, where seven PA program alumni returned to campus to take questions from current students, discussing job searching, clinical rotations and the importance of joining professional societies.
"Part of our program's mission is for our graduates to make contributions to their community and to the profession, so it's a great way to allow some of our alumni to pay it forward," MacLean said.
Some graduates, including Elizabeth Walters, '14 PA-C, physician assistant at Northwestern Medicine, did most of their rotations at Northwestern Medicine locations and enjoyed being with medical students and residents.
"It's an established teaching environment, so you learn a lot," Walters said.
Other graduates, such as Lisa Werner, MPH, '13 PA-C, physician assistant at Lawndale Christian Health Center, found value in locations outside of downtown Chicago.
"I was placed at Cook County hospital, and it was intimidating," Werner said. "It was one of the hardest rotations for me in terms of expectations, but I really got involved," Werner said.
Alumni on the panel also advised current students about life after Feinberg, including tips on finding a first job that's a good fit, and how to become a lifelong learner. Phil Knuth, '13 PA-C, now the vice president of Clinical Operations and Advanced Practice Services at Physicians Immediate Care, said he's continued to use Feinberg philosophies as his position has evolved from caregiver to administrator.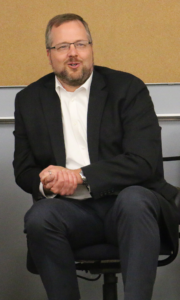 "The problem-based learning format makes you work through problems as a group, a skillset you need no matter your role in medicine," Knuth said. "You can apply that methodology to approaching complex problems in just about any situation."
Having recent graduates come back to speak was both reassuring and informative, according to first-year student Mark Steinhauser.
"It was nice to have individuals who are successful now talk about what hurdles they've faced," Steinhauser said. "One day, they'll be our peers and it helps knowing they made it through."
Founded in 2010, Feinberg's PA program uses a rigorous problem-based learning curriculum and 12 months of clinical rotations to prepare students for the wide array of duties performed by working PAs.