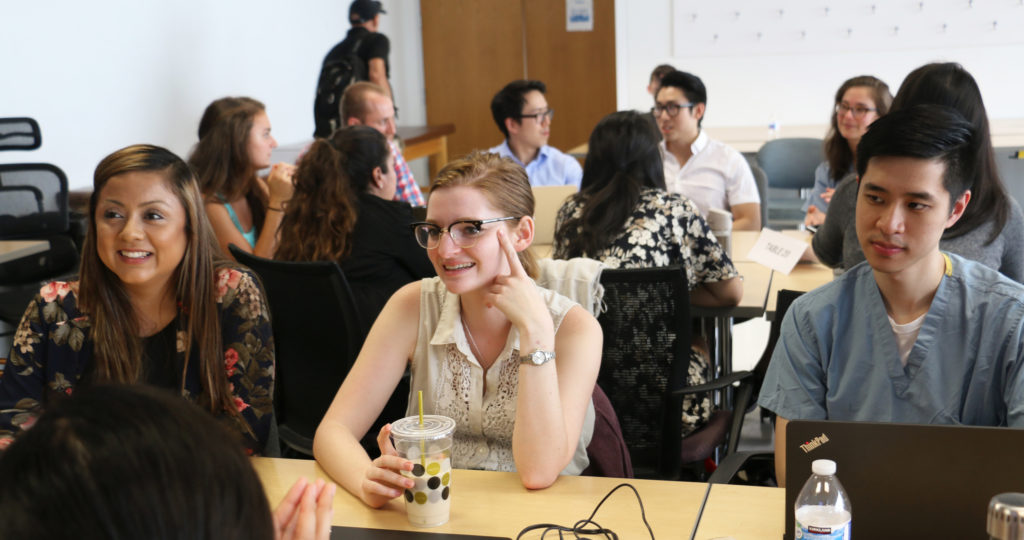 Teamwork between a variety of health providers is critical to quality patient care — and yet, students in different medical professions rarely have the opportunity to interact during the course of their education.
To help develop interprofessional skills earlier on, Feinberg recently hosted an interactive training session for more than 300 students in the MD, physician assistant and physical therapy programs, as well as nursing students from DePaul University.
The learning initiative, first launched in 2016 by Brigid Dolan, MD, assistant professor of Medicine in the Division of General Internal Medicine and Geriatrics, aims to bring diverse students together to better understand the unique skillsets of each profession, strengthen communication skills and practice realistic, team-based approaches to solving health problems.
"Unfortunately, too much of our education is siloed — even though in practice we are all working together. So this is really exciting," said faculty leader Sara M. Bradley, MD, associate professor of Medicine in General Internal Medicine and Geriatrics. "While it's challenging to get these diverse learners all in one room, this is really what our patients need: providers who can work together, have better teamwork and communicate well."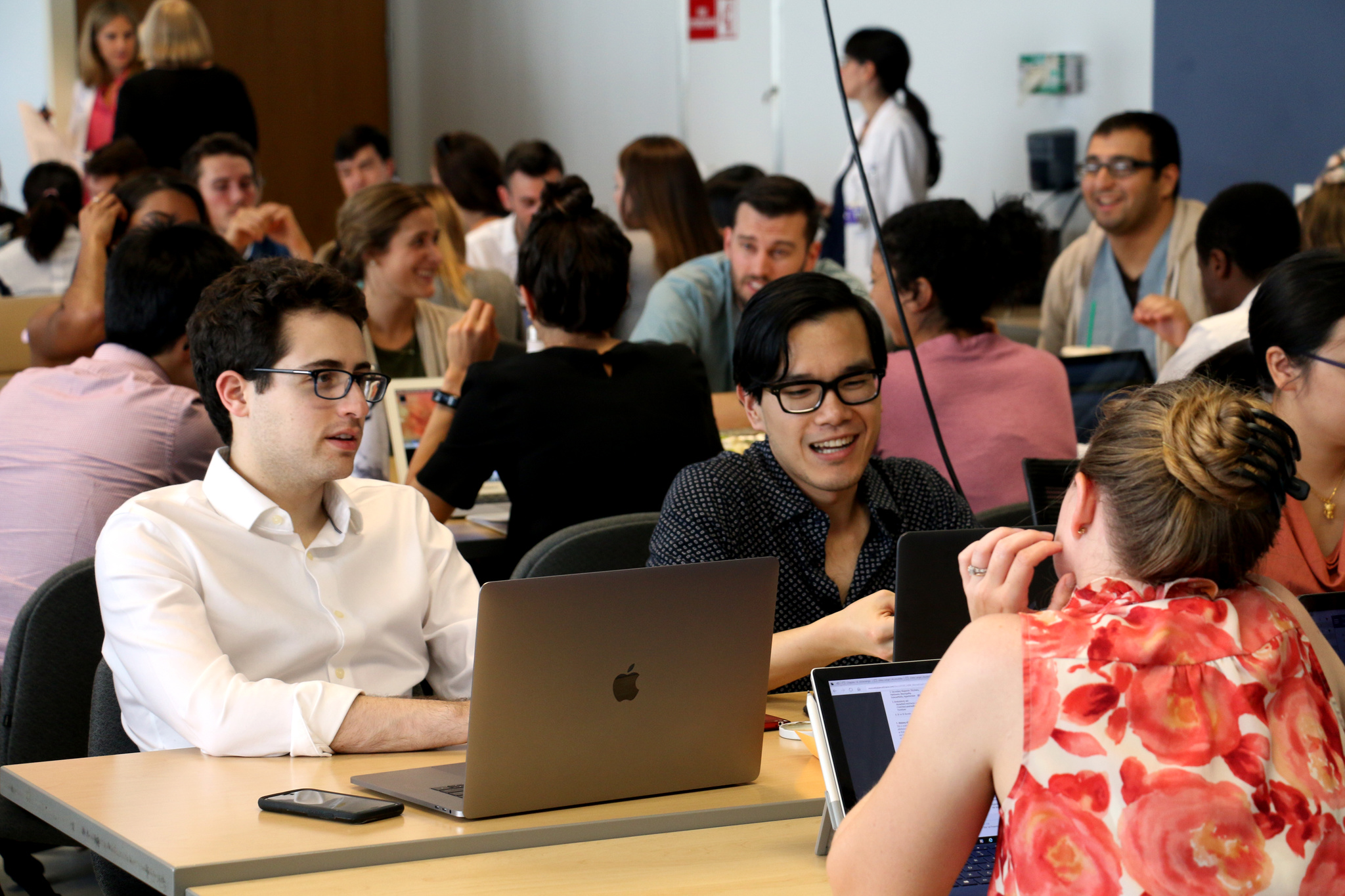 During the session, students worked in small groups on the case study of a 68-year-old woman who came to the emergency room with injuries due to a fall at home. Together, the MD, PA, PT and nursing students brainstormed likely diagnoses for the cause of the fall based on the information presented, discussed the roles of each provider during the patient's journey and proposed appropriate interventions.
"It was great to collaborate with our future colleagues to see how we all have different pieces of the puzzle for patient cases, and how we can put them together to solve problems and create the best outcomes for patients," said Taylor Cappitelli, a second-year physical therapy student.
Many students agreed that it was a welcome opportunity to delve deeper into the roles of each profession.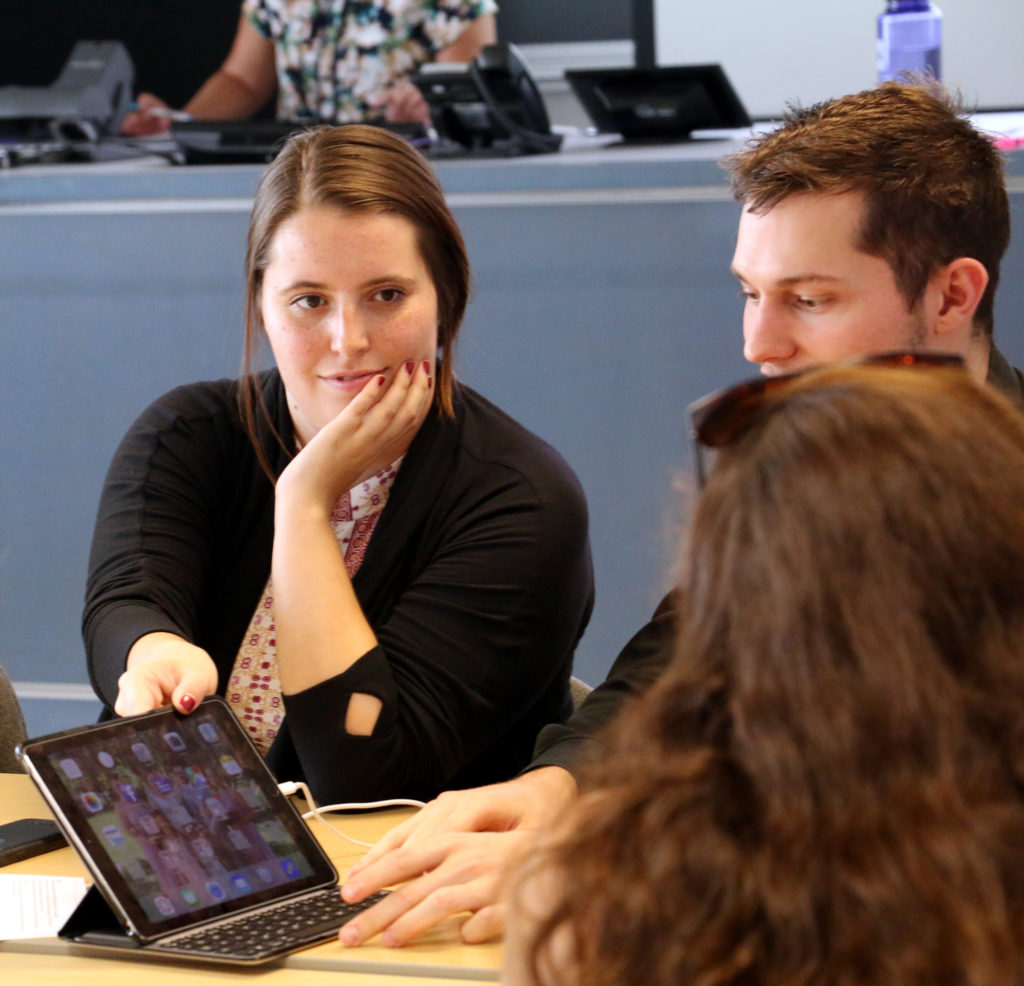 "I really enjoyed working on a team with the physical therapy, PA and nursing students," said third-year medical student Jordan Rook. "Not only was it one of the few times we get to interact with each other, but it was also great to get a better feel of what they are each experts in."
"It was really interesting to see what different knowledge we can all bring to the table," added Kathy Leung, a first-year nursing student at DePaul.
Additional faculty leaders assisted with the session, including Fernanda Heitor-Behdad, MD, instructor of Medicine in General Internal Medicine and Geriatrics; Kristine Healy, MPH, PA-C and Elana Min, PhD, both assistant professors of Medicine Education in the PA program; Marjorie Hilliard, PT, EdD, associate professor of Physical Therapy and Human Movement Sciences (PTHMS); Cori Ann Arquines, PT, assistant professor of PTHMS; and two faculty members from DePaul's School of Nursing.
"This is a very relevant activity for our students," Heitor-Behdad said. "We see cases like this all the time, so it's really important that students learn how to communicate interprofessionally and develop a plan, with all the team members involved, for the improvement of the patient."