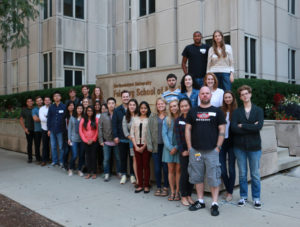 New PhD students from around the world have arrived on campus, joining the Driskill Graduate Program in the Life Sciences (DGP), Northwestern University Interdepartmental Neuroscience Program (NUIN), Medical Scientist Training Program (MSTP), Clinical Psychology PhD program, Doctor of Physical Therapy/PhD Engineering [DPT/PhD (Eng)] dual degree program and the Health Sciences Integrated PhD (HSIP) Program. 
This year, DGP welcomes thirty new PhD students from as far away as Puerto Rico, Russia, India and as close as the Midwest. DGP students complete courses and lab rotations during their first year, which allow them to explore various types of research before selecting a dissertation lab and project.
"I love that the DGP program takes professional development seriously," said Hannah Happ, an incoming DGP student. "The program administrators understand that some students will end up in academia, but also that there are so many other options to explore after graduating."
NUIN has 20 incoming students who will rotate in at least three different laboratories and complete coursework before committing to a single lab to conduct thesis research.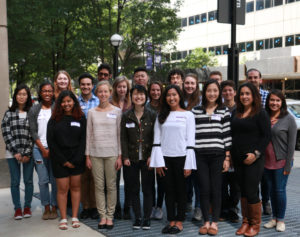 MSTP welcomes 15 new students who will earn both their MD and PhD degree at Northwestern. They will complete two years of medical school before starting their doctoral program in a lab. Once they earn their PhD, they will return to medical school to complete their Doctor of Medicine degree. This year's entering class includes students coming from competitive universities such as Dartmouth, Harvard and Yale.
Four new students are joining the Clinical Psychology PhD Program, coming from the east and west coasts and as close as Evanston. They will spend six years at Feinberg for training in the clinical practice and science of psychology, along with specific training needed for careers as clinical psychologists conducting research and/or clinical work in academic medical centers or other healthcare settings.
The DPT-PhD (Eng) program welcomed one new student, Marsalis Smith, who will earn both his DPT degree and PhD in biomedical engineering at Northwestern. He will complete two years of engineering school before starting the DPT program at Feinberg. Once he earns his DPT, he will return to engineering to complete his PhD degree. Smith is from Washington D.C. and holds two bachelor's degrees.
Three new HSIP students make up the program's sixth entering class. Unique to Northwestern, HSIP trains students in processes and methodologies in clinical and population sciences through the Institute for Public Health and Medicine. This year's students come from the Philippines, New York and Chicago. 
Driskill Graduate Program in the Life Sciences
Kishore Anekalla
Miranda Becker
April Bell
Young Rock Chung
Brandi Cobe
Garrett Eickelberg
Julie Fischer
Hannah Happ
Amanda He
Austin Holmes
Kennen Hutchison
Michael Kahl
Corey Kennelly
Sakshi Khurana
Connor Lantz
Sizhe Liu
Alberto Lopez
Akanksha Mahajan
Nikita Mani
Valentina Medvedeva
Khyati Meghani
Alina Murphy
Elan Ness-Cohn
Nicole Palacio
Maria Pereira Luppi
Craig Rathwell
Emma Schuster
Carly Weddle
Yaqi Zhang
Bin Zheng
Northwestern Interdepartmental Neuroscience Program
Amira Affaneh
May Ninghe Cai
Daayun Chung
Shiloh Cooper
Sara Dunlop
Dennis Echevarria
Rogan Grant
Devon Greer
Ashley Holloway
Taylor Jefferson
Gabriela Lopez
Sarah Lurie
Mauricio Medina
Kayla Miguel
Sam Minkowicz
Miranda Munoz
Oscar Ramos
Lauren Strohbehn
Hongkai Wang
Medical Scientist Training Program
David Amici
Bettina Cheung
Simrita Deol
Michael Drumm
Zachary Jessen
Stephen Lander
Sage Morison
Krishna Paranandi
Qiuyin Ren
Samantha Schroth
Nick Shawen
Ariel Thames
Elizabeth Tsui
Andreas Tzavelis
Vivian Zhang
Clinical Psychology PhD Program
Alexandra Morford
Amanda Nili
Geneva Jonathan
Matthew Olonoff
Health Sciences Integrated PhD Program
Adovich Rivera
Iva Terwilliger
Rick Weinmeyer
DPT- PhD (Eng)
Marsalis Smith