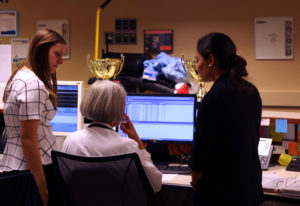 First-year medical students in the Class of 2021 got their first experience with real-world healthcare scenarios during their first week on campus, shadowing a variety of healthcare professionals as part of the curriculum component entitled Focused Clinical Experiences.
The tutorials from hospital staff were a part of Feinberg's first-week curriculum for new medical students, called Introduction to the Profession. The outings exposed students to authentic patient care environments and are meant to provide relevance to classroom learning and put the role of physician into a larger context.
During the Focused Clinical Experiences activities, groups of students spent time with nurses, pharmacists, social workers and administrative employees, shedding light onto the complicated network of caregivers.
"I was able to learn about a nurse's perspective of care in the hospital," said first-year medical student Nicole Handa. "It was more insightful than I expected it to be, and gave me an appreciation for all of the team members that physicians work with."
Handa, along with fellow first-year medical student Claire Walker, shadowed several different individuals in the Division of Neurosciences and Orthopaedics. Sabine Sobek, MD, assistant professor of Medicine in the Division of Hospital Medicine, presented students with CT scans of tumors in a patient's spine, explaining how a department member reached his or her diagnosis. The pair also joined a nurse as she dispensed medication to patients and coordinated discharges.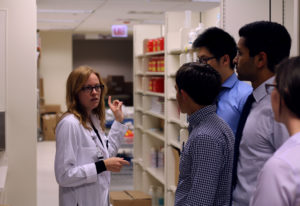 The students said that after they observed the nurse's activities, they came away with a deeper understanding of the subtleties of caring for a patient.
"Hearing about her routine in caring for a patient taught me how a deep trust in one another is a prerequisite to a department's ability to function," Walker said. "From her account, Northwestern Medicine really walks the walk of teamwork and respect that we're being taught as students."
The Introduction to the Profession week is designed to initiate students to the professional identity of a physician, through interactive lectures, small group discussions and activities, including the Focused Clinical Experiences.
Also during the medical students' first week, Founders' Day served as the official adoption of the physician identity, where first-year students recited the Declaration of Geneva and donned their white coats for the first time.