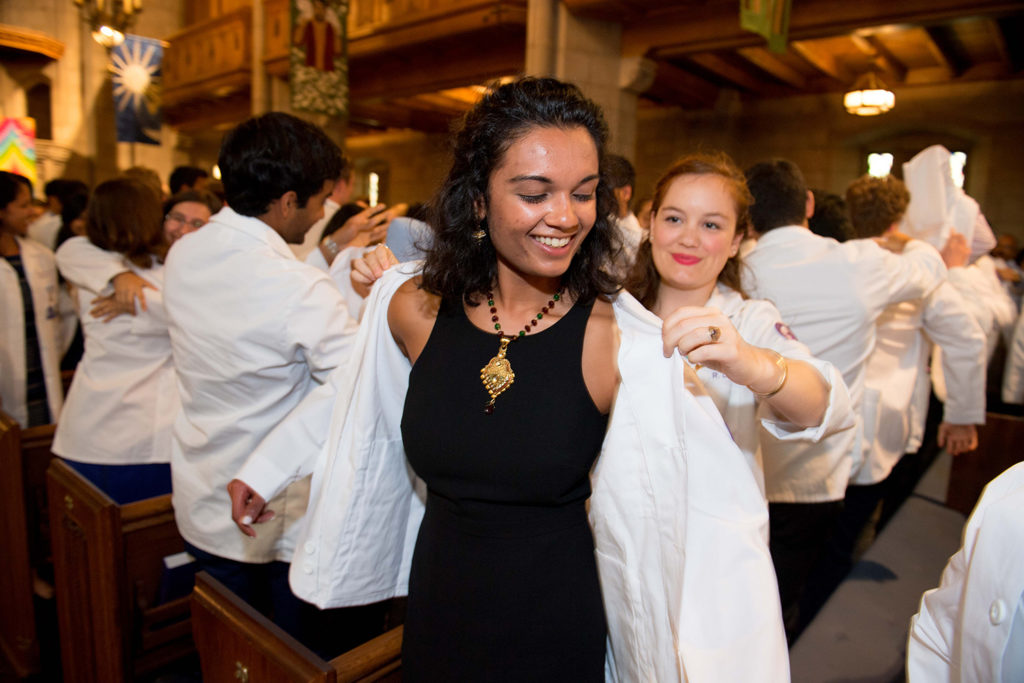 View a photo album from Founders' Day 2017, and photos from the Class of 2021's first week on campus.
For first-year medical student Rebecca Xu, Founders' Day marked the moment she was officially welcomed into the medical profession.
"It's really exciting to finally put on my white coat," she said. "This has been a dream of mine my whole life, and now it's culminating in this one symbolic moment: putting on the uniform of medicine."
Founders' Day, an annual tradition held August 11 this year, serves to initiate the incoming class of first-year medical students, honor Feinberg's founders and mark the official beginning of the new academic year.
"I've always loved science, but I chose to become a physician because I also like the relationship-building aspect of it," said Xu, who taught chemistry to high schoolers through Teach for America before entering medical school. "Meeting the people that I help — and seeing a side of medicine beyond the molecules, cells or drugs — it's something I really look forward to."
Xu was one of the 161 members of the Class of 2021 who gathered at this year's celebration, joined by their families, faculty and second-year medical students, who presented the incoming students with their white coats.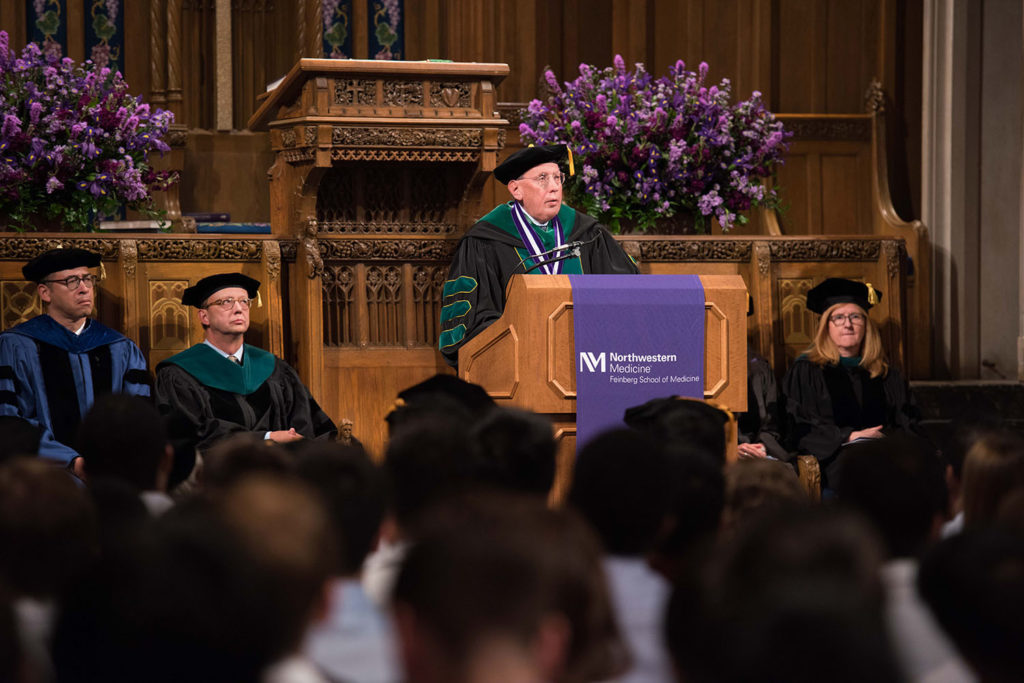 "You have opened a new portal in your life's work that focuses on medicine and science that very few are privileged to enter. There are a myriad of exciting times ahead for you," said Eric G. Neilson, MD, vice president for Medical Affairs and Lewis Landsberg Dean.
During his opening address, Neilson discussed the distinguished history of the medical school, and shared with students the unique responsibilities they assume by entering into the profession.
"We know we are going to train great doctors at Feinberg, but this is a minimal expectation," Neilson said. "One might ask, 'What else are you going to do to improve the profession and human health beyond the individual patient?' This is an important question, deserving your attention over the next few years, and you may rest assured that within the broad opportunities of Feinberg, you will find a problem to solve."
Jonathan Holloway, PhD, provost of Northwestern University, followed with his own remarks. "There will be hard and even scary moments ahead of you, but you are part of a team of professionals and educators who are deeply committed to the ideals of care and service," he said.
The Founders' Day keynote address was delivered by John Csernansky, MD, chair of the Department of Psychiatry and Behavioral Sciences, who spoke about the importance of being bound by the physicians' oath.
"The statements in our oath seem formal and high-minded, and you may well feel that you will need to wait for some great occasion to apply them in your practice in medicine," said Csernansky, also the Lizzie Gilman Professor of Psychiatry and Behavioral Sciences. "However, I don't think you will have to wait very long to test the promises that you will make today. You will be challenged to conduct yourself on the wards and in the clinic in a manner that fulfills your oath on a daily basis — especially after a long night on call."
His speech was followed by the white coat ceremony, led by Diane B. Wayne, '91 MD, vice dean for Education and Dr. John Sherman Appleman Professor of Medical Education.
"When I received my white coat, I actually felt a difference in how I perceived myself, which surprised me," said first-year medical student Nehal Singh Samra. "I felt a sense of responsibility to uphold the integrity of such an esteemed profession, but also excitement in anticipation of the journey before me. It's extraordinary how a simple article of clothing can have such a symbolic influence."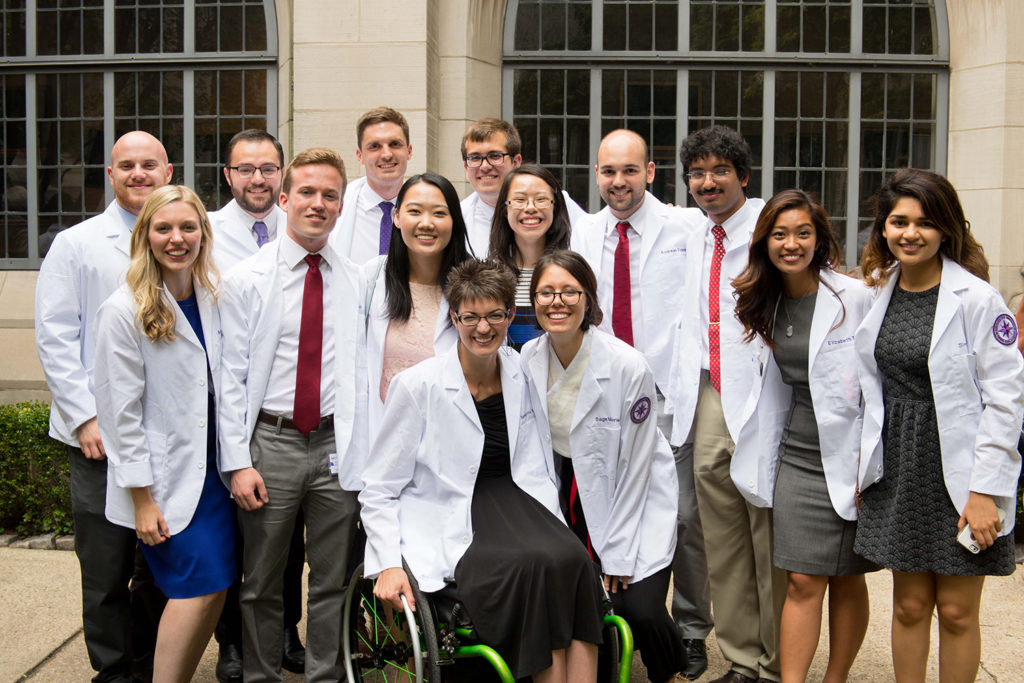 Together, the students also recited the Declaration of Geneva, the modern-day expression of the Hippocratic Oath.
"It was a really neat moment. To have all the M1s together in the same place for the first time, celebrating the exact same thing was so special," said Ariel Thames, a student in the Medical Scientist Training Program (MSTP). "The energy was great, and it just feels really good to be here."
The event also featured an award ceremony for second-year medical students, who were selected by their peers for their outstanding service and leadership within the Feinberg and Chicago community. William Gibb, president of the Medical School Student Senate, presented the M2 Student Senate Service Award to the following students:
Sydney Doe, for founding "Calls for Change," an organization that facilitates weekly phone call and letter writing sessions to government representatives about current health policy
Annika Nilsen, for her efforts promoting community within Feinberg, as well as leadership in the curriculum committee, anatomy lab closing ceremony and "Second Look"
Apoorva Ram, for her work in organizing the student and faculty demonstrations to protect the Affordable Care Act
Radhika Rawat, for her kindness and generosity toward the class
Margaret Shyu, for her leadership in "Second Opinions," a business and innovations club, as well as her commitment to building community within Feinberg
The Student Senate Engagement Award, which recognizes the student organization which best represents leadership, student engagement and service, was presented to "Keep Your Heart Healthy," a student-run program that promotes cardiovascular health in underserved areas of Chicago.
After the ceremony, Feinberg students, faculty and guests gathered at the Nathan Smith Davis Founders' Day reception, sponsored by the Medical Alumni Association.