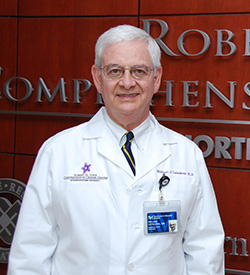 Younger men with prostate cancer had a decreased risk of cancer progression while under active surveillance, compared to men older than 60, according to a study published in the Journal of Clinical Oncology.
William Catalona, MD, professor of Urology, was a co-author of the paper, which preliminarily suggests that active surveillance — where low-risk prostate cancer is closely monitored and treated only if the disease progresses — may be a beneficial strategy, at least in the short term, to reduce overtreatment in some younger patients.
Prostate cancer, which affects one in seven men during their lifetime, often grows very slowly. As such, some men with localized, early-stage prostate cancer may not benefit from immediate treatment, such as surgery or radiation therapy, which can also carry side effects that impact quality of life.
In these cases, active surveillance may be an option: delaying treatment, while still monitoring for signs of cancer progression with blood tests and biopsies.
Although the strategy is increasingly being chosen as the course of action for low-risk cancers, and in men with shorter life expectancies, studies evaluating the suitability of active surveillance in younger men have previously been limited.
In the current study, the investigators evaluated the association of a patient's age with their risk of disease progression while under active surveillance. More than 1,400 patients at the University of California, San Francisco, were followed for a median of 49 months. Progression rates were evaluated using Gleason scores, a system of grading prostate cancer cells.
The investigators found that patients who were 60 or younger at the time of diagnosis had a 7 percent decreased risk of an upgraded Gleason score — indicating cancer progression — during active surveillance, compared to men older than 60 years old. The two age groups, however, had similar rates of definitive treatment during the study period.
The authors note that active surveillance may be a strategy to avoid, or at least delay, treatment in some younger men with lower-risk prostate cancer, who also have higher baseline levels of urinary and sexual quality of life, and would potentially have to endure treatment-related side effects for a longer period of time.
"This is a preliminary and somewhat paradoxical finding," Catalona said. "Generally, active surveillance has been recommended only for men over the age of 65, because their shorter life expectancy would be expected to provide less time for prostate cancer progression to cause suffering or death. However, since prostate cancer behaves more aggressively in older men, they experience early cancer progression more frequently. A caveat concerning the early results of this study — with only a median of four years of follow-up — is that longer-term follow-up may reveal higher cancer progression rates in younger men."
Catalona is also a member of the Robert H. Lurie Comprehensive Cancer Center of Northwestern University. He is principal investigator of the Lurie Cancer Center's Specialized Program of Research Excellence (SPORE) in prostate cancer.
The research was supported by the U.S. Department of Defense Transformative Impact Aware Prostate Cancer Research Program Grant No. W81XWH-13-2-0074; National Cancer Institute Grants No. P50 CA1809952, U01CA089600-10A1 and P30CA60553; and the Urological Research Foundation.