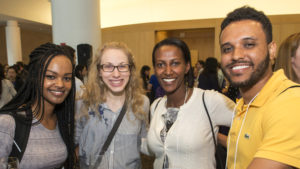 Natalie Bennett joined more than 150 prospective medical and MD/PhD students in visiting Northwestern University Feinberg School of Medicine for the annual Second Look event. Hosted by the Office of Admissions April 20 to 21, the event showcases the school's curriculum and campus.
"It's a time for us to figure out where we want to go next," said Bennett, a prospective MD/PhD student who will be graduating with a degree in cancer biology from the University of Tennessee, Knoxville. "Having an interest in cancer research is one of the reasons I decided to apply to Northwestern."
The event gives students who have been accepted to Feinberg a chance to engage with faculty members and current students before making their final decision about where to attend medical school.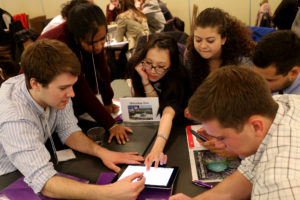 "We are thrilled to have you here to share with you about the Feinberg experience and to have you decide if we are the right fit for you," said Roopal Kundu, MD, associate dean for Admissions, as she welcomed guests at a reception on Thursday afternoon. "We are excited about you. We want to build the next future of leaders in medicine, so tonight is about getting to know each other and future colleagues."
Kundu introduced Diane B. Wayne, '91 MD, vice dean for Education.
"We are very excited about the Class of 2021," Wayne said. "Northwestern is a wonderful place to be: we are always striving to be better. The best thing about Northwestern — aside from the great city of Chicago and our awesome color purple — is the people, so what you are seeing today is a group of students and faculty with a lot of purple pride."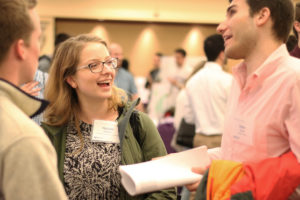 Starting on Friday morning, participants attended discussions and joined in simulation case-based and hands-on sessions to give them an idea of the learning that is typical of Feinberg's curriculum. During breakout sessions, attendees had the opportunity to learn about a variety of curricular activities such as volunteer health clinics, global health opportunities and joint degree programs.
The day also included tours of campus and affiliate hospitals and an activity fair.
For Camilo Mejia, it was a chance to visit Northwestern again and get a better feel for the environment.
"The research here is fantastic, and the camaraderie of the students and mentorship really drew me in. The interactions I've had with professors and attendings has been great. I'm also interested in the free clinics to volunteer in," said Mejia, who studied Spanish literature at Brigham Young University.