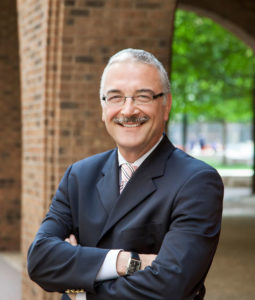 This story originally appeared in the Breakthroughs Newsletter.
It's a concept that seems simple, but it's poised to transform the field of cancer care and research: All patients, and their cancers, are unique.
It's also an approach that the physicians and scientists at OncoSET, the flagship clinical and research program of the Robert H. Lurie Comprehensive Cancer Center of Northwestern University, take to heart every day.
Launched in 2015, OncoSET is the Lurie Cancer Center's entry into the emerging precision medicine movement. Through an innovative three-step process — Sequence, Evaluate, Treat — the clinic combines oncology with genomic sequencing to provide cutting-edge cancer care personalized for each patient.
"Science and technology are driving big changes in the way we treat cancer, and as the leading cancer center in Chicago, we thought we should bring this to our patients first," said Leonidas Platanias, MD, PhD, director of the Lurie Cancer Center. "I believe very strongly that this is the way medicine will be practiced 10 years from now."
There are multiple advantages to confronting cancer with a precision approach. In the clinical arena, by identifying the unique features of a patient's tumors, physicians can offer their patients treatment plans that better target specific genetic abnormalities.
But there's also a broader benefit to the OncoSET model: Through its collection and analysis of extensive genomic data, OncoSET informs ongoing cancer drug discovery and helps to advance pre-clinical research taking place at Feinberg and around the world.
"There were a couple of major goals we wanted to accomplish very quickly," said Massimo Cristofanilli, MD, director of OncoSET and associate director for Translational Research and Precision Medicine at the Lurie Cancer Center, who joined Northwestern Medicine in 2015. "One, of course, was to be more precise in treatment planning for patients and establish the clinical service. But at the same time, we wanted to do so in a way that also advances translation and feeds our research purpose."
The OncoSET process begins with a blood draw from a patient for a liquid biopsy (in some cases, a tissue biopsy is available as well). Through its collaborations with commercial partners, OncoSET leverages next-generation genomic sequencing to produce a genomic profile of a patient's tumors and pinpoints changes in specific genes.
The program's Molecular Tumor Board, co-directed by Cristofanilli and Amir Behdad, MD, assistant professor of Pathology, discusses and analyzes each patient's individual genomic profile, one by one. In this evaluation stage, it's all hands on deck: The multidisciplinary team includes medical, surgical and radiation oncologists, as well as pathologists, molecular scientists, radiologists, bioethicists, pharmacologists and cancer geneticists, among other experts.
With input from scientists across a range of specialties, the board draws up a comprehensive report for each patient, detailing the results of the sequencing and devising an optimal treatment plan. That treatment, based on the molecularly defined targets, might include an available drug or enrollment in an early-stage clinical trial being conducted at Northwestern.
"We've created the first clinic in Chicago — and one of only a few in the country — where it doesn't matter where the tumor is located," explained Platanias, also the Jesse, Sara, Andrew, Abigail, Benjamin and Elizabeth Lurie Professor of Oncology. "What matters now is the composition of the tumor, and the patient's genomic analysis."
Since its inception last year, the Molecular Tumor Board has evaluated the genetic profiles of more than 80 patients, all of whom had advanced disease or cancer that was unresponsive to standard treatment. Not only has the model helped to make a real difference in individual outcomes, but the hope is that data collected through the clinic may eventually serve as the building blocks of tomorrow's cures.
"By doing these gene profiles and analyses of patients, we can bring all that information back to the lab," Platanias explained. "We can try to better understand some of the abnormalities we detect — many of which we still don't know their importance — conduct more studies, develop new drugs and, eventually, bring them back to the clinic."
Demonstrating the Value of a Precision Approach
In just the few years since its launch, OncoSET has also emerged as a national leader in advocating for a precision medicine approach to cancer care and research.
"One important area of success for this program is in educating physicians on the value of this," said Cristofanilli, also a professor of Medicine in the Division of Hematology and Oncology. "We want to be on the forefront in demonstrating the utility of this model."
Patients at OncoSET have been enrolled in a prospective registry study, and the OncoSET team is also actively working on developing retrospective analyses of treatment outcomes. The team plans to present their findings at major conferences in the next year.
"We coordinate our data with other institutions all over the country," said Platanias, also a professor of Medicine in the Division of Hematology and Oncology, and of Biochemistry and Molecular Genetics. "Eventually, after enough information has accumulated, there will be a tipping point — really a drastic change — in the way we practice oncology."
With this mission in mind, OncoSET will host its first symposium later this month for physicians and other healthcare professionals. The conference, to be held Friday, April 28, will share significant advances in precision medicine for cancer, emerging technologies and strategies for translating new discoveries into clinical practice.
Warren Kibbe, PhD, director of the Center for Biomedical Informatics and Information Technology at the National Cancer Institute (NCI), will deliver the keynote address. Kibbe, also an adjunct professor of Preventive Medicine in the Division of Health and Biomedical Informatics, will speak on precision medicine in the age of NCI MATCH — the institute's major precision medicine clinical trial, launched in 2015 — and the Cancer Moonshot, former Vice President Joe Biden's initiative in search of a cure.
The agenda also features an overview of the OncoSET model by Platanias and Cristofanilli, as well as breakout sessions led by oncologists and investigators at leading cancer institutions across the country, including Feinberg faculty members Jeffrey Sosman, MD, professor of Medicine in Hematology and Oncology; Xinkun Wang, PhD, research associate professor of Biochemistry and Molecular Genetics; and Dean Tsarwhas, MD, health system clinician of Medicine in Hematology and Oncology.
The intention is that the symposium will deepen enthusiasm for precision medicine, spark collaborations between physicians and scientists in the field, and kick off continued innovation in targeted cancer care.
"This process will continuously keep evolving, as the science and technology evolve," Platanias said.
As such, while OncoSET is currently centered on genomics and molecular diagnostics, in the future, new tools like epigenetic analysis, proteomic analysis and metabolomics may also play a role in helping to match patients with the individualized treatment plan that might benefit them most.
"The more we understand in science, the more we will be bringing it back to OncoSET to optimize our analysis," Platanias added. "We think this is the future, and we are moving fast."
To refer a patient or request a consultation contact:
312-472-6392 or 844-662-6738 (toll-free)
E-mail: OncoSET@northwestern.edu