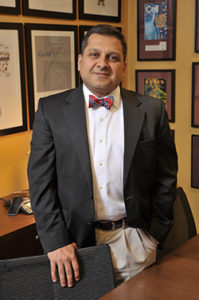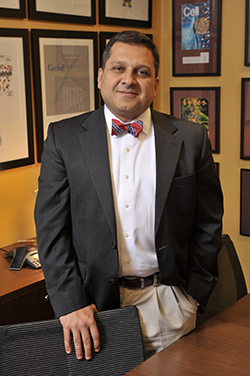 A Northwestern Medicine study provides new insight into a protein complex called COMPASS (Complex of Proteins Associated with Set1) and its function during histone methylation — a key modification that regulates gene expression.
The findings, published in Molecular Cell, could lead to a deeper molecular understanding of the early stages of cancer development, as mutations in COMPASS genes have been implicated in many types of cancer.
Ali Shilatifard, PhD, Robert Francis Furchgott Professor and chair of Biochemistry and Molecular Genetics, was the senior author of the study. Deqing Hu, a former postdoctoral fellow in Shilatifard's lab, was the first author.
Histones are proteins that package DNA into structural units. When they are modified by a mechanism called histone methylation, they also play an essential role in the regulation of many DNA processes, including transcription.
Close to 20 years ago, Shilatifard's laboratory first characterized COMPASS, which catalyzes methylation at a certain histone location called H3K4. His continued investigation has led to numerous key discoveries into this molecular process, how it controls gene expression, and how its misregulation might give rise to cancer.
In the current study, the scientists discovered that not all H3K4 methylations implemented by COMPASS have the same function. "Up until now, it was thought that if you have K4 methylation, it means that site is regulated for gene expression. Now, our major finding is that not all H3K4 methylations are created equal," explained Shilatifard, also a professor of Pediatrics. "So, although COMPASS gets in there and methylates, some of those sites are regulated for gene expression and other sites are not."
The discovery will help to form future research studying this molecular process. "Now we can use those regions that are methylation-dependent for their expression and set up screens to ask what's so special about these locations?" Shilatifard said. "In order to find the function of COMPASS, and how methylation regulates gene expression, we need to look beyond and identify other functions that are associated with this enzyme."
The paper was also co-authored by John Crispino, PhD, Robert I. Lurie, MD, and Lora S. Lurie Professor of Medicine in the Division of Hematology/Oncology and of Biochemistry and Molecular Genetics; Edwin Smith, PhD, research associate professor of Biochemistry and Molecular Genetics; Elizabeth Bartom, PhD, assistant professor of Biochemistry and Molecular Genetics; Kaixiang Cao, PhD, and Marc Morgan, PhD, both postdoctoral fellows in Shilatifard's lab; and Andrew Volk, PhD, a postdoctoral fellow in Crispino's lab.
Shilatifard and Crispino are both members of the Robert H. Lurie Comprehensive Cancer Center of Northwestern University.
The research was supported by National Institutes of Health (NIH) grants R01CA101774, R50CA211428, R35CA197569 and T32CA080621; the Robert H. Lurie Comprehensive Cancer Center's Translational Bridge Program Fellowship in Lymphoma Research; grants from the Spanish Ministry of Education and Science and Agency for Management of University and Research Grants (AGAUR); and Ia Convocatoria de Ayudas Fundación BBVA a Investigadores, Innovadores y Creadores Culturales.