During her lunch hour, Audrey Young, a fourth-year medical student, took time to write letters to loved ones, one of the activities offered to students during a week of seminars, relaxation activities and group exercise, all focused on various aspects of student well-being.
"It's far too easy to become so absorbed in our busy schedules and consumed by stress or worry that we forget about the people around us," said Young, a student representative on Feinberg's Wellness Committee. "A handwritten note is just a small expression of my gratitude for the love of friends, family members and mentors who have guided me throughout my personal and professional journeys. By taking a few minutes to reach out to them, I am reminded of my support system and able to support them in return."
The committee, composed of faculty members and students who meet monthly, planned the week's activities. The sessions focused on activities based on the ideas of positivity, gratitude and remembering why students chose a career in medicine.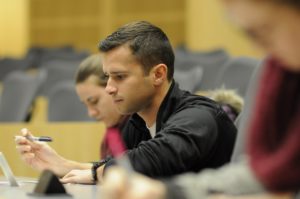 "The goal is to show medical students that they are cared for and encourage them to take care of themselves," said Matthew Mosquera, also part of the wellness committee. "To take some time to remember what is great about medical school and how fortunate we are to be here."
After reflecting on his first year of medical school and his stress levels, Mosquera wanted to help improve the wellness curriculum at Feinberg. Now in his fourth year, Mosquera has developed a measurement tool for medical student stress and burnout.
During the week, called "redeFeinberg Week," students had the opportunity to engage in seminars on topics including positive psychology, spirituality and religion in medicine and coping when life plans change direction. They also relieved stress in guided meditations and daily yoga, in addition to sampling healthy foods from different cultures.
"For me, wellness is intimately linked with confidence," Young said. "When I take care of myself by exercising regularly, eating healthfully, prioritizing sleep and engaging in thoughtful reflection, I feel both physically and emotionally stronger. I become more confident in my character and abilities, which also translates into better care for my patients."
The week concluded with a visit from pets and a student social.
"This week is a very novel undertaking, and hopefully we can keep it going for years in the future," Mosquera said.