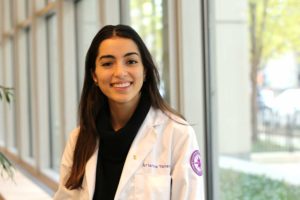 When taking a medical history, physicians routinely ask their patients about a range of lifestyle habits — from smoking to sexual practices — to identify social factors that may be clinically significant or pose health risks. The use of firearms, however, is rarely addressed.
Second-year medical student Arianna Yanes saw firearm safety as a missed opportunity to improve patient health. In an editorial recently published in JAMA Internal Medicine, she pointed out the lack of discussion on gun violence prevention in both medical school and primary care settings, and called for more training on how to counsel patients about firearm safety.
Yanes, who is the president of the Class of 2019, also blogs about the medical school experience for outlets such as the Association of American Medical Colleges and the Huffington Post.
Read a Q&A with Arianna Yanes
Why did you decide to write this editorial?
Nearly every week, a tragic story in the news involving firearms catches my attention, from a school shooting to the accidental death of a child. I wanted to understand how I could engage with the prevention of gun violence and accidents and what my role as a future physician might be. I'm not an expert on firearms — I'm coming from the perspective of a concerned medical student wondering how we can get involved in firearm safety.
As medical students, I also think we have a unique opportunity to think critically about our coursework and participate in the conversation about medical education. I noticed a discrepancy in medical education and wanted to find a way to address it.
What do you want readers of your piece to understand?
As future physicians, we aim to improve patient health in all the ways we can. I think that means taking a broader look at our patients and recognizing the factors putting their health at risk that we usually don't consider, such as firearms. Studies have shown that unsafe firearm storage poses a risk to patient health. My main point in the piece is that guns should be considered in a patient's social history, along with the other practices and habits we discuss.
My position is also that firearm counseling should not involve politics. Regardless of someone's beliefs about gun ownership, everyone can support gun safety measures. Firearm safety counseling shouldn't be telling patients to get rid of their guns, but rather identifying and minimizing risks that firearms can pose. Further, we need to convey information without passing judgment or involving our own beliefs, just as we would when counseling about smoking, alcohol or sex.
What other research have you conducted as a medical student?
I've had my hands in a few different areas of research, but there's an underlying theme that ties it all together: improving quality of care to ultimately improve patient health.
My Area of Scholarly Concentration (AOSC) research is in dermatology with Murad Alam, MD, looking at how to improve the quality of dermatology research and improve patient satisfaction during dermatologic procedures.
My first research mentor in college was Daniela Ladner, MD, MPH, in the Transplant Outcomes Research Collaborative. We worked together on a literature review on the use of observations to assess clinician performance and improve quality of care.
The vibrant research culture at Feinberg has been hugely motivating for me. So although no faculty member was involved in writing this editorial, my past experiences with proactive and encouraging faculty members laid the foundation.
How else are you involved in the medical school?
Being class president has been an amazing way to engage with my classmates and learn about medical education.
Going along with the theme of quality, my main aim in this role is to improve the quality of the medical school experience for my classmates. One of the big goals has been community building. As we take on the challenges of medical school, I want my classmates to feel supported and encouraged by our class. We've hosted events such as a holiday party and group spin class, and launched programs such as Supper with Six, that foster that sense of community.
I'm also involved in the Wellness Committee, which has created initiatives like library yoga and weekly drop-in counseling services. As an undergrad at Northwestern, I realized that when I took better care of myself — by exercising, sleeping and spending time with friends — everything else improved, including my work performance. That was a key discovery for me: realizing the value of self-care, especially as we dedicate ourselves to the medical profession, which centers on caring for others.