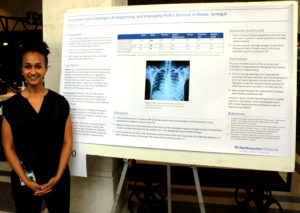 The West African nation of Senegal shares a border with Guinea, one of the countries hit hardest during the Ebola outbreak in 2014. Yet Senegal saw just one confirmed case of Ebola during the crisis, thanks to a rapid response by the government and the diligent efforts of healthcare workers to successfully contain the virus.
That single case in Senegal was treated at the prestigious Fann Hospital in Dakar, where Nada Ali, a second-year medical student, spent a month over the summer on an infectious disease rotation.
"It's amazing that Northwestern sends students to such a special hospital," Ali said. "Typically, healthcare in Africa is talked about in a very particular way — we usually only hear about the failures. So it's great that medical students also have a chance to see some of the successes of treating these complicated clinical pictures in Africa."
Ali presented a patient case study from her time at the hospital, "Successes and challenges of diagnosing and managing Pott's disease in Dakar, Senegal," during the poster session at Feinberg's annual Global Health Days, held October 6 and 7.
Her project tied into the larger theme of the annual conference, which culminated with a keynote speech delivered by Isaac Adewole, MBBS, adjunct professor of Medicine and the minister of health for Nigeria, on "Elevating the Quality and Reach of Healthcare in Africa."
Adewole discussed the particular challenges of healthcare on the continent — including a high disease burden and a low density of physicians — as well as some notable and recent successes. "It's not all gloom," Adewole said. "When sufficiently supported, the health system in Africa can also perform well," giving the example of an effective Ebola response in Nigeria, as well as rising life expectancy rates across the continent.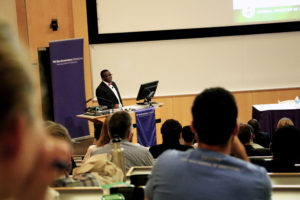 His lecture was followed by two panel discussions stocked with a group of African healthcare experts, and moderated by Babafemi Taiwo, MBBS, associate professor of Medicine in the Division of Infectious Diseases.
On Thursday, faculty and students packed a standing-room only talk on the topic, "Global Frontiers in HIV/AIDS Treatment and Care." John Idoko, director general for Nigerian Agency for Control of AIDS, first spoke on HIV prevention and treatment programs in his country. Kathleen Squires, MD, chief of the Division of Infectious Diseases at Thomas Jefferson University, followed with an overview of the current HIV situation in the United States.
At the concluding poster session on Friday, more than 30 students presented their global health research conducted at sites around the world, including Bolivia, Belize, China, Tanzania, Albania and India.
"Global Health Days is such an important event because we live in a global community that is getting smaller by the day," said Robert Murphy, MD, John Philip Phair Professor of Infectious Diseases and director of the Center for Global Health in the Institute for Public Health and Medicine. "Not only can we, the students and faculty, provide some very important technical assistance in some of the places that we go, but we can also learn quite a bit from the places that we visit. It's really a two-way street."
In one such example, Lee Haggenjos, a fourth-year medical student, took a year off from his studies to help implement electronic medical records at a resource-limited rural clinic in Quetzaltenango, Guatemala, as well as to improve his Spanish. Now more fluent, Haggenjos plans to use his language skills while practicing family medicine in underserved communities in the United States.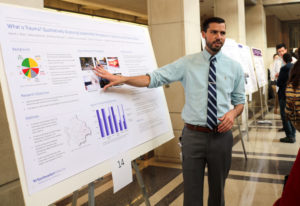 Katie Truitt, a second-year medical student, shared her experience gathering clinician feedback on a novel sputum collection cup needed for a new tuberculosis screening test in Cape Town, South Africa. "Through this experience, I really gained an appreciation for the fact that there are a lot of simple problems that still need to be solved," she said. "Something as small as a sputum collection cup can make someone's job much easier – or much harder."
During her time in South Africa, Truitt collaborated with Matthew Doerfler, also a second-year medical student and chairman of the Student Advisory Committee on Global Health. Doerfler's work centered on assessing the use of the novel sputum collection cup among the laboratory users and transportation staff. He received an honorable mention for his poster.
"These presentations are incredibly high-quality — on par with many graduate programs — and I'm very proud of all the students here," Murphy said.
Honorable mentions at the evening awards ceremony also went to Jonathan Judkins, for his research on palliative care services in Albania, and Hayley Sparks, who studied the use of donor expressed breast milk in a maternity hospital in Cape Town. Lauren Ammerman was named the overall winner for her poster, "Low prevalence of liver disease in treatment naïve HIV, HBV and HIV/HBV co-infected Tanzanians; a cross sectional study."