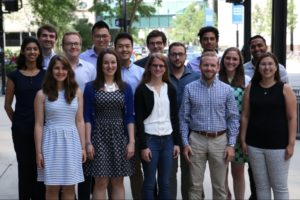 This fall, new PhD students from around the world arrived on the Chicago campus to join the Driskill Graduate Program in the Life Sciences (DGP), Northwestern University Interdepartmental Neuroscience Program (NUIN), Medical Scientist Training Program (MSTP), Clinical Psychology PhD program, Doctor of Physical Therapy/PhD program and Health Sciences Integrated PhD (HSIP) Program.
DGP welcomes 25 new PhD students. This group includes individuals with undergraduate degrees from schools as close as the Midwest, and as far away as China, Vietnam and Bolivia. These students will complete courses and lab rotations during the first year, which allow them to explore several types of research before selecting a dissertation lab and project.
The new NUIN students hail from across the United States including Maryland and Utah to New York and Baltimore. The entering class is comprised of 19 PhD candidates.
The MSTP welcomes 15 new students who will earn both their MD and PhD degree at Northwestern. They will complete two years of medical school before starting their doctoral program in a lab. Once they earn their PhD, they will return to medical school to complete their Doctor of Medicine degree. This year's entering class has earned undergraduate degrees from institutions that include Stanford University, Brown University and the University of California – Berkley.
Seven new students are beginning the Clinical Psychology PhD program. They will spend six years at Feinberg for training in the clinical practice and science of psychology, along with specific training needed for careers as clinical psychologists conducting research and/or clinical work in academic medical centers or other healthcare settings. Students in this year's class come from near and far, including Michigan, Pennsylvania, Minneapolis and Washington, DC.
The DPT-PhD (Eng) program welcomed one new student, Andrew Dragunas, who will earn both his Doctor of Physical Therapy (DPT) degree and PhD in biomedical engineering at Northwestern. He will complete two years of engineering school before starting the DPT program at Feinberg. Once he earns her DPT, he will return to engineering to complete the PhD degree. This year's entering student earned his undergraduate degree from the Case Western Reserve University. 
Finally, four new students join the HSIP program to become its fifth entering class. Founded in 2012 and unique to Northwestern, HSIP trains students in processes and methodologies in clinical and population sciences through the Institute for Public Health and Medicine. The class comes from Egypt, Maryland, Illinois and China, and all previously earned master's degrees.
Congratulations to all the new PhD students in these programs:
Driskill Graduate Program in the Life Sciences
Jihae Ahn
Triet Bui
Margarette Clevenger
Katherine Fetterman
Derrik Germain
Shana Gregory
Blanca Gutierrez Diaz
Ariel Harden
Dong Ho Kim
Timothy Kountz
Patrick Madden
Eric Martin
Nathaniel Henning
Joyce Ohiri
Ashley Queener
Yara Rodriguez
Caleb Stubbs
Milagros Suarez Palacios
Nathan Waldeck
Anna Woo
Shang-Yang Chen
Yu-Ying Chen
Chang Zeng
Jiyang Zhang
Guangyuan Zhao
Northwestern Interdepartmental Neuroscience Program
Maite Azcorra-Sedano
Grace Bellinger
Katrina Campbell
Casey Dalton
Andrew Jo
Soojin Kim
Bryan McClarty
Torben Noto
Michaela Novakovic
Jacqueline Patterson
Chelsea Rugel
Vivek Sagar
Owen Shelton
Kacey Suvada
Tianyu Tang
Seth Thompson
Nathan Whitmore
Sophia Wienbar
Mingzheng Wu
Medical Scientist Training Program
Zachary Chalmers
Margaret Coats-Thomas
Sky Dominguez
Zachary Gaertner
Cooper Hayes
Evguenia Morgun
Bilal Naved
Meghan Orr
Wesley Peng
Emily Pinheiro
Radhika Rawat
Roger Smith
Mihai Trucia
Karthik Vasan
Max Wang
Clinical Psychology PhD Program
Hayley Goldenthal
Julie Petersen
Andrea Russell
Tawny Spinell
Bayley Taple
Elizabeth Waldron
Molly Winston
DPT- PhD (Eng)
Andrew Dragunas
Health Sciences Integrated PhD Program
Aparna Balakrishnan
Mohamed Hasan
Manrui Zhang
Lindsay Zimmerman