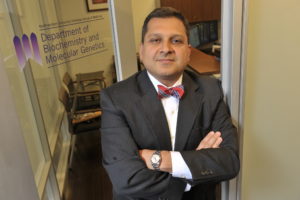 Ali Shilatifard, PhD, Robert Francis Furchgott Professor and chair of Biochemistry and Molecular Genetics, has been named the 15th recipient of the Martin E. and Gertrude G. Walder Award for Research Excellence.
This award, established in 2002 by Dr. Joseph A. Walder and given annually by the provost, recognizes excellence in research at Northwestern. Walder earned his doctoral and medical degrees from Northwestern and then founded IDT, a company that supplies synthetic DNA for research and clinical applications. A complete list of award recipients can be found on Northwestern University's Office of the Provost website.
Shilatifard, who joined Northwestern in 2014, is a biochemist and molecular biologist and a respected expert in the field of transcription and epigenetics, specifically as it relates to cancer biology. He has an immense interest in understanding the intricate molecular mechanisms the regulate gene expression and activate or suppress a particular gene's trait, especially how both inherited and environmental factors, or epigenetics, play a role in the development of human disease, including cancer.
As a Jane Coffin Childs postdoctoral fellow at the Oklahoma Medical Research Foundation, Shilatifard made a seminal contribution to the field of leukemia biology by identifying the first function of any of the MLL translocation partners, which is when a section of one chromosome changes place with that of another chromosome, creating a mutation. In the 20 years that followed, he has dedicated his career to pursuing these important questions that directly relate to improving outcomes in individuals' prognoses when diagnosed with cancer.
Shilatifard's studies have made significant inroads to understanding the cause of childhood leukemia. Research from his laboratory is leading to the development of promising, target-specific drugs for childhood leukemia and other forms of cancers. The epigenetic inhibitors developed in Shilatifard's laboratory are being tested for the treatment of childhood leukemia, brain cancer and other solid tumors.
Shilatifard, who is a member of the Robert H. Lurie Comprehensive Cancer Center of Northwestern University, has been recognized by the Leukemia and Lymphoma Society as the recipient of the Sword of the American Cancer Society and received the AMGEN Award from the American Society for Biochemistry and Molecular Biology. He has been funded through three major grants from the National Institutes of Health and the National Cancer Institute.
Recently, Shilatifard was selected as an inaugural recipient of the Outstanding Investigator Award from the National Cancer Institute. He serves as a senior editor for the journal Science, a deputy editor for Science Advances and editor for Molecular and Cellular Biology. He also serves on the scientific advisory boards of Genentech, the Max Planck Society and Cell Signaling Technology.