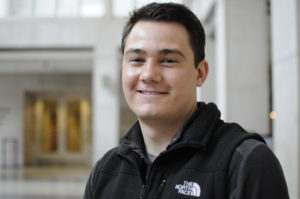 Matthew Genet, a first-year medical student, received a 2016 Carolyn L. Kuckein Student Research Fellowship, awarded by the Alpha Omega Alpha medical honor society, for his research on the role of the protein IDO1 in human glioblastoma, a type of brain tumor.
"ID01 is highly expressed in glioblastomas and causes a suppression of the immune system by inhibiting the body's ability to clear out the tumor," Genet said. "My research will hopefully try to block that response and allow the immune system to clear the tumor itself."
The award supports Genet's research project for the summer under the mentorship of Derek Wainwright, PhD, assistant professor of Neurological Surgery and Microbiology-Immunology.
"I am honored to receive the award and excited to be able to start my research project," Genet said. "I think it speaks a lot to Wainwright's lab and the research they are doing."
Genet started working in Wainwright's lab earlier this year as part of his Area of Scholarly Concentration research project, a four-year longitudinal project that culminates with a thesis.
"Matthew is a young, motivated and enthusiastic student training in the path of a physician-scientist," Wainwright said. "While I value his high quality work in my laboratory, he also brings a kind and optimistic worldview that is equally important. I am extremely proud of his recent accomplishments and eagerly look forward to watching his career unfold at Feinberg."
Genet was also recently selected as a 2016 Research Grant Program recipient by the American Medical Association.