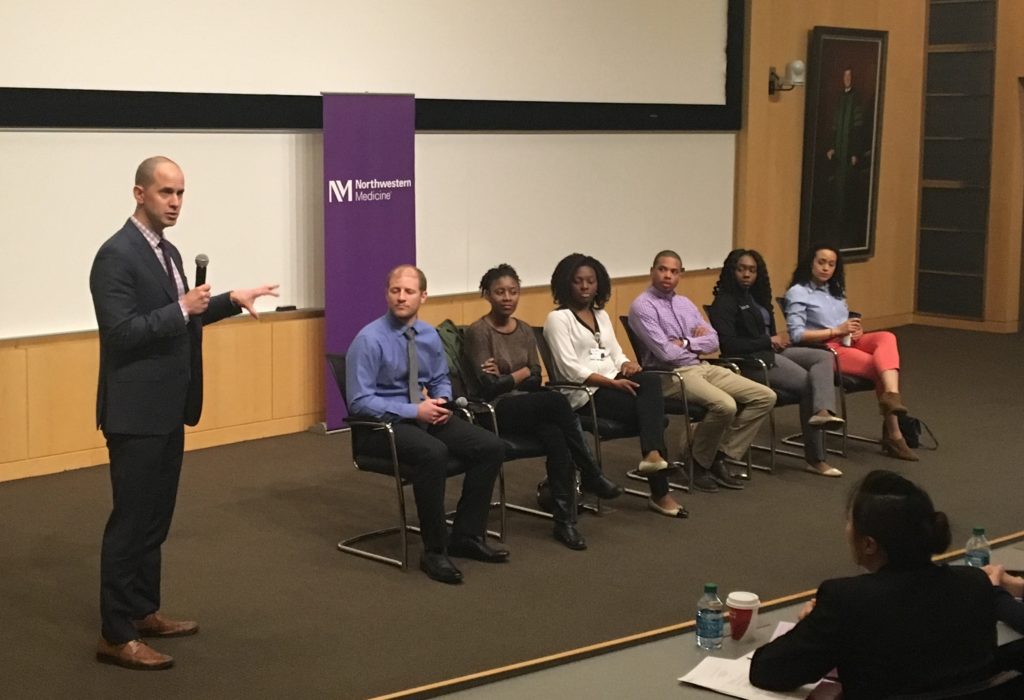 At the Ninth Annual Residency Showcase, Joseph Graves, MD, co-chief resident in the Department of Radiology, spoke to medical students as part of a panel about his experiences training at McGaw Medical Center of Northwestern University. It was the same event that, five years before, had led him to pick Northwestern as his number one choice for residency.
"It was love at first sight," Graves said. "It was through the showcase that I realized that Northwestern was a great fit for me. The fact that Northwestern had a special day to recruit outstanding underrepresented minorities to its institution was a great selling point: I felt welcomed."
Held on May 7, the showcase aimed to recruit and attract trainees from diverse backgrounds, especially those underrepresented in medicine.
Linda Suleiman, MD, an orthopaedic surgery resident, helped plan the event as the past president of the Northwestern McGaw Residents and Fellows Forum. Like Graves, Suleiman also visited Northwestern during the residency showcase five years ago. A third-year medical student at the time, Suleiman said she was impressed by the residency program serving a diverse patient population and the mentorship provided by faculty.
"I had the opportunity to meet the program director and residents at the showcase, who seemed extremely passionate about the program," Suleiman said. "Northwestern provided me with mentorship, both within my department and outside my department. I also have the opportunity to train at Stroger Cook County Hospital and Ann and Robert H. Lurie Children's Hospital of Chicago. The welcoming environment and strong commitment to resident education are what made me choose Northwestern."
The showcase not only included a panel of residents discussing their experiences, but also a program director panel discussing selection factors and a recruitment fair of representatives from McGaw's 24 residency programs.
Graves said that when he first visited Northwestern, he had heard about the national reputation of the interventional radiology faculty and remembers connecting with the program director during the residency fair.
"Northwestern has beautiful facilities, top-tier research opportunities and a well-known name," he said. "I heard great things about the interventional radiology department while in medical school and always kept NU in the back of my mind."
The day also included keynote talks on career development from Juan Caicedo, MD, '06 GME, associate professor of Surgery in the Division of Organ Transplantation and Crystal Clark, MD, assistant professor of Psychiatry and Behavioral Sciences.
Gabriel Heiber, '14 MD, a psychiatry resident, participated in the recruitment fair, discussing his experiences in the program with fourth-year medical students. After completing his medical degree at Feinberg, Heiber decided to continue his training at McGaw because he knew it would be a great place for residency that offered opportunities he thought would help him accomplish his professional goals.
"The Northwestern Medicine health system has been growing for many years and with this kind of growth, new opportunities always seem to be popping up," Heiber said. "There are plenty of chances to tailor your clinical, academic and extracurricular activities to your needs and interest."