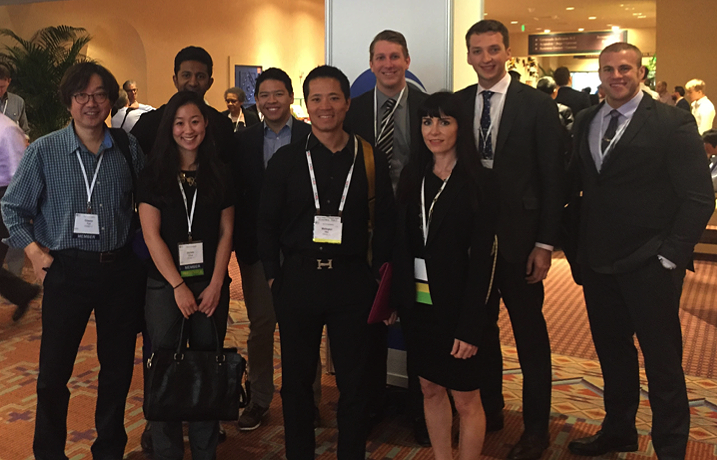 Eager to learn more about the research process, Feinberg medical students Danielle Chun and Ralph Cook investigated bone regenerative technologies while working in the lab of Wellington Hsu, MD, the Clifford C. Raisbeck, MD, Professor of Orthopaedic Surgery, and Erin Hsu, PhD, research assistant professor of Orthopaedic Surgery.
The students presented the results of their projects at the 12th Annual Lewis Landsberg Research Day, and both were recognized as finalists in the event's poster competition.
"In the research I presented, we were trying to see if a variation of nanotechnology, a bioactive peptide amphiphile-based nanogel, elicits a high bone fusion rate in a rat model of spinal fusion," said Chun, a fourth-year medical student.
Spinal fusion, a surgery that permanently welds vertebrae in the spine, is used to eliminate pain caused by fractured bones, deformities, arthritis and a variety of other disorders related to the spine. During the surgery, small pieces of bone or bone graft substitute are placed between the vertebrae to help them fuse. That material might be bone from the patients themselves (called an autograft) or from a donor (an allograft), or it can be made from synthetic materials like ceramics that provide a scaffold for bone progenitor cells to grow upon.
"Spine fusion is a common procedure in the clinical setting, but the issue it that non-union, or failed healing between bones, occurs in about 10 to 15 percent of patients," Chun explained. "We're trying out techniques to improve the rate of fusion."
In the study, Chun explored a growth factor known to stimulate bone fusion when used in high doses – high doses that can cause adverse effects. She showed that a lower dose of the growth factor could lead to equally high fusion rates when combined with a novel nanogel.
"We were really surprised, because we didn't expect our nanogel to elicit a bone fusion that was quite so robust," she said.
Chun conducted the research during a fellowship year she took before finishing her final year of medical school. After graduating this month, she will stay at Northwestern for a five-year residency in orthopaedic surgery.
Cook, a fellow lab member, also evaluated materials to improve spinal fusion. His project focused on hyperelastic bone, a bone graft substitute made from 3-D printable hydroxyapatite ink developed in the lab of
Ramille Shah, PhD
, assistant professor of
Surgery
. The material is an alternative to traditional ceramic-based bone graft substitutes, which are brittle and difficult to work with.
"Hyperelastic bone has much better handling properties. It's scalable and tailorable," Cook said. "We wanted to see if it's also osteoinductive – promotes bone growth."
In his study, Cook compared the new material to traditional bone substitutes and showed that it did support bone regeneration.
"Ideally, we could optimize this technology so it could be used in place of ceramics and increase the safety profile for spine surgery," he said.
Cook took a year off between his third and fourth year of medical school to work in the Hsu lab as a research fellow.
"I didn't want to go forward in my career without more research experience," he said. "During this year,I've had the opportunity to take a research project from its inception to a finished product, to learn about the process with great mentorship."
Both Cook and Chun hope to continue participating in the lab as they proceed through their clinical rotations and residencies.