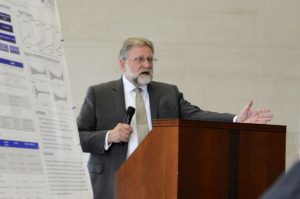 Second-year physician assistant students delivered presentations on research topics at the annual Physician Assistant Program's Capstone Presentation on April 29, the culmination of the students' clinical rotations and final year at Feinberg.
During their clinical rotations in the program's second year, PA students each work on an evidence-based medicine capstone project. The final component of the curriculum is a research paper and presentation on a clinical question.
"I'm grateful for the opportunity to present the conclusions of my project to my peers," said Tara Marcus, MS. "Through the problem-based learning curriculum, the PA program prepared us well to continue learning from, and teaching our peers evidenced-based medicine, which is a skill that's essential to our success as PAs."
Working with patients during her cardiology rotation inspired Marcus to analyze the safety and efficacy data of the combination drug Sacubitril/Valsartan, used for the treatment of congestive heart failure.
In his remarks, Michael Fotis, BS Pharm, lecturer in the PA program and faculty advisor for the capstone research projects, highlighted the significance of the capstone presentation in developing analytical skills and evaluating the quality of students' own practices as physician assistants.
Christina Hill's project focused on the investigation of vitamin D and calcium co-supplementation in women with gestational diabetes.
"I was hoping to discover some clarity on whether higher dosages of supplementation may have an effect on maternal outcomes," Hill said. "I found it interesting, because it could be such a simple and cost effective intervention that could have a substantial impact, and save our patients from the morbidity associated with diabetes."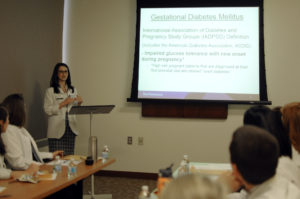 Julia Silver, said her interest in women's health and preventive medicine led her to conduct a systematic review on the role of the drug tenofovir in the prevention of herpes simplex virus type 2 (HSV2).
"There is not currently a medication or vaccination approved to prevent HSV2," Silver said. "I'm excited that the evidence I found supports the use of tenofovir for pre-exposure prophylaxis of HSV2, and with future research, may eventually change the way clinicians practice medicine."
Silver also enjoyed the chance to review the etiology, clinical manifestations and treatment of HSV2 and discuss new potential preventive options with her peers.
"As future PAs, many of our patients will have HSV2 infections and it is very important that we are well versed with both treatment and prevention options," Silver said.
Before the presentations, David Keahey, PA-C, MSPH, Robert Wood Johnson Health Policy Fellow and associate professor at the University of Utah School of Medicine, delivered the keynote address. Keahey discussed evidence-based medicine and advised students to recognize the importance of knowledge and empathy in taking care of patients.
"The evidence-based medicine skill mastery that this capstone experience represents will serve you for your entire careers as a valuable tool," Keahey said.