Medical Faculty Council Mentors of the Year Diane B. Wayne, '91 MD, vice dean for Education and Dr. John Sherman Appleman Professor of Medicine and Medical Education, and Kenzie Cameron, PhD, '08 MPH, research associate professor of Medicine in the Division of General Internal Medicine and Geriatrics, discussed their backgrounds and experiences, both as mentors and mentees during a workshop on April 13.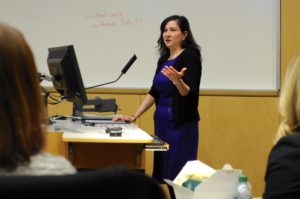 "Mentor of the year is something we do to really highlight the folks who are contributing to students and faculty members and trainees across the board. We are really excited to highlight our two mentors of the year," said Priya Kumthekar, MD, '11 '12 GME, president of the Medical Faculty Council and assistant professor of Neurology, welcoming attendees to the workshop.
Dr. Wayne and Cameron received recognition for their mentoring awards at the 12th Annual Lewis Landsberg Research Day earlier this month.
Karen Kaiser, PhD, research assistant professor of Medical Social Sciences, nominated Cameron for her dedication to her mentees. "The scope of Kenzie's mentoring is phenomenal. She works with mentees from a variety of disciplines and provides a vast amount of expertise to each of her mentees," Kaiser said.
Cameron shared the influence of her mentors on her own career, from her sixth grade teacher to her graduate advisor, and the lessons she learned as a mentee and a mentor.
She emphasized the importance of having a strong support system, participating in collaborations and being an advocate.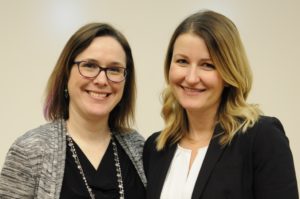 "Mentoring is more than giving advice and networking; it is about advocating," Cameron said. "Advocate for what you believe in, for who you believe in. If a colleague of yours, whether it be a mentee or a mentor, has done something well, let people know. Make sure people know about it, spread the word. You never know how much this advocating can help."
Jeffrey Barsuk, '99 MD, '02 GME, associate professor of Medicine in the Division of Hospital Medicine and Medical Education, introduced his nominee and personal mentor Dr. Wayne.
"Diane has taught people so many things: how to write properly and how to be successful in your academic career," Dr. Barsuk said. "But more than just mentoring people into successful careers, Diane also takes it to the next level."
Dr. Wayne spoke about mentorship as a work in progress and the importance of practice. She shared the significance of mentorship in clinical medicine and the impact it has on trainees.
"It is important for clinical faculty to remember that everyday mentorship at the bedside has many downstream benefits that last for a trainee's entire career and may impact hundreds of patients," Dr. Wayne said.
Dr. Wayne concluded by sharing her experiences as a mentee, including lessons she learned about solving problems as they arise, strengthening a team with diversity and sticking to your area of expertise. She also reminded the audience that in addition to some senior faculty members, some of the best mentors may be people other than physicians or researchers.
"Some of the finest role models and mentors aren't necessarily the people who are senior to you at work. They may be nurses, program coordinators, other people you work with or get to know in other roles, and I encourage you to learn from everything that they have to offer," Dr. Wayne said.