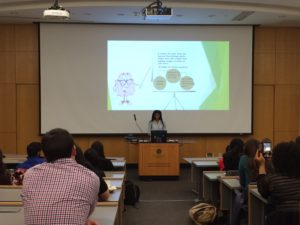 Medical students and physical therapy students at Northwestern University Feinberg School of Medicine mentored 40 high school and college students underrepresented in medicine during the Health Professions Recruitment & Exposure Program (HPREP) this winter.
Feinberg students organized and led program participants through educational activities aimed at exposing students to future careers as health professionals.
"I think it's hard to know what's out there as far as career options, and this program is a good opportunity for high school and college students to get exposure to health professions," said Javier Suarez, a first-year medical student and HPREP coordinator.
During the six-week program, student participants joined in small-group discussions and case studies, listened to panels on different medical specialties and health professions and learned physical exam skills.
"My favorite activity with them was the anatomy lab. The students' interest in science and the human body really came out during the session," said Beverly Onyekwuluje, a first-year medical student and coordinator of the program.
Onyekwuluje said she participated in HPREP because she wanted to help others understand the medical field. As a coordinator, she organized the schedule of activities and activities for each day, booked guest speakers and supervised administrative issues.
"I really like being a part of a program like HPREP, because it shows how big of an impact I can make with people, whose shoes I was in not too long ago," she said. "I think it's really important to have a role model figure early on in your education to know that your career aspirations are achievable."
Medical students also guided program participants through research projects, which spanned topics from stroke and the Zika virus to arthritis, polycystic ovarian syndrome and depression. At the end of the program, participants presented their own research projects.
"HPREP was great opportunity to get mentoring experience," Suarez said. "When you work with younger people, it takes foresight to know how to guide them, to get them engaged."