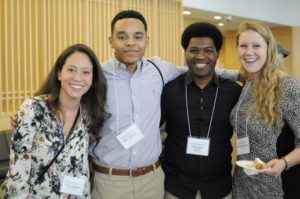 More than 190 prospective medical students and MD/PhD students visited Northwestern University Feinberg School of Medicine for the annual Second Look event, hosted by the Office of Admissions on April 14-15 to showcase the school's curriculum and campus.
The event gives students who have been accepted to Feinberg a chance to engage with faculty members and current students before making their final decision about where to attend medical school.
Warren Wallace, MD, associate dean for Admissions, welcomed attendees and introduced Diane B. Wayne, '91 MD, vice dean of Education, at a reception on Thursday afternoon.
Dr. Wayne spoke about how the people and atmosphere of the school is what differentiates Feinberg from its competition.
"I truly believe no other school embodies the dedication to students as individual learners as Northwestern does. We are proud of the inclusive and supportive environment and the dedication to excellence that are hallmarks of our school. We are fortunate to have extremely dedicated faculty, and of course we have the most awesome students,"  Dr. Wayne said.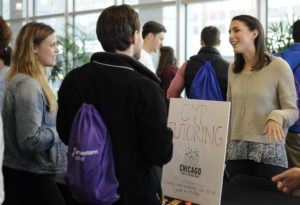 Starting on Friday morning, participants attended discussions and joined in active learning demonstrations to give them a taste of the team-based and hands-on learning that is typical of Feinberg's curriculum.
"My favorite part of Second Look was the time spent meeting students and talking to faculty," said Ian Hollyer, who received his bachelor's degree from Carleton College in Minnesota and currently works as a laboratory manager at the University of California, San Diego. "It was the first time in my life where everyone around me was so motivated and interested in this shared goal to go into medicine to improve lives."
The day also included tours of campus and affiliate hospitals, breakout sessions and an activity fair.
Stephanie Cai, graduating from University of California, Berkeley, said she enjoyed the tour of Northwestern Simulation and the information session on the combined MD/MA in medical humanities and bioethics.
"I'm interested in incorporating medical humanities into my education, because I think it would be nice to learn a different aspect of medicine," she said. "It was great to explore the campus and see what it would be like to be here as a student."