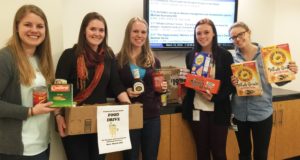 While observing service activities for her Behavioral Preventive Medicine class, Kristin Johnson, a first-year student in the Physician Assistant (PA) Program, was inspired to find new ways to give back to the community. So she initiated a community service and philanthropy competition within her class year to encourage her peers to take part in volunteer and donation events.
"Our instructor had us observe people helping community members meet their most basic need or make a behavioral change," Johnson said. "I knew some of my classmates were already involved in volunteering, so I thought a service competition would inspire people to do a little bit more."
The PA students were divided into six teams, with each team member awarded points for donating items to a food drive, donating blood or volunteering with organizations and programs over the course of eight weeks. At the end of the competition, teams and individuals with the most points received a pizza party and gift cards.
Samantha Thompson, a first-year PA student, volunteered with Keep Your Heart Healthy (KYHH), Community Health Chicago and Chicago Youth Programs. She said she plans to continue to volunteer after the competition is finished, a sentiment shared by many of her classmates.
"Taking a break from studying to participate in the service project competition was a nice reminder of why I'm in PA school: to help others. It's important to me to give back to the community and the competition gave an extra bit of incentive to become more involved," Thompson said.
Thompson said she found volunteering with KYHH, a program that provides health screening services, a particularly memorable experience. "It was meaningful to sit down with members of the community one-on-one and explore their individual goals for leading a healthier life," she said
Johnson helped organize the competition, but also spent several Monday nights delivering meals to people experiencing homelessness in Chicago's loop neighborhood with the nonprofit organization Chicago Urban Ministries and Life Intervention.
"The project has given me exposure to populations and people in the community that I don't think I would have normally interacted with," Johnson said. "Those populations are going to be a lot of the people I will see in my clinical practice so it's good to get to know what their needs are and be able to build connections."
First-year PA student Adrienne Mathis tutored students in Chicago Youth Programs (CYP) every Wednesday and volunteered in the CYP Lurie Outpatient Clinic on Tuesdays.
She said her favorite part of the project was observing what her classmates have been doing to help the community.
"I believe service is important for students as well as professionals. Through service, we're able to gain a better understanding of what hardships others are going through and to learn about our own biases, stigmas, strengths and weaknesses in the process," Mathis said.