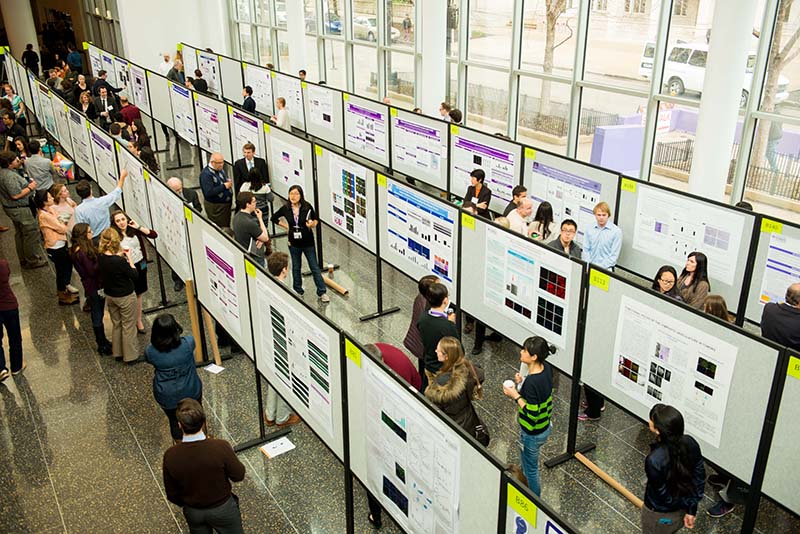 (View a slideshow of photos from Research Day.)
On Thursday, nearly 400 students, trainees, staff and faculty presented abstracts at the 12th Annual Lewis Landsberg Research Day. This year's record-breaking participation not only showcased the diverse array of innovative research taking place at Feinberg, but also served as a vivid illustration of the community's interest in scientific discovery.
"I hope that research remains a big focus for me as I go forward in my career," said Hawkins Gay, MD, MPH, an internal medicine resident in the Department of Medicine who won first prize in the public health and social sciences category during the event's poster competition.
For his project, Dr. Gay compared the effectiveness of different dietary approaches to reducing hypertension, conducting a meta-analysis of 24 studies involving nearly 24,000 participants.
"Understanding dietary patterns can improve the health of populations," said Dr. Gay, who hopes to apply what he learned when practicing preventive health with individual patients in the clinics. "Research Day is a great platform for me to show this research that I've spent so much time working on."
The event also gave young investigators the chance to network and exchange ideas about their projects.
"Today was a good opportunity to practice talking about my research and to see what other people are working on," said third-year medical student Nicholas Rydzewski, a finalist in the women's health category who displayed his research exploring the impact radiation therapy has on outcomes for patients with stage I endometrial cancer.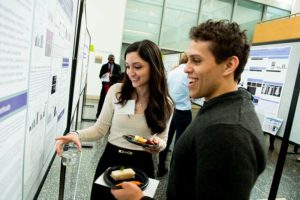 Salva Balbale, a second-year student in the Health Sciences Integrated PhD Program, exhibited the results of a study she performed at the Hines VA Hospital, which won third prize in the poster competition.
"I evaluated implementation of guidelines to prevent a healthcare-associated infection that is particularly bad in the spinal cord injury population," she explained. "Lessons we learned from this study, about considering the full range of provider types and the unique characteristics of the veteran population, may apply to other infections."
Earlier in the day, Rex Chisholm, PhD, vice dean of Scientific Affairs and Graduate Education, welcomed attendees to the event.
"This is an exciting time for research at Feinberg generally. Just last month, we found out that we moved up two spots to rank 17th in the U.S. News & World Report rankings of best medical schools. Our funding from the National Institutes of Health continues to rise," said Chisholm, who also noted the ongoing construction of the Simpson Querrey Biomedical Research Center on campus. "As the research enterprise continues to grow, so does Research Day."
Eric Olson, PhD, professor and chair of Molecular Biology at the University of Texas Southwestern Medical Center, delivered the keynote address, "Understanding Heart Development, Disease and Regeneration." During the lecture, he described his work uncovering the mechanisms underlying muscle, which he called "the meaning of life" but also "the source of many of mankind's most devastating diseases."
For the first time, Research Day included posters on education research, in addition to basic science, clinical research, and public health and social sciences.
"There's a strong interest from faculty and trainees in many departments in getting more involved in education and research," said Samuel Chu, MD, a fellow in sports medicine in the Department of Physical Medicine and Rehabilitation, who won third place in the new category for his study using ultrasounds to teach medical students how to do musculoskeletal physical examinations.
Senior faculty serving as judges gave awards to participants whose projects demonstrated outstanding and innovative research with potential to advance medical science and healthcare.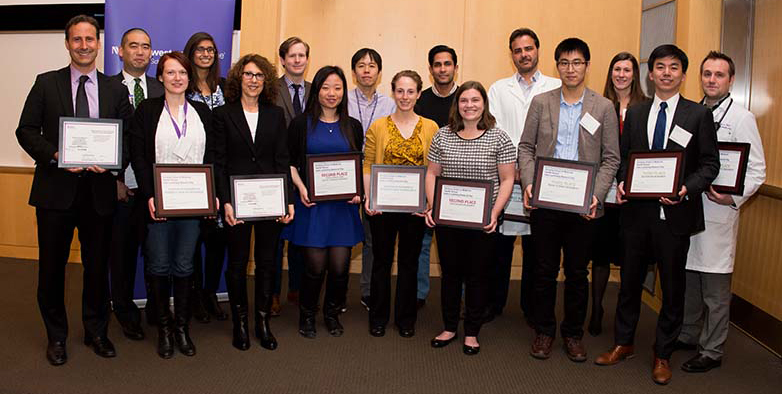 This year's winners include:
Basic Science: Tomokazu Souma, MD, PhD, research assistant professor of Medicine in the Division of Nephrology, "Heterozygous Loss-of-function Mutations in Angiopoietin Receptor TEK Cause Primary Congenital Glaucoma"
Clinical Research: Mark Kendall, MD, research assistant professor of Anesthesiology, "Adductor Canal Block for Total Knee Arthroplasty: A Randomized, Double Blind Placebo Controlled Trial"
Public Health and Social Sciences: Hawkins Gay, MD, MPH, "Effect of Dietary Interventions on Blood Pressure: A Systematic Review and Meta-Analysis of Randomized Controlled Trials"
Medical Women Faculty Organization Founders Awards

Basic Science: Katarina Halavaty, PhD, "Efficacy of a tenofovir disoproxil fumarate intravaginal ring in a pigtail macaque model challenged with a high dose simian-HIV"
Clinical Research/Education/Public Health: Natasha Lewis, MD, "Placental pathologic features in fetomaternal hemorrhage detected by flow cytometry"
View of a full list of Research Day award recipients here.