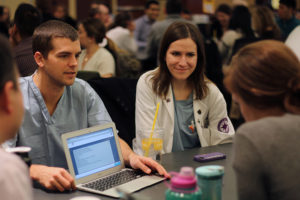 Last Friday, a group of nearly 300 students in Feinberg's MD, Physician Assistant and Doctor of Physical Therapy programs, plus nursing students from DePaul University, participated in the schools' first-ever interprofessional teamwork learning initiative.
During the session, students worked in groups to talk over strategies for preventing falls in the geriatric population. Together, they walked through a case involving a 68-year-old woman who fell at home and came to the emergency department.
"This is an interactive session that tries to mimic how you all will work together when you're in clerkships," said faculty leader Brigid Dolan, MD, assistant professor of Medicine in the Division of General Internal Medicine and Geriatrics, at the beginning of the workshop. "The goal is both to learn a bit about falls and also to think about how all of you will be working in a team and what each of your roles are when caring for this patient."
The groups practiced role-playing during the stages of the patient journey, from hospital admission to safe discharge, and discussed how to decrease the risk of a patient falling while in the hospital.
"I think it's extremely valuable to work with students from different disciplines," said second-year physician assistant student Russell Avellana. "Collaboration between team members is a huge part of providing optimal care to patients throughout the continuum of care. Every member of the team needs to be involved."
Third-year medical student Matthew Mosquera worked in Avellana's group.
"It was interesting to collaborate with students in all of the other professional schools and to see what role each person brought to the table when we talk about the topic of falls," he said.
Alex Povkovich, a nursing student from DePaul, traveled to Northwestern Memorial Hospital for the session.
"I've enjoyed learning how each different discipline approaches falling and prevention," she said. "We're learning to interact and make clear plans, practice we can apply in the clinical setting."