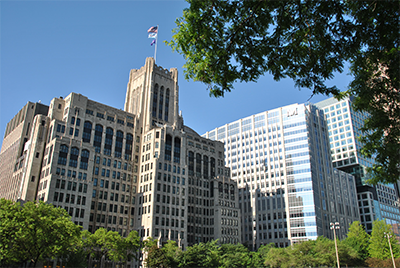 Feinberg has risen two spots to rank 17th among the best research-oriented medical schools in the country, according to the latest U.S. News & World Report rankings.
"This year's ranking recognizes Feinberg's exceptional accomplishments and our upward trajectory among the nation's elite medical schools," said Eric G. Neilson, MD, vice president for Medical Affairs and Lewis Landsberg Dean. "The outstanding achievements of our faculty, trainees, students and staff continue to reinforce our reputation for academic excellence and leading-edge research."
This is the ninth year in a row Feinberg has placed as a top 20 research-oriented medical school, and this year's ranking represents an all-time high.
Three of Feinberg's specialty programs also rated highly, with Pediatrics ranked 14th, Women's Health ranked 10th and Internal Medicine ranked 17th. Feinberg's Department of Physical Therapy and Human Movement Sciences was also ranked 6th in the listing of best physical therapy programs in the country.
U.S. News assessments are compiled based on peer surveys completed by deans and senior faculty, National Institutes of Health research activity, student selectivity and faculty resources. All 140 fully accredited medical schools and 30 schools of osteopathic medicine in the United States were surveyed.
Feinberg also moved up in this year's U.S. News ranking of the best medical schools for primary care, rising 12 spots to 17th. That list factors in the proportion of graduates who enter primary care residencies, rather than research activity.
During the 2015-2016 academic year, Feinberg serves 638 medical students, 879 PhD students and research fellows, 647 master's and professional program students and 1,135 residents and fellows. Last year, Feinberg scientists received $402.7 million in funding for research.
Founded in 1859, Northwestern University Feinberg School of Medicine is a top-tier medical school where nationally recognized researchers collaborate with skilled clinicians to improve human health. More than 3,400 faculty members teach, practice medicine and conduct research at the medical school, which is a central component of Northwestern Medicine, a premier academic health system.