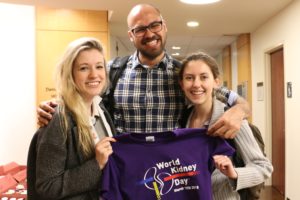 First-year medical students celebrated World Kidney Day March 10 with special lectures and events hosted by faculty members and staff in the Division of Nephrology.
"World Kidney Day is a celebration across the globe and a day for colleagues and patients to raise awareness of kidney disease, how to prevent it and learn about the innovations that can lead to curing kidney disease," said Sue Quaggin, MD, chief of the Division of Nephrology in the Department of Medicine and director of the Feinberg Cardiovascular Research Institute. "People don't always know how important kidney disease is and often don't realize they have it."
The day included lectures by James Paparello, MD, associate professor of Medicine in Nephrology, on urine and renal syndromes and by Eric G. Neilson, MD, vice president for medical affairs and Lewis Landsberg Dean, on hyponatremia, a condition where the blood has a low concentration of sodium.
First-year medical student Nathan DeDeaux enjoyed the patient panel where students met and listened to stories from patients with kidney diseases.
"They talked about how kidney disease is an invisible disease, where no one thinks the patient is sick," DeDeaux said. "It was a good example and reminder to really listen to your patients."
Following Dr. Neilson's lecture students separated into small groups to discuss cases involving hyponatremia.
"In the small groups we worked on complex problems with equations we haven't seen before," first-year medical student Constatine Nicolozakes said. "This session tied everything we learned about today together, in that we used information that was presented in lecture and clinical scenarios – which was more than just a list of symptoms – and we learned what a patient with kidney disease would look like and sound like, too."
The day concluded with students joining members of the Division of Nephrology for a reception.