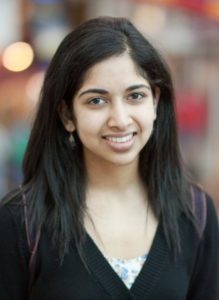 Smitha Sarma, a third-year medical student, has received a fellowship to spend the next year in Kerala, India, studying tobacco cessation among heart attack survivors.
Sarma will conduct her project as a Fogarty Fellow in the Vanderbilt-Emory-Cornell-Duke (VECD) Global Health Fellows Consortium. Named for the sponsoring institutions, the program supports a one-year mentored research fellowship to study diseases and conditions in developing countries. She will start the program at the National Institutes of Health to learn about clinical research in a low-income setting before traveling to India where she will begin her work.
"My project will evaluate facilitators and barriers to tobacco cessation among heart attack patients in the state of Kerala, paying particular attention to the cultural context. I look forward to working with these patients and understanding the challenges they face in overcoming addiction," Sarma said.
While in Kerala, Sarma will use in-depth interviews, focus group discussions and real-time observation of behavioral counseling with patients and providers to study the current approach to tobacco cessation counseling. She will use the infrastructure developed by her mentor Mark Huffman, MD, MPH, assistant professor of Preventive Medicine in the Division of Epidemiology, through his Acute Coronary Syndrome Quality Improvement in Kerala (ACS QUIK) trial.
Sarma will also evaluate the accessibility and affordability of medications used for tobacco cessation such as nicotine replacement therapy. Lastly, she will work with local experts to identify the steps necessary for establishing a state-level tobacco quit line.
Smitha became interested in tobacco cessation as a first year medical student after participating in the Hult Prize, a social entrepreneurship competition challenging students to address the burden of chronic disease. She approached Dr. Huffman for his expertise and advice on the topic, and he encouraged her to investigate smoking as a major contributor to non-communicable disease worldwide. After the competition, Smitha continued working with Dr. Huffman to refine her ideas and create a targeted proposal to tackle smoking cessation in India.
"I've always dreamed of a career in global health," Sarma said. "I am excited for this opportunity to work in the Indian healthcare system. I believe this experience will help me develop practical skills and make meaningful connections, laying the foundation for future work."
Smitha will complete her fourth year of medical school upon her return and hopes to apply for residencies offering opportunities in global health.