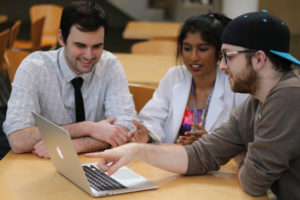 The first two years of medical school can be difficult: Students not only learn critical information in a classroom setting, but also directly apply what they learn in clinical and simulated settings.
To enhance team-based learning and encourage his classmates to teach fellow students, Anthony Gacita, a second-year student in the Medical Scientist Training Program (MSTP), came up with the idea to create a tool to allow students to submit, share and practice test questions. That tool eventually became an online app that Gacita and his partners made available free of charge to all Feinberg medical students.
"The idea came up when I had been searching for questions, but found none that were specific to Feinberg material. I thought that if we had questions written by students, they would have a unique perspective to Feinberg lectures and learning objectives," Gacita said.
Gacita approached his classmates Tasmeen Hussain and Matt Antalek, both second-year medical students, about creating a test question bank for the class to use. All three agreed that it was obvious this was a tool they needed.
The group started small by testing the idea in a shared online document and getting feedback and support from classmates. Antalek and Hussain then used their background in math and computer science to develop SynapseGarden, an app to streamline the submission and storage of test questions and to crowdsource the process of approving questions.
"This is an example of Feinberg students' dedication to learning and to each other. Not only have they created a novel tool to help individual students acquire knowledge, they have also created an opportunity for students to help each other learn," said Diane Wayne, '91 MD, vice dean for Education.
To date, 160 students have contributed to the question bank and currently use the app to help study and understand their coursework.
Read a Q&A with the group:
Why is this project important?
Gacita: I think for students, it just gives you a better understanding of the material for whatever topic you choose to write a question on. When you're going through the question writing process, you have to understand the structure of the information before you actually make it. You really have to think about creating a question that tests the objective but at the same time allows the person to understand what kind of thinking process you have to go through to differentiate to get to the right answer.
How did you come up with the name SynapseGarden? What does it mean?
Hussain: The name "SynapseGarden" is meant as a whimsical description of an effective question network. In biology, individual neurons have minuscule tasks but in aggregate they are able to produce neural meshworks connected by synapses. It is only in these arrangements that neurons allow organisms to appreciate complex thoughts. In the same way, SynapseGarden aims to cultivate a larger understanding of concepts starting with a baseline of individual facts but with added layers of complexity and distinction built into each question.
How long did it take you to build SynapseGarden?
Antalek: Initially, I created a simple version that relied on scripts, but there were some issues related to editing questions, such that Anthony needed to manually make edits to questions. This, of course, became very cumbersome. That's really when I started talking to Tasmeen about creating a web app, where we could setup individual accounts, so that everything needed to be done could be handled by users. In total, it took Tasmeen and I about two months to build the current app.
How was it built?
Antalek: We all worked together to build the app, but behind the scenes there are two components. First, there's the logic to how it works that no one really sees: things like how the app handles information, how the app stores the information and also how the information gets accessed. Then there's how people interact with the software. I worked on how the information was stored and tracked, and Tasmeen did a lot of the work on how to display that information and how to place the actionable things on the screen.
Briefly explain how SynapseGarden works:
Gacita: With the new system, each person creates a login account so they can track their progress and correct questions other students might have questions about. We require that everyone explain why the answer is correct but also why the other answers are incorrect. It takes time to formulate the question, but once it's done, it provides a really robust way of learning.
Has the app helped you improve your test scores?
Hussain: Definitely. Even as question writer, you're spending that amount of time trying to rationalize why the answer is correct or incorrect and to explain this to other classmates. Acting as a teacher adds a lot to the learning process.
Why is the long-term plan for SynapseGarden?
Antalek: We want this to be a place not only for us to store information, but also a place for other classes, so they can use the questions written by previous classes.
Gacita: We would also love to eventually get faculty to contribute to this as well.