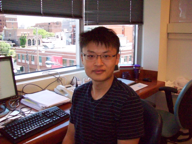 Rui Yang, a student in the Walter S. and Lucienne Driskill Graduate Program, uncovered new insights into the structure and expression of the cystic fibrosis transmembrane conductance regulator (CFTR) gene that is expressed primarily in epithelial cells, and mutations of which result in cystic fibrosis (CF).
Yang studied the chromatin structure, a complex of DNA and proteins, at the CFTR locus and the interaction of the genetic elements that control expression of the gene.
In the first part of the study, recently published in Nucleic Acids Research, Yang used new techniques to measure close associations between DNA and proteins during gene expression and transcription of CFTR in different cell types so he could identify novel regulatory elements.
"This research is important because previously, though we knew the gene was expressed differently in various tissues, where it used different control elements, we didn't understand how these elements worked together," Yang said. "Now we know how different elements are used and coordinated, and we also identified a couple of new regulatory elements."
Next, Yang studied the effect of those regulatory elements on both the gene expression and 3-D structure of the chromatin. Working with other members of the lab, he used a gene-editing technique to delete two critical regulatory elements at the gene's locus. Deleting one element altered the 3-D structure of the locus but had no effect on gene expression, while deleting the other decreased CFTR gene expression, without changing the locus structure.
Yang also investigated the architectural proteins surrounding the CFTR gene, CCCTC-binding factor (CTCF) and cohesin complex. He found the loss of these two proteins decreased interaction across the locus.
The study not only advanced the understanding of regulatory mechanisms for the CFTR gene, but also can help scientists learn more about regulatory mechanisms at other single gene loci.
"The study looks in detail at what makes the CFTR locus have tissue-specific expression and gives us many candidate regions in the chromatin that could contribute to the regulation of the CFTR gene," he said. "This may be important for developing new therapies for CF that target gene regulatory mechanisms."
Yang works in the lab of Ann Harris, PhD, professor of Pediatrics in the Division of Human Molecular Genetics, and the research was conducted in collaboration with Daniel Neems in the lab of Steven Kosak, PhD, assistant professor of Cell and Molecular Biology.
The research was funded by National Institutes of Health grant R01HD068901, NIGMS New Innovator Award DP2 OD008717 and Cystic Fibrosis Foundation grants 11G0 and 14P0.