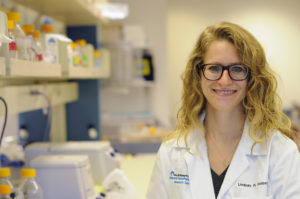 A single microRNA, a small non-coding RNA molecule, has the ability to regulate the expression of hundreds of genes simultaneously. Lindsay Stolzenburg, a graduate student in the Driskill Graduate Program in Life Sciences, believes microRNAs could be candidates for controlling tissue repair in lung disease.
Along with other members of the lab of Ann Harris, PhD, professor of Human Molecular Genetics in the Department of Pediatrics, Stolzenburg studies a genomic region shown to be associated with lung disease severity and a microRNA, called miR-1343, that is located near this region. This microRNA may repress the TGF-ß signaling pathway, which is involved in regulating fibrotic responses to lung injury and modifying cystic fibrosis disease severity.
"The unknown is exciting," Stolzenburg said. "This microRNA is located in such an important region, yet we don't know a lot about what this region is doing. It suggests that this miRNA could be involved in something really important."
With an NRSA fellowship from the National Heart, Lung, and Blood Institute, Stolzenburg will use molecular biology techniques to characterize this microRNA and identify the mechanisms it uses to modify TGF-ß signaling. She will then study the genetic variants that may effect microRNA expression in the lung and how they influence the severity of lung disease.
"I've always been interested in genetics and learning how genes are expressed and regulated," Stolzenburg said. "MicroRNAs are interesting because they have the ability to regulate gene expression independent of the gene itself."
Stolzenburg hopes to study the mechanisms of fibrosis by looking at the role of this microRNA through in vivo studies, which she said have the potential to lead to the discovery of therapeutics for lung diseases in the future.