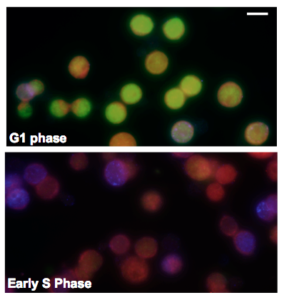 In a recent study, co-author Dileep Varma, PhD, assistant professor of Cell and Molecular Biology, helped explain how key proteins are sequentially degraded during a specific phase of the cell cycle and why these events could be pivotal for the normal progression of cells. His team showed that DNA replication goes awry when the proteins are not broken down in the correct order, leading to the genome instability that is a hallmark of cancer.
During the cell cycle, a cell grows (this is called the G1 phase), copies its DNA (the S phase) and then grows more (the G2 phase) in preparation for division. This study focused on the S phase and on two proteins – Cdt1 and p21 – that help a cell prepare to replicate its DNA.
"There are certain proteins in the cell that need to be produced, synthesized and degraded in a time-sensitive and regulated fashion," Varma said. "It's very important that these proteins are degraded in this manner for the cells to grow and survive normally. Otherwise, they will die."
Scientists have known previously that Cdt1 and p21 – both abundant in the cell nuclei during the G1 phase – need to be degraded in the S phase so that the cell cycle can appropriately move forward with DNA replication. Now, in a paper published in Genes & Development, Varma and his colleagues at the University of North Carolina at Chapel Hill demonstrated that Cdt1 is degraded substantially earlier in the S phase than p21.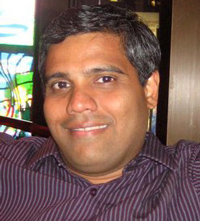 "To our surprise, we found that Cdt1 and p21 degradation don't happen at the same time," said Varma, who served as the imaging specialist in the study, visualizing the production and degradation of these proteins within cells using immunofluorescence microscopy.
Proteins are targeted for degradation through a pathway called the ubiquitin–proteasome pathway. By manipulating regions of Cdt1 and p21 that enzymes in this pathway bind to, the scientists made the two proteins degrade simultaneously.
"When we messed with the order in which these proteins are degraded, the cells didn't progress to the next phase of the cell cycle," Varma said. "The cells arrested, and this led to genome instability. This is the main cause of cancer, so you can imagine the broad implications of this work."
In future research, he will explore how the function of Cdt1 and other proteins involved in the G1 and S phases are critical for mitosis, the division phase of the cell cycle.
Varma is a member of the Robert H. Lurie Comprehensive Cancer Center of Northwestern University.
This work was supported by National Institutes of Health (NIH) National Institute of General Medical Sciences grants R01GM102413 and R00-GM102372 and NIH National Cancer Institute grants K99CA178177, F31CA165891 and T32CA009156.